Focus on
SMS e-marketing
It is now difficult to conceive a communication without including the mobile channel. Companies and brands are increasingly more likely to include an SMS marketing campaign.
The performance of this type of digital marketing has placed it in the top of mobile strategies, especially used in the case of special promotions, loyalty programs and coupon coupons. Great communication channel to reach its target, promote the purchase, to conquer new customers or to retain them, e-marketing SMS is indeed a good way to interact directly, personally and above all instantaneously with its Recipient via a simple text message sent to mobile phone... and the results are amazing!
E-MARKETING SMS IN NUMBERS
This is the average time
To open an SMS!
This proven snapshot makes SMS marketing a medium of immediacy and proximity, especially suited to nomadic communications as well as to improving the customer relationship.
This is the reading rate
of an SMS campaign!
The SMS knows unbeatable deliverability ; You can be sure that your message will be read by your customers and prospects in the minutes following the shipment! What other channel of communication can do the same?
This is the number of countries in which
You can send your campaigns!
You can carry out your SMS campaigns on more than 500 networks, in the world with optimum quality of service. Learn!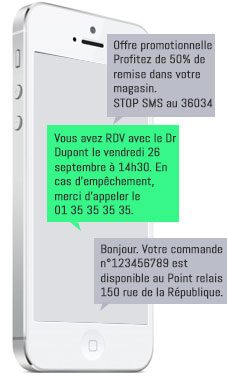 What advantages to E-marketing SMS?
a channel with proven effectiveness: an SMS is seldom deleted without even being read or set aside to be read later (as are the email campaigns or newsletters). It is estimated that 95 to 97% of messages are opened and read in 1 to 4 minutes after receiving a text message.
an efficient and user-acclaimed media: more than 80% of consumers assert their interest in SMS messages sent by companies and brands; 72% of them plebiscite "useful" messages (confirmation of follow-up of an order, reminder of appointment, etc.). and 40% of users consider it interesting to receive discounts in shops or benefits via SMS.
New-generation SMS: thanks to the technological innovations shown by smartphones, SMS can be the first link in an interactive experience through the insertion of shortened URLs leading to a landing-page mobile created For the occasion (or directly on your own website). Relay offers of coupons, flash sales, promotional videos or contests: A wide range of e-marketing actions is offered to you... and this is not counting on the reception of SMS which opens the door to inter-personal communications!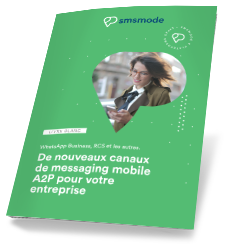 WHITE PAPER
WhatsApp Business, RCS and others.
New mobile A2P massaging channels for your business.
Downloadable free of charge, our white paper will help you discover new mobile messaging channels and new opportunities for your communication.
Our services in e-marketing SMS
smsmode© offers several products and services for sending and routing SMS designed for all mobile marketing applications:
a professional SaaS platform for sending SMS accessible online via a simple web browser and that allows you to realize in full autonomy campaigns of SMS Pro in the unit or in mass. With this online software, and in just a few clicks, write your message and use the many features available: Address Book management, easy import of contacts via an Excel or CSV file, automatic deletion of the database of data as a result of a request to unsubscribe or an erroneous telephone number, scheduling of mailings, consultation of replies received, reception statistics (reception rate, temporary or permanent error, etc.), etc.
DISCOVER THE AVAILABLE SMS SOLUTIONS
HTTP and Mail APIs that allow you to quickly integrate automated SMS sending from your website, your application or from your e-mail inbox. These interfaces have been designed to be the most complete possible and simplest to use. In addition, you should be aware that increased management and monitoring of the traffic generated by the APIs is carried out by our SMS notification teams.
LEARN MORE ABOUT OUR APIS
Advanced SMS Solutions that enrich this channel of the customer relationship, and allows to deploy mobile services with high added value, more interactive: Reception of SMS, creation of landing-page mobile, registration service and Automatic unsubscribe by SMS, etc.
LEARN MORE ABOUT OUR ADVANCED SOLUTIONS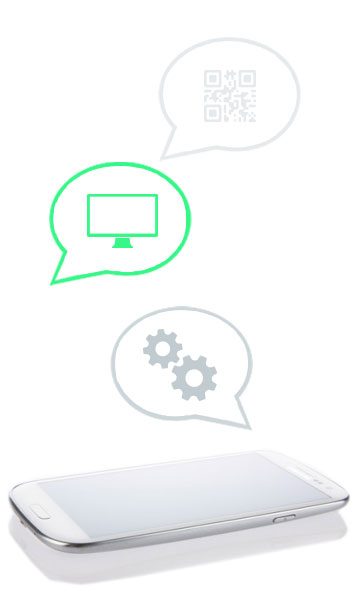 20 SMS OFFERED

Try our free e-marketing SMS platform
Create your 100% free and non-binding user account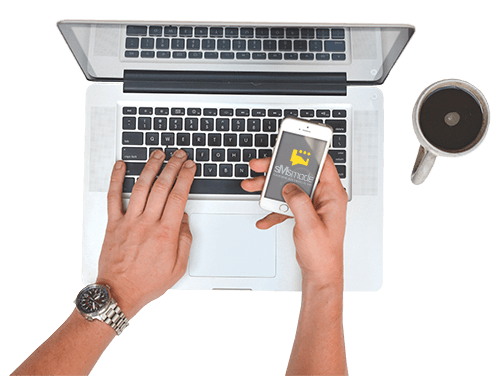 Our team advises you...

Our sales team and technical support are at your disposal to answer all your questions and requests for information on the SMS marketing. As an SMS operation E-marketing partner with over 10 000 customers and traffic of more than 10 million SMS per month, we can also help you set up the SMS marketing solution that best suits your problem.