Focus on
online SMS
Want to know how to send SMS online? Do you want to send text messages online at very competitive rates? An online SMS-sending platform or service allows you to communicate quickly and at lower cost with your business partners, customers or collaborators on their mobile phone number.
This professional SMS sending solution via the Internet also allows you to carry out SMS campaigns simply while having all the advanced features to personalize your messages and track their effectiveness. Spotlight on the SMS online...
SEND SMS ONLINE IN DETAIL
So many recipients
You wish!
There is no limit on the number of phone numbers and the list of contacts you want to send messages to. Delivered to thousands or tens of thousands of phone numbers, the amount of text sent does not affect the performance of your online SMS!
This is the shipping price
of each SMS message!
An extremely economical means of communication , sending a message via SMS costs up to 10 times less than a paper mail or a telephone reminder. Take advantage of an extremely economical support for commercial or informational use with SMS sending!
Manage the dissemination of information
In a few clicks!
regardless of the number of recipients of your message, the setup of your online SMS marketing campaign is done in just a few clicks! Message Composition, possible setting of the sender, choice of recipients, your message is ready to be sent.
Optimize your professional communication with the SMS via the Internet
Ideal for communicating instantly with a list of customers, prospects, business partners or collaborators, sending SMS online is part of these new strategies that allow the optimization of its means of communication with the large Public and the promotion of its products and services. It is also a great way to establish a close relationship with customers and prospects and a very good offer in B to B and B to C.
With an efficiency unsurpassed by the traditional media, the SMS in number or sent to the unit, is an innovative communication medium, simple and very economical which allows you, among other things, to: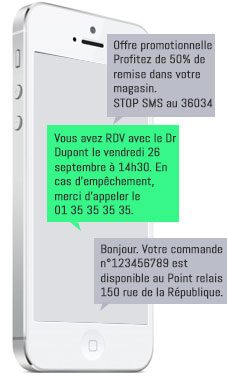 carry out a promotional campaign via SMS to your customers: sending SMS online from an SMS service such as that of SMsmode, is a simple and accessible solution for companies regardless of their size, and which allows them to manage Customizable promotional SMS campaigns in full autonomy.
sending information in real time: to send messages and notices of delivery of parcels, availability of products, confirmation of reservation, provision of an order in point of withdrawal, message of welcome or of Thank you, etc.: Think of the SMS! He will be your best ally to deliver the right information at the right time...
confirm or recall an appointment or event: in order to reduce the missed appointments and optimize the management of the planning of your structure, sending SMS to its clients, patients or members, has there also proven its effectiveness Compared to a phone call! To adopt if you have not yet done so...
keep in touch with your employees on the move: from your office and your PC, touch and inform at any time the whole or one of your collaborators in a mobility situation thanks to the sending SMS. Indeed, SMS remains the most effective way to send a message to a person on the move, without restriction of network coverage and in a very short time.
Powerful and intuitive online SMS tools
As the main player in sending SMS online for more than 12 years, our team has developed over the years online tools and services that are both simple and complete. Whether you are a small, medium or large company and without any specific requirements, you have the possibility, from a simple Internet connection and through our web interface-platform made available, to efficiently manage the SMS shipments by Line, benefiting from:
simplicity and speed of use: the services and tools to send and receive SMS online are intuitive and easy to use; In a few minutes, you created your first SMS campaign whether it be a SMS campaign or a TTS. The online SMS SaaS platform also gives you access to a multitude of features that allow you to manage the sending and receiving of SMS as well as the Address Book and contact groups in a sharp way.
gateways available to send SMS from your website and applications: thanks to our SMS API, you can easily integrate all queries and codes to send or manage SMS (unit or grouped) shipments as well as allow a Reception SMS to France or abroad, directly from your business application, your website, your CRM, etc.
the possibility of receiving SMS replies: Thanks to the rental of a virtual number (reception service) or the answer option linked to the SMS Pro, all the received SMS replies are viewable on your customer space.
the assurance of a dedicated and constantly monitored service: our infrastructures and services deal with 1 million requests for sending and receiving SMS per day. Our solutions are monitored 24/7, 365 days/year with resistance to failure. Connected in direct route with the French telephone operators, the deadlines for reception of SMS on line by the final recipient are thus guaranteed (95% of the SMS sent are received in less than one minute). All queries are described specifically in the HTTP API documentation; You can easily integrate SMS sending and receiving from your website or business application (CRM, ERP, etc.) at no extra cost.
cost Control: No commissioning fee, no subscription or monthly fee, you only pay for online SMS sent. Also, on your password-secured client account, you purchase the custom SMS pack at the best price (and take advantage of the declining rates according to the volumes) and tailored to your needs. Note that the duration of use is not limited.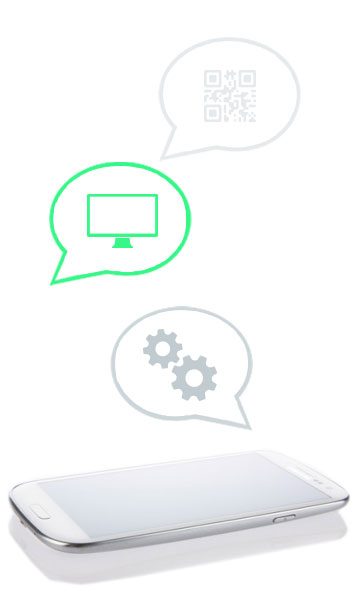 20 SMS OFFERED

Test free SMS Sending online
Registration 100% free and without obligation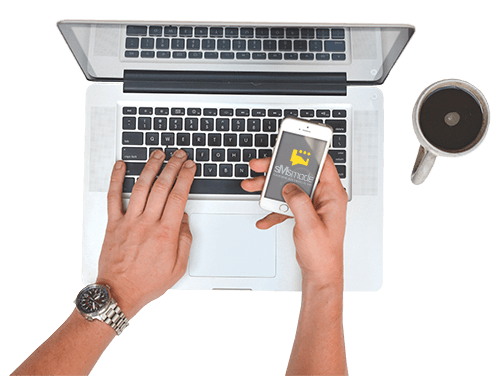 Our team advises you...

Our sales team and our customer or technical support are at your disposal to answer all your questions about our SMS send and receive online services and to help you set up the most appropriate SMS marketing solution for your Problem.