SUCCESS STORIES
Discover the best success stories of our customers who have run inspiring and successful mobile campaigns. Thanks to our solutions, these companies have made mobile messaging a major asset for their communication strategies.

Trovimap is an innovative online real estate portal, which is present throughout Spain. The property search is based entirely onlocation, so this online platform offers a simple and effective real estate experience  for both individuals and real estate professionals. Trovimap is not only a property listing portal , but also an evaluation service which is well-known in Spain.
APPROXIMATELY 700 PROFESSIONAL (REAL ESTATE AGENCIES)
MORE THAN 750,000 PROPERTIESFOR SALE OR RENT
RECOGNIZED AS ONE OF THE 3 LEADING REAL ESTATE PORTALS IN SPAIN 
Download
THE STUDY CASE TROVIMAP X SMSMODE©
The personal data collected by CALADE TECHNOLOGIES is processed by computer. This process is specially designed to satisfy your requests. The treatment is based on your consent. Only CALADE TECHNOLOGIES team and our DPO have access to your data. This data is stored as long as needed to provide you with our services and to operate our business. At the end of our contractual relationship, the data will be kept for a 3 years period from our last contact, then archived for a 5 years max. duration. In accordance with the system currently in force, you are entitled to access, rectify, erase and limit your personal data. You are entitled to set the guidelines of this data after your death, to make an administrative appeal to a supervisory authority. For more informations, you can also join us at dpo(at)smsmode.com
in the service of the property valuation tool
The 2FA(double authentication factor ) step, integrated in the estimation service offered by Trovimap, has many advantages for real estate prospecting.
A two-factor authentication scenario
The Trovimap real estate portal has an evaluation tool that allows to obtain the price of a property and market data (estimated sale and rental price, rental yield, price and market trends, cadastral report, etc.) in a few minutes.
At the very last stage of the form, the individual's contact details are requested to send the report. A validation of the user's mobile number by sending a One Time Password (OTP) by SMS has recently been activated.
We needed a very fast, simple and secure process that would allow us to validate the mobile number entered in the questionnaire without too much friction.
Josep Lluis Navas, Trovimap Spain Manager

The objectif is to have accurate and validated telephone details to enable the regional sales manager to contact individuals who want to sell their property at short notice.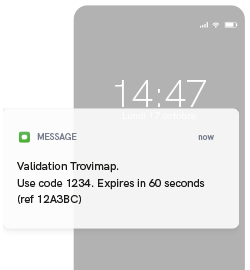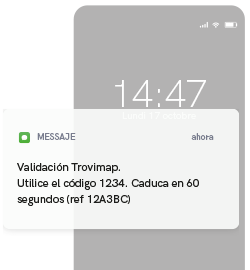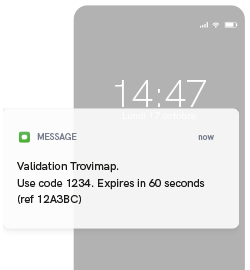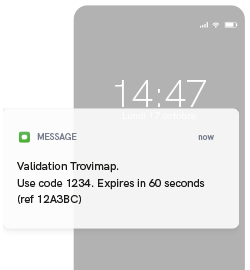 SMS OTP as an essential tool in contact entry
The activation of two-factor authentication on the Trovimap platform is a recent change, after many years of non-validation. It also follows the realization that a significant portion of the accounts created were based on false information and fictitious identities. Trovimap's technical department evaluated several options (including adding a captcha). But it was the SMS OTP with a single-use numerical code sent by text message, which appeared to be the quickest solution to implement (via API) and above all the most effective in achieving the desired result: verification of the Internet user's identity.
Before the introduction of SMS OTP, we had about 20% of anonymous users: individuals or professionals who did not want to show their identity. Today, we are almost at zero!


Josep Lluis Navas, Trovimap Spain Manager
This authentication step makes it possible to counteract two major and common problems that SaaS (Software as a Service) platforms encounter: either the telephone details are "accidentally" wrong due to a typing error, or the user intentionally enters false information.
By adopting a proactive verification of incoming contacts, in real time and carried out by themselves, Trovimap ensures the veracity of the mobile number of incoming contacts before passing them on to the sales team. This proactivity is the key aspect of a crucial issue for Trovimap: quality acquisition, which is closely linked to the improving efficiency of sales prospecting.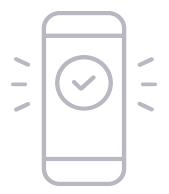 HIGHLIGHTS
Very fast and simple process
Robust, reliable and secure validation
Very low friction
WEAKNESSES
Limited verification of the phone number

qualified lead generation
Generation of high-quality and verified leads
Beyond the strict validation of the telephone number the guiding principle od Trovimap's approach is the qualification of incoming leads. The collection of data — and relevant, reliable and usable type of data — is a basic principle that is essential to its exploitation by the sales teams which can improve the prospecting. Let's not forget that a lack of information as well as erroneous data leads to loss of time, money and ROI.
By adopting lead nurturing via OTP and SMS — which removes and disqualifies the contact from the start — Trovimap team has adopted a method that is certainly radical, but highly effective. The platform and its team have only the most highly qualified opportunities (MQLs, not SQLs) available to them as soon as they enter the database, so that they can concentrate on those contacts with the highest motivation and most likely to be converted... all thanks to a simple text message!
The issue of lead quality and qualification is crucial:identifying SQL is now a key element of an inbound of an inbound lead generation strategy.

Fabien Andraud, head of sales smsmode©
In short, this SMS OTP two-factor authentication process is approved by the Trovimap team and is now proving to be their best lead capture asset. The only regret today is that they did not implement it before, so that they could benefit from its advantages earlier!
we are smsmode©
European mobile messaging platform, expert and specialist in the market with nearly 20 years of experience, we support European brands in the integration of A2P mobile messaging in their mobile strategies. To this end, we offer a range of mobile channels (SMS, TTS but also RCS, WhatsApp Business or Verified SMS) which opens up new omnichannel possibilities.
To find out more about our solutions, contact one of our customer success managers to discuss.
We will be happy to show you the potential of mobile messaging, give you a demonstration, etc.