Choose a powerful and profitable media
SMS Marketing is an indispensable communication channel for companies that want to invest in mobile media.
Send SMS, a method of selling and innovative marketing
Mobile support has become an issue for marketers; Among its most widely used features, the SMS benefits from increased relevance due to its characteristics and performance. Indeed, sending SMS is an important communication vector in marketing ; Companies use this media to communicate, alert or inform their existing or potential clientele.
How to increase sales by opting for the " send SMS " feature?
In an extremely competitive market, companies must constantly find innovative solutions to reconcile the obligation to maximise their turnover and the need to reduce their operating costs. This is especially true for the communication/marketing budget. In this case, one of the original, efficient and economical methods is to send SMS.
To inform customers of the marketing of a new product, of a private sale, of sales, of a shipment or of a promotion, to propose the registration to a loyalty program, and any other action of communication or of Mass marketing, the action of sending SMS is necessary as an indispensable tool to register in mobile communication.
If the SMS has proved its effectiveness and relevance in the mobile communication landscape, it is essentially because it allows to transmit a short and immediate impactful message to a high number of people, at prices Ultra-competitive compared to other traditional media.
Successful mobile marketing operations with smsmode©
However, to get the best results, a number of good practices are to be adopted to send SMS that go beyond simply entering your message and sending it to the list of recipients. These good practices are part of the general approaches of Mobile marketing and have been the subject of one of our white papers "10 good practices to carry out an SMS campaign... and Succeed!"
Moreover, the range of SMS is also an important factor to succeed your campaign : parallel to the basic products (the SMS Pro or The voice message) which complements the text by an image, allow with their specificities to fulfil objectives of Very specific marketing. If, however, in the case of bi-directional communication, replies to the sent message can be made with the reply to the SMS sent (option of the SMS Pro) to be then managed online on your client space.
For nearly a decade, smsmode© has provided thousands of customers from very different business sectors, a personalized m-marketingservice, so that all your operations, whatever their nature, and their objectives, Produce the expected results.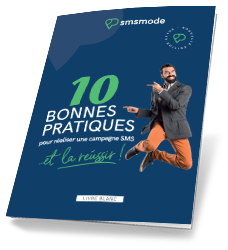 WHITE PAPER
10 good practices to carry out an SMS campaign... and succeed!
Free download, our white paper "10 good practices to carry out an SMS campaign... and succeed!" will help you discover the essential practices and many tips for carrying out your SMS marketing campaigns.