Free white papers
& free studies
Through our white papers and studies, discover expert advice on how to master SMS sending and optimise the use of SMS in your communication.
Download free of charge, our white paper will let you discover the 10 best practices essential to carry out your marketing campaigns via SMS.
PDF AVAILABLE IN ENGLISH, FRENCH AND SPANISH
FREE WHITE PAPER

10 good SMS practices to carry out a successful SMS campaign!
SMS has become an integral part of our daily lives: short and accessible, it is also practical and fast, to the point that it has found its place in mobile marketing. Today, more and more companies and brands are using this mobile medium. The acceptance and efficiency it has shown (read rate higher than 90%, fast opening time, etc.) give it legitimacy and real assets in a marketing and customer relationship strategy, compared to emailing or traditional advertising media.
But how to succeed in mobile SMS communication?
What are the basic principles to respect and implement to improve your SMS campaigns?
Through this white paper, which includes 10 practical sheets on SMS best practices and numerous methods and concrete advice illustrated with examples, you will have all the keys to take full advantage of the potential of SMS in mobile communication. It will allow the novice as well as the marketing professional to deploy or improve their SMS campaigns.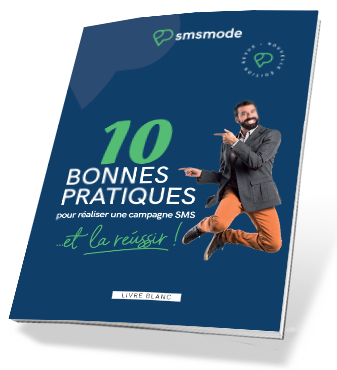 Free Download our White paper:
Our white paper "10 best practices for running an SMS campaign ", with 16 pages of mobile marketing tips, can be downloaded by filling in this form:
smsmode© requires the contact information you provide to contact you about our products and services. You may unsubscribe from these communications at any time. Please refer to our Privacy Policy to learn more about how to unsubscribe, as well as our privacy policies and our commitment to privacy. You may also, for legitimate reasons, object to the processing of your personal data. If you wish to exercise these rights, please send an e-mail to dpo(at)smsmode.com.
Through 10 good SMS practices that bring together many practical tips, improve your SMS campaigns

Build your customer Database

Identify yourself in a clear and accurate way

Find the right hook

The background... and form

Suggest a way to interact

Personalize your campaigns

Find the appropriate time

Test your campaigns

Comply with your legal obligations

Quantify the impact of your campaigns