Focus on
Security via SMS
Securing is an increasingly important issue for many companies. In order to protect against the risks of identity theft or other threats to online services (malware, phishing, replay attacks, etc.), security via SMS enhances the securing of online payments, account creation, or access to protected sessions.
Ideal for maintenance teams and services, the security Code solution sent by SMS to the user's mobile phone number is a robust, flexible and high-security authentication system. Based on an online service integrated with a website or an application, sending an SMS incorporating a secret and temporary code is an increasingly used practice.
Overview of security by SMS...
SECURITY VIA SMS IN DETAIL
A low cost
Operating
This single-usepassword security technique remains inexpensive: without subscription, activation or account opening fees and free and free integration, only the price of SMS sent on Mobile phones is billed to you.
A set up
Simple and fast
With a ready-to-use integration module and complete and free documentation, the integration of single-password generation is simple and fast.
Technical support
At your disposal
All of our dedicated developer team is available to help you integrate security via SMS or answer your questions.
The method of securing its services via SMS allows professionals to set up: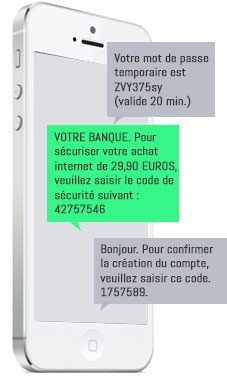 Secure online Payments: The unique code sent by SMS to a mobile phone or smartphone can guarantee the security of a transaction on the Internet. Widely used and adopted by online banks, securing e-commerce transactions via SMS can effectively combat theft, fraud and fraudulent payments.
access to a customer account or online space: sending a single password per mobile message also allows you to log in and have access to a customer account or a dedicated online space in a secure and mobility situation. It helps ensure connection security and fill in the gaps associated with traditional static passwords. For example, connection attempts can be limited in number and time to secure accesses to unsecured public networks without resetting passwords whenever connections are attempted.
verification of a person's identity: The OTP is also used to verify and confirm a person's identity through the validity of his or her mobile number. This is to guarantee the veracity, reliability and trust of the profiles of contacts created (especially in the creation of a sharing community) or the legal use of your service.
electronic signature of an online document: validation of the taking of online contracts, an administrative process, etc.; The dematerialisation of the procedures, sensitive information par excellence, requires to bring to the validation of documents in all digital a high level protection... And the OTP is a service providing both the simplicity of use, the reliability and the security sought.
HOW DOES SMS SECURITY WORK?

The user makes a request to send code to the previously registered mobile number or, if necessary, seizes his phone number when he wants to identify himself or connect to your system.

A single-use password is created and sent in real-time by SMS to the user. If sending and receiving fails, an error status code (40x or 50x) is notified.

The user seizes the password in the input field provided for this purpose and the OTP verification allows the user to continue the scenario you have defined (access to private pages, validation of an e-payment, etc.).
THE BENEFITS OF UNIQUE PASSWORDS SENT BY SMS
A specialist in sending SMS for more than 12 years, SMsmode has developed a routing channel dedicated to OTP messages to ensure maximum reception as soon as possible. By choosing our services, you are thus guaranteed to benefit from all the advantages and the potential of data protection by SMS, namely:
The simplicity of the password by SMS: based on the mobile phone number and the fact of receiving a simple SMS, the use of the security by SMS is intuitive, simple for the end user, which allows him to be currently widely Approved.
an additional level of security: the "One time password" is based on double-factor authentication ("What I know associated with what I own"). The password sent by SMS is intended for single use and has a maximum longevity of 15 minutes, which gives it a high level of protection for all connections, a very good user experience as a good fight against the activities Suspicious.
universality and maximum accessibility: not requiring Internet connection or being subject to SPAM, the OTP is based on wide support for terminals and on the extent of the coverage of mobile operators, in France or abroad, To provide a service that is not limited geographically or temporally.
Important Deployment Opportunities: based on an API compatible with the most common programming languages (PHP, Java, ASP, C++, Ruby, WINDEV, etc.) and requiring no maintenance, SMS authentication can be Deployed in areas and for extremely diverse uses and sectors: Online Banking, e-learning portals, health sites, protection of highly confidential information, etc.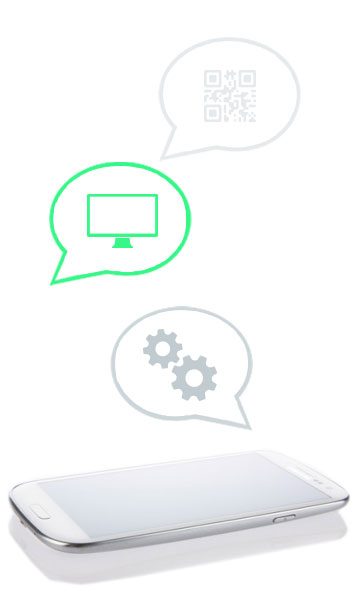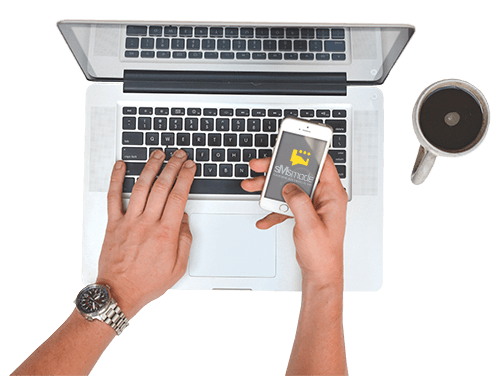 Our team advises you...

Our commercial and technical teams are at your disposal to answer all your questions about security via SMS and to take advantage of the advice of setting up our key-in-hand security SMS sending application! Feel free to contact one of our collaborators, our goal is the success of your project!