Zapier SMS Plugin
The easiest way to automate SMS sending in your application
Use our SMS Zapier plugin to directly connect your e-commerce solution, your CRM or ERP with our powerful SMS routing service. Add in a few clicks and without any technical knowledge, text & voice SMS sending scenarios.
PRODUCT DATA SHEET
CHARACTERISTICS OF THE ZAPIER SMS MODULE
FEATURES INCLUDED
Our Zapier SMS connector allows you to integrate the automatic triggering of SMS sending into your web, e-commerce or CRM application.
Automated bi-directional synchronisation of over 1,000 applications with our platform These include:

e-commerce solutions (Magento, Woocommerce, Shopify, Stripe, Paypal, etc.) in order to set up SMS trigger marketing automation,
CRMs and ERPs (HubSpot CRM, SugarCRM, Salesforce, TrackVia, Zoho CRM, Pipedrive, Freshdesk, etc.) to implement the sending of SMS via our routing service,
collaborative web tools such as Google tools (Gmail, Google Calendar, Google Docs, Google Sheet, Google Drive, Google Contacts, Google Analytics, etc.), social networks (Facebook, Twitter, LinkedIn, Instagram, YouTube, Hootsuite, etc.), developer tools (MySQL, Amazon AWS, etc.)

Intuitive parameterisation in just a few clicks, as the scenario creation process is done by drag & drop.
No coding or development is required, allowing you to easily, quickly and cost-effectively integrate the delivery of your voice and text messages to your contacts' mobiles.
Complete personalisation of the messages sent concerning the message, personalisation of the sender, the number(s) of the recipients, the date of sending. All fields can include variables linked to the trigger.
24/7 automation, which means that it works evenings, weekends and public holidays.
Multi-StepZaps available to integrate the SMS channel into marketing automation workflows with multiple actions with different applications, and the ability to apply filters (conditions for scenario continuation) or a time limit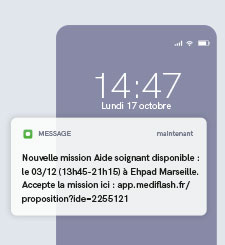 SUCCESS STORY
Zapier plugin & SMS: the winning combo for Mediflash
Mediflash, the replacement platform for carers created by carers, uses SMS to notify and alert carers of a new assignment.
To implement an automated workflow between the Mediflash algorithm and the routing platform smsmode©They opted for the Zapier plugin and a no-code approach.
A quick win action with multiple benefits during the test and implementation phase of the project.
EXAMPLES OF ZAPS
4000+ INTERCONNECTION POSSIBILITIES
The possibilities for integrating our text messaging service with Zapier are numerous.
Scenarios and uses too. Whatever your project, you can most likely do it with Zapier.
Below are some examples of some of the most popular services that can be connected to our SMS sending platform:

INSTALLATION & CONFIGURATION OF A NEW ZAP
All the steps to set up SMS sending with the Zapier connector
STEP 1: Create a customer account smsmode©free of charge and without obligation
STEP 2: Create a Zapier account on this page.
STEP 3: Create your own Zap!
To do this, define the trigger and select smsmode© as an Action application.
Enter your API key smsmode© in your customer area smsmode© in the section → My personal data → API access key, and validate.
Fill in the different setting fields of the SMS message to send.
Your Zap is ready and functional!
RATES
ZAPIER SMS MODULE RATES
CHOOSE THE DESTINATION OF THE SMS SENT
Prices in $US, £ and $CA are approximate and based on the application of an exchange rate to the price in Euro.
ZAPIER ACCOUNT FEE

COST ACCORDING TO FORMULAS
smsmode© ACCOUNT FEE ©

NO REGISTRATION FEE
Formula with subscription
or Formula without fixed costs and without commitment
SEE PRICING
SEE PRICING
OUR BENEFITS
WHY USE THE ZAPIER PLUGIN SMSMODE© ?

EASY INTERCONNECTION AND MAXIMUM COMPATIBILITY
With the power of Zapier and the performance of our SMS sending webservice, you can set up automatic SMS sending from your favorite application in minutes.

CONFIDENTIALITY AND PROTECTION OF CUSTOMER DATA
Your data travels securely between Zapier and smsmode© via HTTPs protocol. What's more, our robust security, encryption and data reduction measures comply with our RGPD commitments.

MAXIMUM QUALITY ROUTING TO FRANCE AND MORE THAN 166 COUNTRIES
Routing your SMS via our SMS-sending gateway is a maximum performance for sending and receiving SMS as well as assured reliability and efficiency.
Need more info?
Do not hesitate to contact us.