A high-performance sending service
A quality approach at the heart of our DNA
For nearly 20 years, smsmode© is committed to improving the performance and quality of its SMS sending platform. Aware of the need to constantly evolve our service, we develop our capabilities and guarantees to ensure greater efficiency and the achievement of your objectives.
SERVICE GUARANTEES
A ROBUST SERVICE MONITORED IN REAL TIME

CONNECTIONS
DIRECT OPERATORS
As a French telecom operator approved by ARCEP, we are connected via direct, high-quality routes with all French operators and with more than 500 operators in 166 countries.

MAXIMUM SECURITY
OF THE DATA
We are committed to total database protection and confidentiality. Encrypted and highly secure, you are assured that your data will not be used without your knowledge.

A PLATFORM
AVAILABLE 24/7
smsmode© provides you with a high-availability service. Hosted exclusively on servers located in Franceour technical infrastructure is guarded 24/7/365.
A SERVICE FOR SENDING QUALITY SMS
A PERFORMANCE & SERVICE-ORIENTED APPROACH

RESOURCES & ASSISTANCE
FOR THE IMPLEMENTATION OF THE API
Rest API implementation compatible with all programming languages to build your application with peace of mind
Providing a developer SDK for quick, flexible and efficient integration of the many features of our Rest API
Supporting for API request integration

MANAGEMENT OF MAILINGS & REPORTS
CAMPAIGN REPORTS
Management of Mobile Network Portability (MNP)
statistics on reception rates, sending errors, responses and unsubscribes
Feedbacks of your broadcast reports and receipt accounts (DLR), available in real time via your interface or via a notification URL

PRIORITISED TRAFFIC WITH HIGH
SENDING RATES
Intelligent separation of marketing, notification and OTP channels (with differentiated management of message priority, sending rates, etc.)
Automatic traffic failover solution in case of falling performances
Immediate and automatic adaptability to our customer needs in case of large volume need to be sent

OPTIMIZATION & MONITORING OF CHANNEL
PERFORMANCE OF CHANNELS
Daily analysis and optimization of the sending routes used
Real-time send performance monitoring (receipts and average delivery time) based on ELK technology (Elastic Search, Logstash and Kibana)
Real-time system monitoring with failure resistance

MANAGEMENT AND
AND MONITORING TOOLS
System for managing, sharing and prioritizing system and operator incidents (status-page)
Automatic calculation of SLA (Service Level Agreement)
Stats API available to monitor reception rates at 1 minute, 5 minutes and 15 minutes

A COMPLIANCE APPROACH
TO THE GDPR
Implementation of operational measures in accordance with confidentiality and security requirements
Encryption and reduction of imported user data on our platform
Designation of a DPO (Data Protection Officer) from 25 May 2018
A service level agreement
service level agreement (SLA) of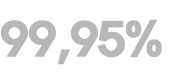 Get a 99.95% uptime with SMS routing designed for reliability.
A capacity to send
in the world of


Need more info?
Do not hesitate to contact us.