Integrate WhatsApp messaging into your business
With WhatsApp Business messaging, benefit from the performance of one of the most powerful channels on mobile. Facilitate exchanges with your customers and create an effective communication tool via a secure, private chat, ideal for customer relations.
THE TRUST OF YOUR FAVORITE COMPANIES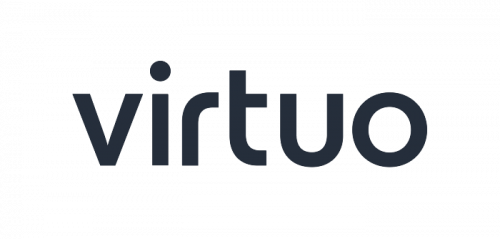 The advantages of WhatsApp
Find out why you should route your WhatsApp messages with smsmode©.
Comprehensive mobile messaging API
Benefit from an API dedicated to sending WhatsApp messages. Our REST API is a robust, high-availability structure handling over 4 million requests per day.
All your messages on one interface
Combine all your mobile campaigns (SMS and WhatsApp) in a single tool, smsmode© opens up new possibilities for managing your mobile marketing.
100% French delivery service
From the team to the data centers, our entire mobile messaging infrastructure is Made in France and committed to digital sovereignty.
Features of the WhatsApp Business channel
Take advantage of the power and potential of WhatsApp messaging for your business. A perfect tool for multi-channel customer relations.
All the steps to set up WhatsApp shipping for enterprises
With our "5 steps to WhatsApp Business messaging" guide, you'll find a step-by-step process for installing and configuring WhatsApp messaging for your business.
Overview and features of WhatsApp messaging
Unrivalled experience in customer care and marketing, thanks to engaging multimedia content and a certified company profile.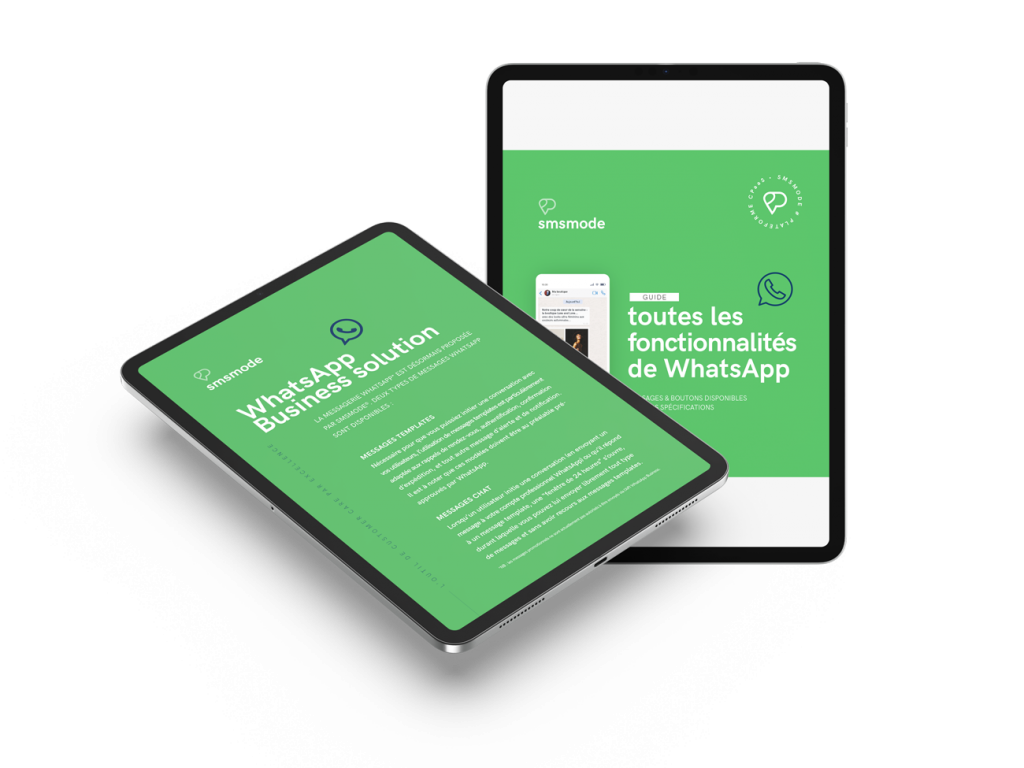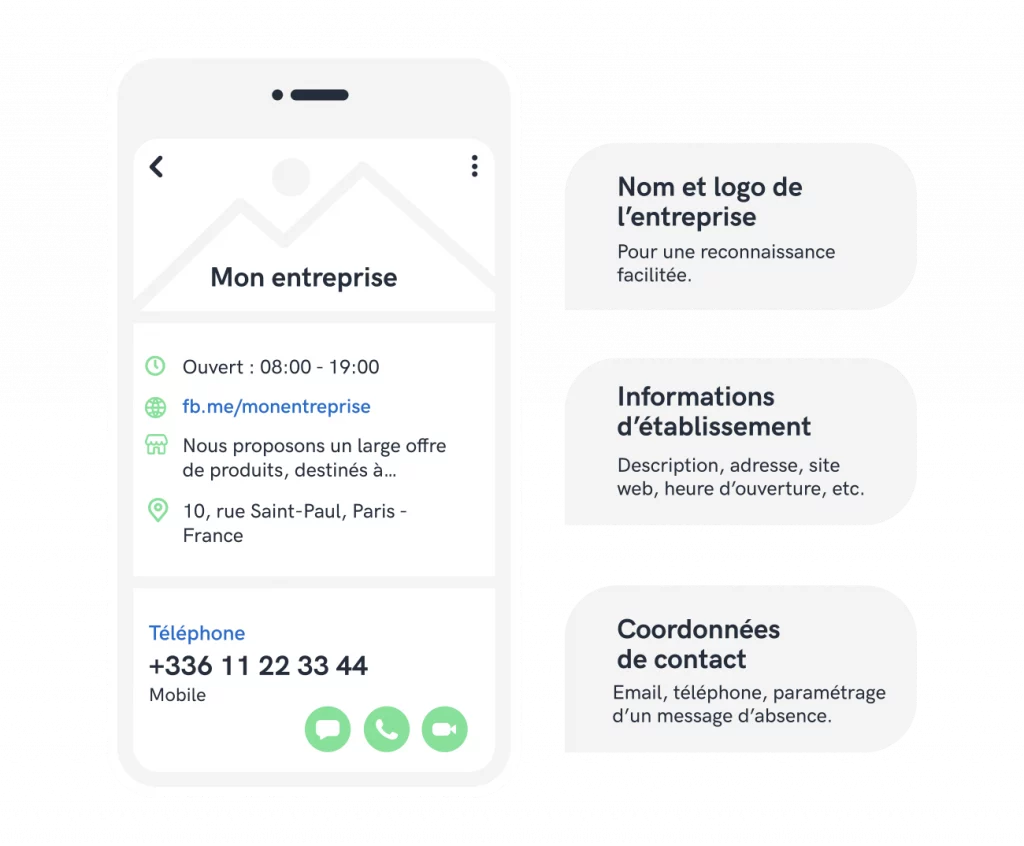 With the WhatsApp Business solution, two types of communication are available.
The first is to use a Message Template to start a conversation. A 24-hour Customer Care Window (renewed after each message sent) is open, through which you can send as many chat messages as you wish.
The second is based on a conversation initiated by the customer. Message Chat activates the 24-hour Customer Care Window and then allows the company to exchange as many messages as necessary without using a Message Template.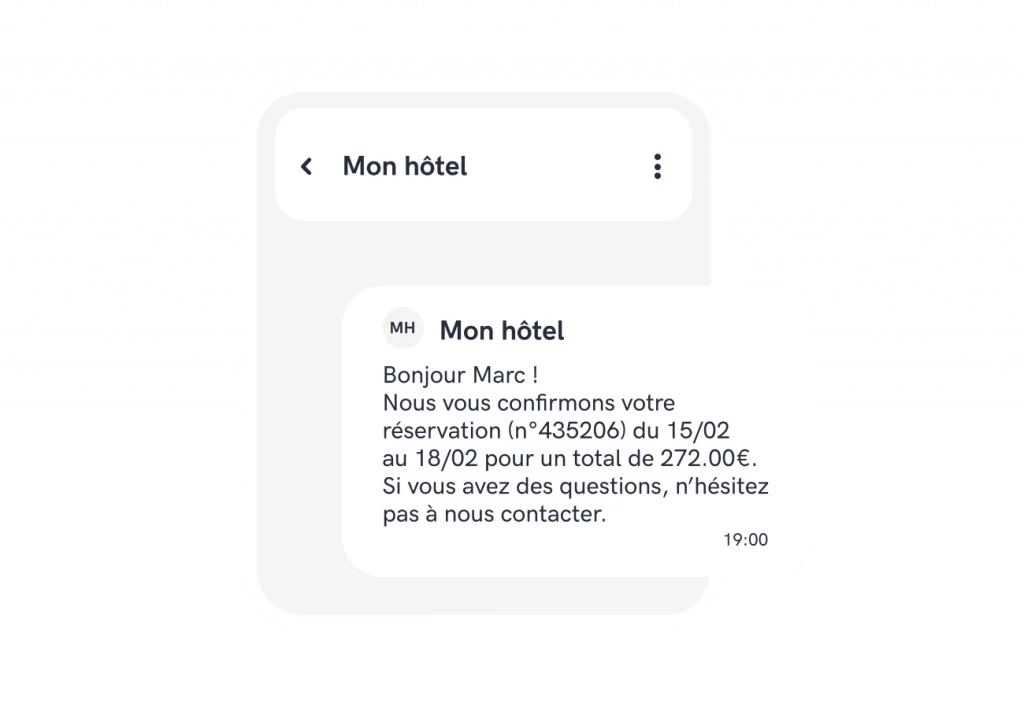 Necessary for you to initiate a conversation with your users, the use of template messages is particularly suited to appointment reminders, authentication, shipping confirmation, and any other alert and notification message.
Please note that these templates must be pre-approved by WhatsApp.
The company initiates the conversation
Only validated template messages can be sent.
Message containing only text (less than 1024 characters) and variables
Mandatory prior opt-in (explicit request to agree to receive your messages, via a third-party channel (website, email, SMS, application, etc.))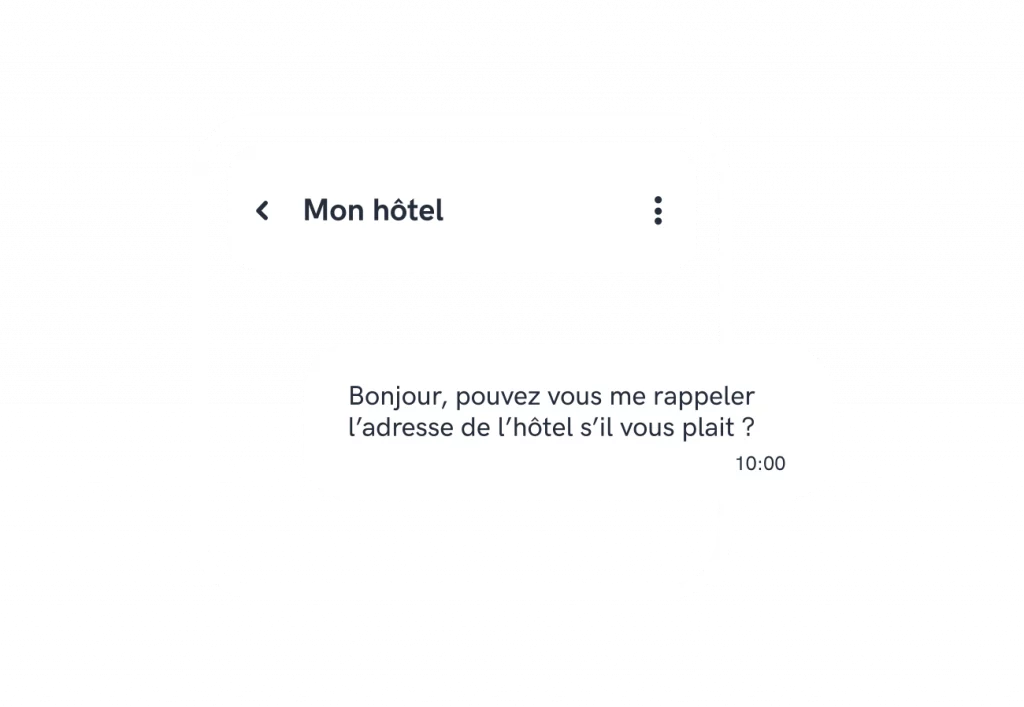 When a user initiates a conversation (sending a message to your business account) or replies to a template message, a 24h Customer Care Window opens, during which you can freely send them any type of message, without having to use template messages. Please note that these templates must be pre-approved by WhatsApp.
The customer initiates the conversation
Unlimited messages can be sent within 24 hours
Message content is free, with no size limit (text, photo, video, maps, PDF, etc.). 
No opt-in required (customer initiates exchange himself)
The WhatsApp chatbot, in action
Want to test a live WhatsApp conversation?
Initiate a conversation with our chatbot by texting "Bonjour" to +33 6 26 01 28 03 on your WhatsApp app, or scan the QR code opposite, and let the virtual agent guide you.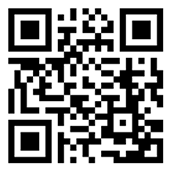 Prices in $US, £ and $CA are approximate and based on the application of an exchange rate to the price in Euro.
1 WhatApp number included
1 template message recording included
3 WhatApp numbers included
3 template message records included
10 WhatApp numbers included
10 template message records included
We look forward to hearing from you.