The documentations
smsmode©
A set of product sheets and presentation sheets to provide you with complete information on the range of products and services offered by smsmode©.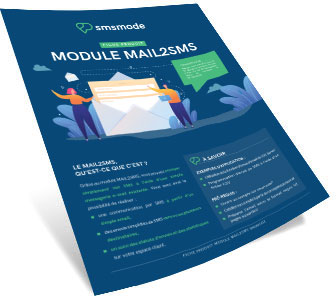 PDF AVAILABLE IN FRENCH
Description of the Mail2SMS service
In order to simplify even more the sending of SMS by internet, smsmode© proposes a Mail2SMS module. Thanks to this service, you can send your SMS from any e-mail address. You have the possibility to automate the sending of SMS by internet to one or more recipients.