The documentations
smsmode©
A set of product sheets and presentation sheets to provide you with complete information on the range of products and services offered by smsmode©.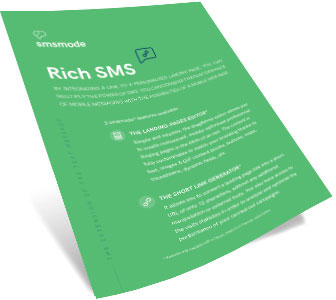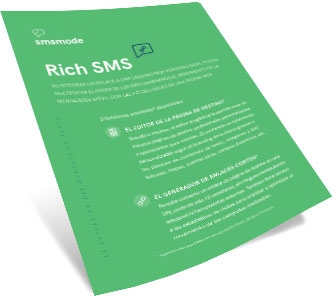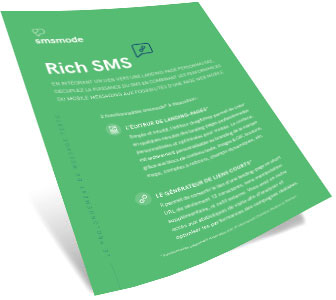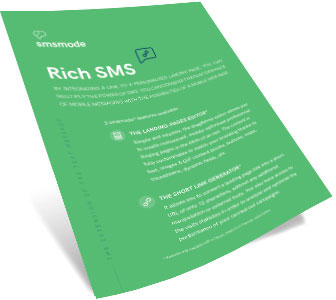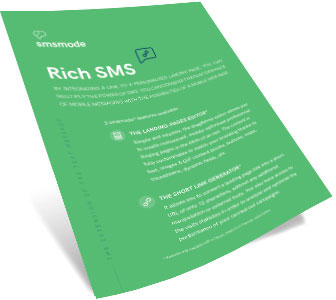 PDF AVAILABLE IN ENGLISH, FRENCH AND SPANISH
Rich SMS" sheet
With Rich SMS, increase the performance and power of SMS tenfold by integrating a link to a personalised landing page. Thanks to our landing page editor service coupled with the link shortener, you have all the tools and functionalities to bring your SMS campaigns into the era of interactivity, conversion and tracking!
I download the free PDF file:
The personal data collected by CALADE TECHNOLOGIES is processed by computer. This process is specially designed to satisfy your requests. The treatment is based on your consent. Only CALADE TECHNOLOGIES team and our DPO have access to your data. This data is stored as long as needed to provide you with our services and to operate our business. At the end of our contractual relationship, the data will be kept for a 3 years period from our last contact, then archived for a 5 years max. duration. In accordance with the system currently in force, you are entitled to access, rectify, erase and limit your personal data. You are entitled to set the guidelines of this data after your death, to make an administrative appeal to a supervisory authority. For more informations, you can also join us at dpo(at)smsmode.com