The features
for sending SMS
A set of practical sheets to discover and master all the features of creating and optimizing your SMS campaigns.
SMS Answer Option: Interact with your customers via SMS
Real-time management of responses received
Storage on your user account of all responses received
Retrieval of responses from the GUI or notification by URL
No additional costs for either the user or the customer
Receive answers from your customers
The SMS Reply option allows the recipients of your campaigns to reply directly to the SMS received via the short number used in the header. This allows you to interact with your customers via SMS in a completely automatic way.
No extra cost
The SMS Answer option is at no extra cost to you (cost of sending a Pro SMS). It is also free of charge for the recipient (cost of sending an SMS without surcharge, depending on package and operator conditions).
Storage and export possible
Responses received are stored and viewable online from your client account for easy management. Responses can be exported from the customer area via an Excel or CSV file, and can also be redirected to your servers via a URL notification for automated processing.
Restrictions:
- Option only available for SMS Pro.
- Do not use a personalised sender.
- Service onlyavailable for metropolitan France.
How do I manage SMS responses on your customer space?
THE CONSULTATION OF THE ANSWERS
You can consult all the SMS responses received in your customer area from the "Responses" sub-menu in the "Messaging" section (1).
EXPORT OF RESPONSES
The export of responses (as a CSV file) is done by clicking on the top left button "Export" (3).
A popup appears in which you enter the start and end dates (4). You must also select "Received responses" as a filter to get an export of the responses only.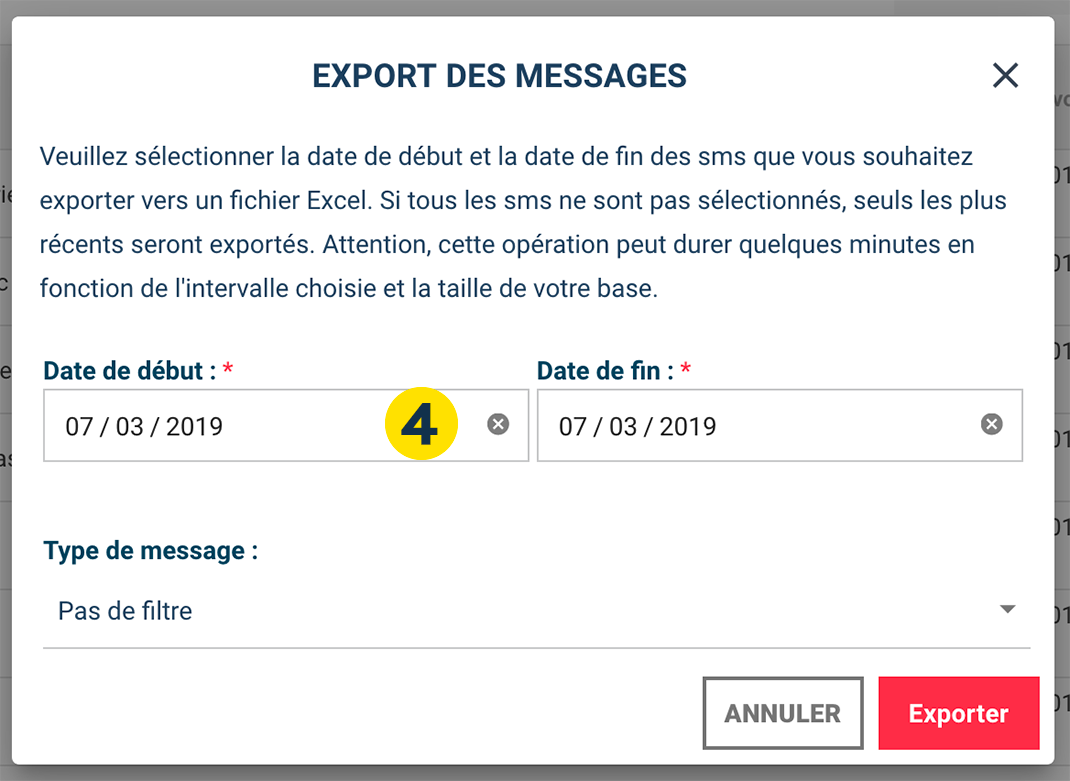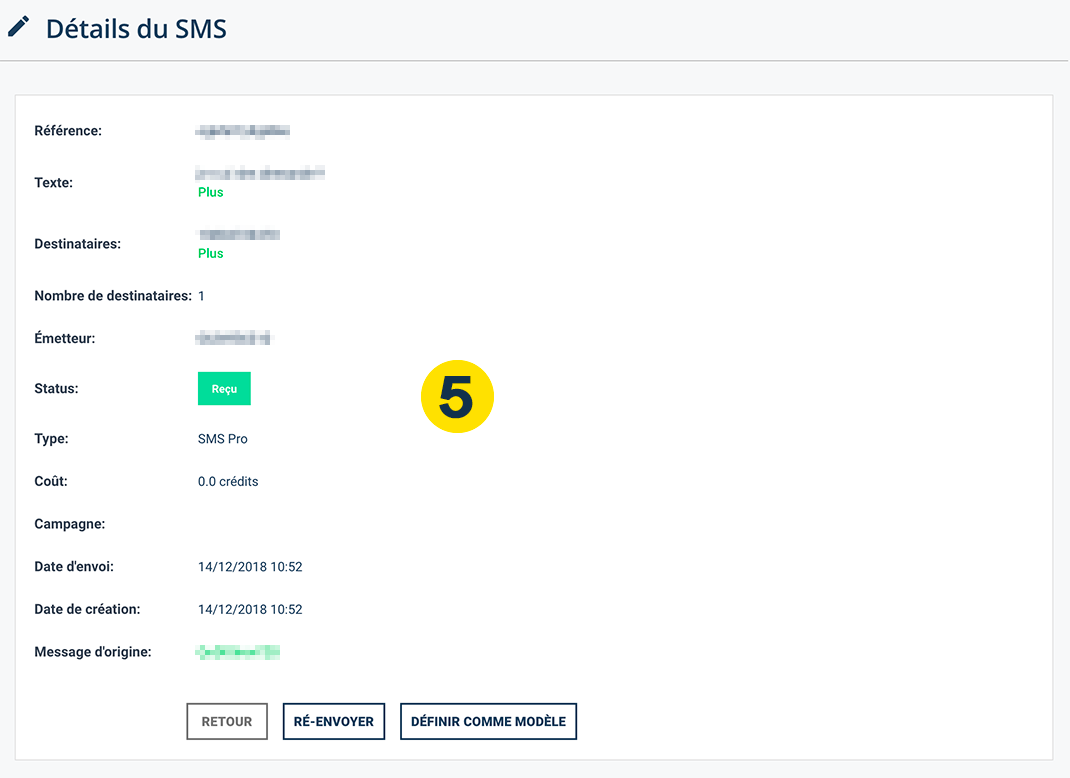 THE DETAILS OF THE SMS ANSWER
By clicking on the name of the SMS response (2) (previous screen), you can access the details of the response (5) including :
A reference to the SMS answer,
The content of the response text received,
The telephone number of the answer issuer,
The original SMS reference,
The date and time of receipt,
Etc.
THE RESPONSE URL NOTIFICATION
If you wish to receive URL notifications when an SMS response is received in your customer account, you can set the URL of your choice in the "Receive SMS (MO)" field (7 ) in the "Settings" section and the "Developers" sub-section (6).
A query will then be sent automatically to this URL.