The smsmode© blog
WhatsApp Business x chatbot
You have already implemented the WhatsApp Business solution in your business, but you are still hesitating? The following information could help you make up your mind or convince you! Aware of the tool's potential, your smsmode© team has recently established a partnership with the startup fAIbrik, a specialist in the design of multi-channel chatbots.
The idea? Automate your customer conversations via a conversational bot to save time, staff and money!
The choice of a proven channel
In the space of a few years, WhatsApp Business has become one of the most popular channels in the world. With 2 billion monthly active users, the instant messaging app now surpasses its big sister, Facebook Messenger. " Countless" is the adjective that best quantifies the features that will allow you to monitor your customers' satisfaction in real time.
With the fAIbrik chatbot, we add to our services an essential variable in customer relationship management today: omnipresence. Make yourself available 24/7 to answer your customers' most frequently asked questions.
Proximity at the heart of our strategy
Thanks to the experience shared by our partner fAIbrik in the creation of intelligent chatbots, smsmode© is positioned in the niche of proximity between companies and their users. The WhatsApp Business API is easily integrated and is designed for all types of customer services (hotels, banks, transport, consumer goods). WhatsApp Business will allow you to get closer to your customers and boost your business.
" WhatsApp has just passed the 20 million monthly active users mark in France, in just 10 years. It is the preferred conversational channel to share an "instant" relationship with your customers. Plugging an intelligent chatbot into our WhatsApp Business API is not only an added value but also a necessity for companies that want to increase customer loyalty or better communicate with their employees. Today, the most important thing is that you are present where your recipients are," explains Fabien Andraud, Head of Sales smsmode©.
The fAIbrik capital gain
Thanks to the years of experience of our partner fAIbrik, with whom we have forged close links, smsmode© is now committed to bringing you the solution you are looking for: permanent immediacy.
Use WhatsApp Business plugged into the fAIbrik chatbot now
Apply for your WhatsApp Business account today and discover the many possibilities this solution has to offer your business.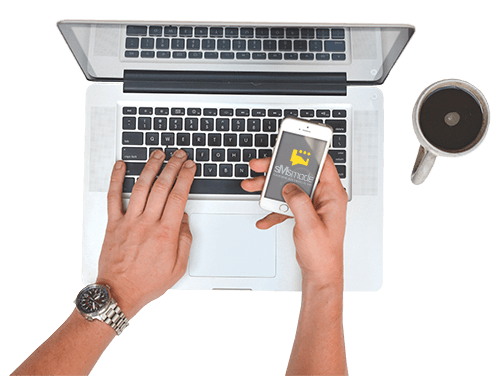 Our team advises you...

Are you interested in our services? Our sales and technical teams are at your disposal to answer all your questions about our solutions and to receive advice on setting up your campaigns.