Free white papers
& free studies
Through our white papers and studies, discover expert advice on how to master SMS sending and optimise the use of SMS in your communication.
Our free downloadable white paper will help you discover the new mobile messaging channels and the new opportunities they offer for your communication.
PDF AVAILABLE IN ENGLISH, FRENCH AND SPANISH
FREE WHITE PAPER

WHATSAPP BUSINESS, RCS AND OTHERS.
New A2P mobile messaging channels
for your business
SMS has been an established part of the A2P (Application to Person) mobile messaging landscape for 15 to 20 years now. And now new formats are suddenly coming to the fore. Between those that are already established in the panel of communication tools(push notification and WhatsApp Business API) and those thatarrive on the market(RCS and Verified SMS).
In a context where the use of instant messaging by individuals is exploding, this new market that is opening up for companies is synonymous with new opportunities to get in touch with their customers. And companies have understood this.
Indeed,aware of the stakes and the potential offered by these new channels, companies' expectations are high. The first French companies are now beginning to use these new channels in their omnichannel strategies and are beginning to see initial feedback.
Through this new smsmode© white paper, we have drawn up a complete panorama of these new channels... so that you can then opt for the best support.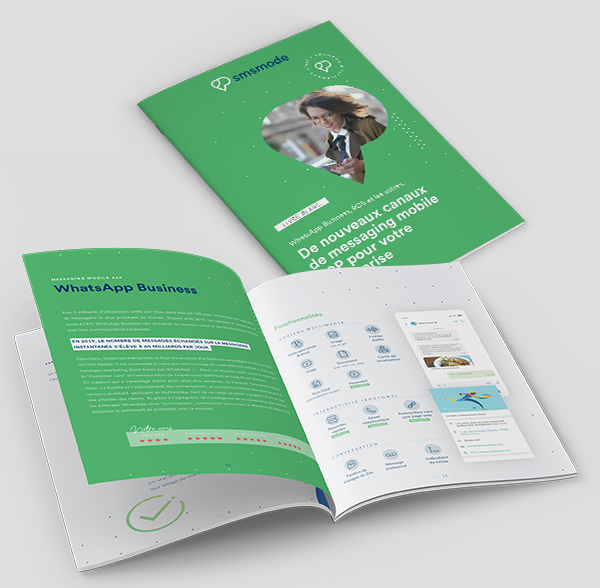 Free Download our White paper:
Our white paper "WhatsApp Business, RCS and the rest. New A2P Mobile Messaging Channels for Your Business" is downloadable by filling out this form :
The personal data collected by CALADE TECHNOLOGIES is processed by computer. This process is specially designed to satisfy your requests. The treatment is based on your consent. Only CALADE TECHNOLOGIES team and our DPO have access to your data. This data is stored as long as needed to provide you with our services and to operate our business. At the end of our contractual relationship, the data will be kept for a 3 years period from our last contact, then archived for a 5 years max. duration. In accordance with the system currently in force, you are entitled to access, rectify, erase and limit your personal data. You are entitled to set the guidelines of this data after your death, to make an administrative appeal to a supervisory authority. For more informations, you can also join us at dpo(at)smsmode.com
Through the 28 pages of this white paper, discover the functionalities offered by each of these new channels, their features, their compatibilities and their potential.
TREND
3 pillars: multimedia, conversation and security
PRODUCT SHEET
WhatsApp Business
PRODUCT SHEET
RCS - Rich Communications Services
PRODUCT SHEET
Verified SMS
PRODUCT SHEET
Push notification
A2P MOBILE CHANNEL COMPARISON
Summary of available features