Free white papers
& free studies
Through our white papers and studies, discover expert advice on how to master SMS sending and optimise the use of SMS in your communication.
Our free downloadable white paper will help you discover the new mobile messaging channels and the new opportunities they offer for your communication.
PDF AVAILABLE IN ENGLISH, FRENCH AND SPANISH
FREE WHITE PAPER

WHATSAPP BUSINESS, RCS AND OTHERS.
New A2P mobile messaging channels
for your business
SMS has been an established part of the A2P (Application to Person) mobile messaging landscape for 15 to 20 years now. And now new formats are suddenly coming to the fore. Between those that are already established in the panel of communication tools(push notification and WhatsApp Business API) and those thatarrive on the market(RCS and Verified SMS).
In a context where the use of instant messaging by individuals is exploding, this new market that is opening up for companies is synonymous with new opportunities to get in touch with their customers. And companies have understood this.
Indeed,aware of the stakes and the potential offered by these new channels, companies' expectations are high. The first French companies are now beginning to use these new channels in their omnichannel strategies and are beginning to see initial feedback.
With this new white paper smsmode©we have put together a a complete overview of our new channels... so you can choose the best support.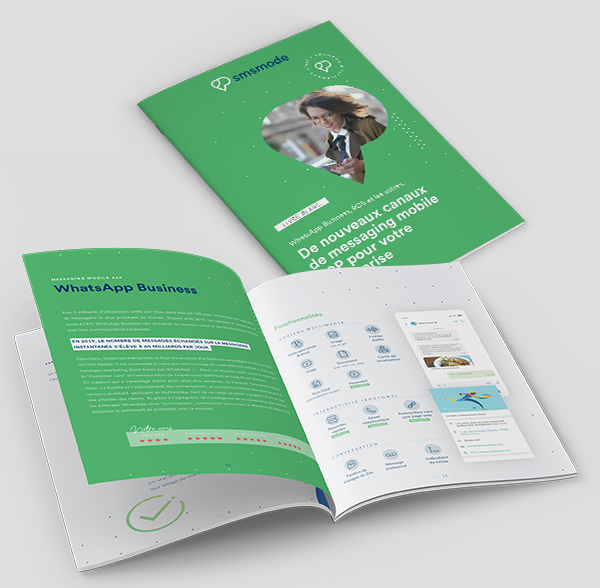 Free Download our White paper:
Our white paper "WhatsApp Business, RCS and the rest. New A2P Mobile Messaging Channels for Your Business" is downloadable by filling out this form :
smsmode© requires the contact information you provide to contact you about our products and services. You may unsubscribe from these communications at any time. See our Privacy Policy to learn more about how to unsubscribe, as well as our privacy policies and our commitment to privacy. You may also, for legitimate reasons, object to the processing of your personal data. If you wish to exercise these rights, please send an e-mail to dpo(at)smsmode.com.
Through the 28 pages of this white paper, discover the functionalities offered by each of these new channels, their features, their compatibilities and their potential.
TREND
3 pillars: multimedia, conversation and security
PRODUCT SHEET
WhatsApp Business
PRODUCT SHEET
RCS - Rich Communications Services
PRODUCT SHEET
Verified SMS
PRODUCT SHEET
Push notification
A2P MOBILE CHANNEL COMPARISON
Summary of available features