Free white papers
& free studies
Through our white papers and studies, discover expert advice on how to master SMS sending and optimise the use of SMS in your communication.
PDF AVAILABLE IN FRENCH
BAROMETER 2021
How will companies use SMS in 2021?
What are the trends in 2021 concerning the use, sending habits and content of A2P mobile messaging? How will this evolve in comparison to 2020? What impact has the Covid-19 crisis had on mobile marketing?
Sending A2P (Application to Person) SMS messages is a popular practice for brands. Highly effective, it allows them to establish a direct and immediate link with their contacts.
While new messaging channels (RCS, WhatsApp Business, etc.) are arriving on the A2P mobile messaging market, SMS retains its supremacy as the preferred mobile communication medium for brands to communicate with their customers and contacts, directly on their mobile.
This is the second major survey dedicated to SMS A2P, smsmode© analyzed more than 170 million SMS sent by some 1917 French brands and companies between 1er September 2020 and January 31, 2021.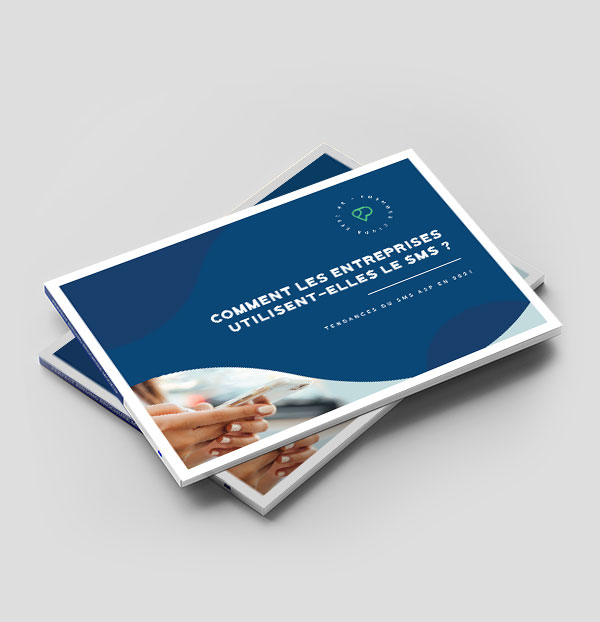 MARKETING OR NOTIFICATION?
The number of SMS notifications sent was higher (58.34%) than the number of advertising SMS (41.65%). 2020 is thus the first year in which SMS notification has become the main use of A2P SMS and has dethroned advertising SMS, the historical use of this communication channel by companies.
Despite the health situation linked to COVID-19, the volumes of A2P SMS sent remained stable (+0.16% compared to the previous year). It should also be noted that COVID-19 had little impact on notification mailings. On the other hand, marketing mailings were dependent on containment measures (-21% for the period from November 1 to 20, 2020 compared to the previous year).
SMS marketing operations linked to major promotional events(Black Friday 2020 or winter sales 2021), both postponed due to the health situation, were largely less impacted and suffered a decrease in sending volume of "only" -7%.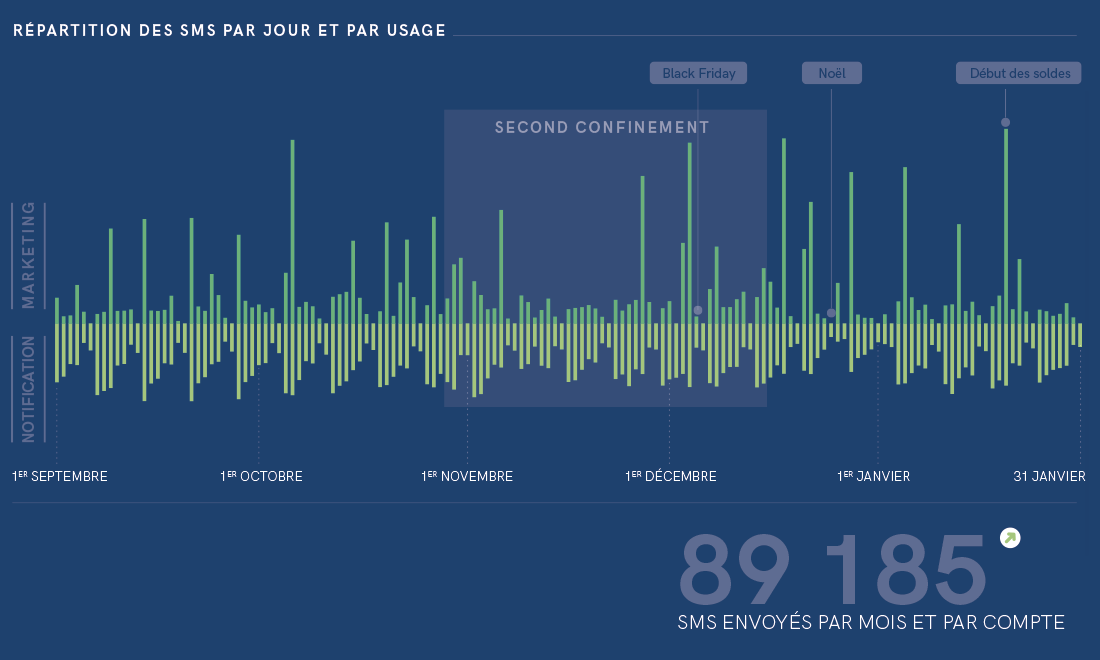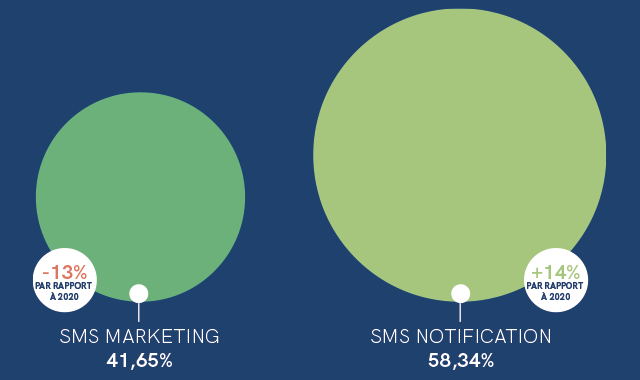 In terms of sending habits, there are no major changes compared to our previous study in terms of variations in notification traffic over the week: SMS notification sending is done in a decrescendo from Monday to Friday with a strengthening of sending at the beginning of the week.
On the other hand, on the advertising side, in 2020, marketers preferred Tuesdays and Fridays (and to a lesser extent Mondays) to carry out their promotional campaigns by SMS, a real change compared to last year when Thursday was the day preferred by marketers to carry out their campaigns.

As for the sending hours favoured by companies, SMS operations (marketing & notification combined) are still mainly - and this trend is increasing year after year - carried out throughout the wide 8am to 8pm time slot (representing 91.15% of SMS sent).
Two trends can be noticed :
- a shift in sending preferences towards the morning, and more specifically between 9am and 12pm (+4.1 points over 1 year), the time slot where delivery notifications are sent, a booming sector that is increasingly using the SMS channel,
- an increase in the number of messages sent at the end of the day, from 6pm to 8pm (+2.3 points compared to the previous year) which reveals the rise of Click and Collect and meal delivery services traditionally using this time to send their notification messages.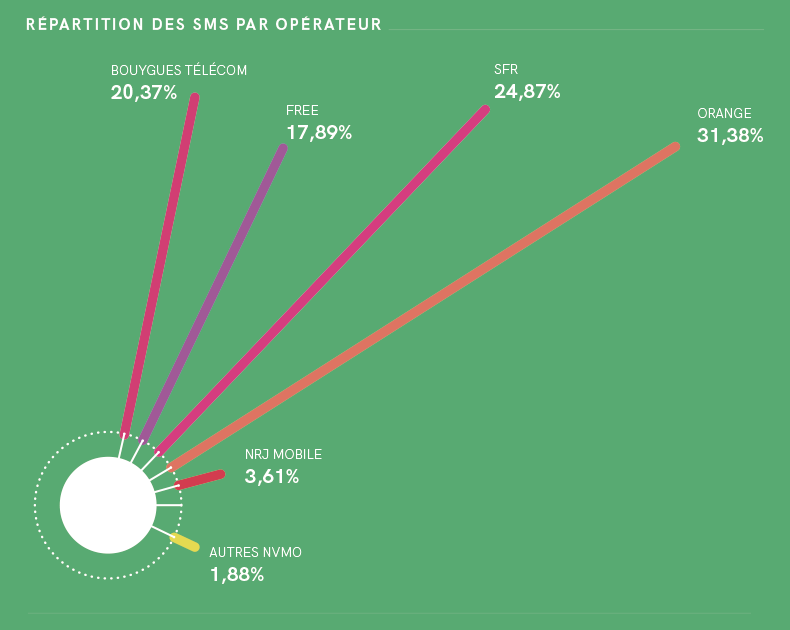 There was also little change in the distribution by French mobile network. The ranking of operators receiving A2P SMS campaigns is therefore composed of : Orange (31.38%), SFR (24.87%), Bouygues Telecom (20.37%) and Free (17.89%) and is consistent with their respective market shares.

WHAT CONTENT FOR A2P SMS?
The content of SMS campaigns conducted in 2020 is 160 characters or less - i.e. 1 SMS per message - in the vast majority of cases (73%).
As for the evolution compared to the previous year, we can note both a tendency towards shorter and shorter messages (+1 point increase for SMS with between 80 and 120 characters), and, at the same time, a rise in long and detailed messages (+2.6 points for messages of more than 160 characters over 1 year).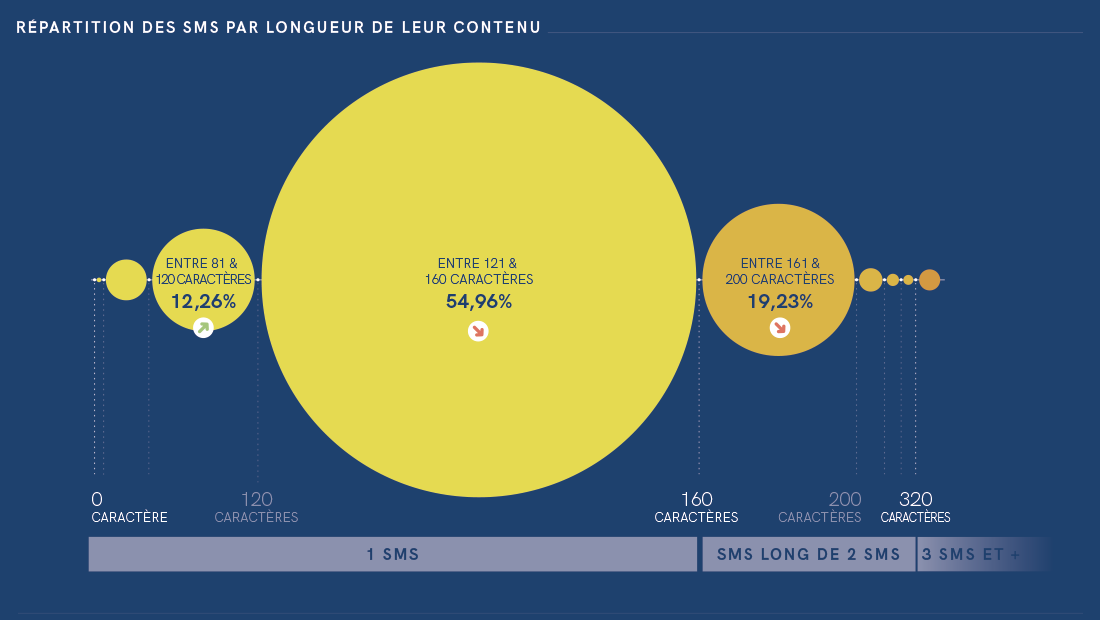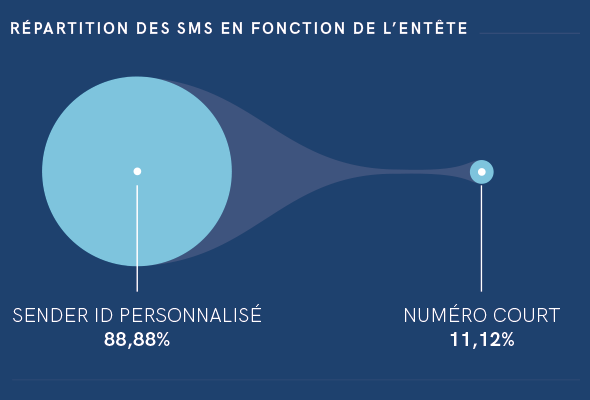 At the same time, there has been a drop in the use of personalised callers (- 2.3 points in 1 year). This underlying trend corresponds to the development of ShortCodes (or short numbers) dedicated to a brand. Indeed, to face the growing use of fraudulent personalised senders, more and more advertisers are using a dedicated short code as a protection against smishing (phishing by SMS).

In terms of performance indicators, SMS confirms study after study that it is a very effective communication channel. With a deliverability rate of nearly 95% and an unsubscribe rate (Opt-out or STOP SMS) of 0.11%, it is a powerful lever for marketing strategies, and thanks to its performance, it is an indispensable channel for mobile communications.
This year, 2021, sees the rise of SMS notification. Reflecting a latent trend that we have been observing for several years, the surge in informative messages can be explained in part by the transformation and digitalisation of the economy, of which the crisis linked to Covid-19 will ultimately have only been an accelerator.
The very gradual arrival of new mobile messaging channels (WhatsApp Business or RCS) should not disrupt this growth in the coming months. Reserved for notification - and in addition to conversational commerce messages for RCS - these new channels are building strategies that place highly targeted and interactive One-to-One communications at the centre. All in all, these practices foreshadow the mobile marketing of the future.