Why organize an SMS marketing campaign for Black Friday?
A real institution in the United States, Black Friday has become an unavoidable event in recent years in Europe. The great promotions that it allows make it an increased sales opportunity for merchants and e-tailers. The last Friday of November is therefore very popular with consumers, and for many it is the opportunity to start Christmas shopping. Faced with all these offers and promos, stores and e-commerce sites must do everything to get the best out of the game.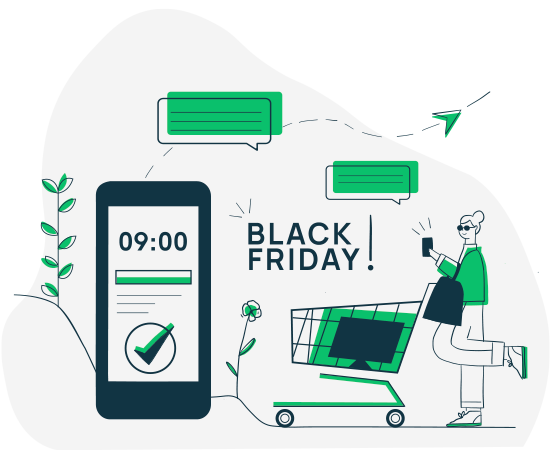 The days leading up to Black Friday are therefore a time of intense marketing activity for companies. Emailing, commercials, social networks, all means are good to attract the attention of the consumer .To make sure your customers see your offers, SMS is the perfect message. Find out why in this article.
The Black Friday marketing campaign is a must
Black Friday" will take place on November 25 in the year 2022.
It is the ephemeral commercial event par excellence:
4th most important marketing event of the year (55% of brands find it increasingly important)
Black Friday represents 30% of annual retail sales
It is ideally placed, far from any other sale periods (in 2022, it will take place less than a month before Christmas).
The approach of the holidays provides an additional reason to buy.
The promotions are exceptional (-50% or even -70% in some cases).
Buyers only have 24 hours to take advantage of it.
Faced with such a potential of sales concentrated in a single day, it is important not tofail in your communication!
It's a blitz, there's no catching up. If this is true for consumers, it is also true for marketers, so we need a quick communication and a clear message, likely to trigger the intention to buy.
In this sense, Black Friday is typically the kind of event where an SMS marketing campaign can make a difference.
SMS marketing, a definite asset for Black Friday
Are you confident that your offers are the best? Choose the mobile marketing channel that can ensure you get read by your prospects.
Today, every consumer is equipped with a cell phone, and they consult it throughout the day. We spend an average of 4.48 hours on our phones. An SMS campaign for Black Friday has the potential to reach everyone.
The second advantage of SMS for an operation like Black Friday is its opening rate:
97% of messages are read, most of the time within 3 minutes of receipt. You can be sure that your offers will be seen and your messages will be read.
You can also stand out in the content, by exploiting the potential of Rich SMS or even RCS. The share of French people equipped with a smartphone is growing. It is 98% for 18-24 year olds and 95% for 25-39 year olds (Statista),
Multimedia content on mobile will also allow you to stand out from the competition in this day and age when your customers will receive a large number of solicitations.
Very well received promotions:
72% of French people believe that Black Friday allows them to make good deals.
Over the year 2020, 52% of them took the opportunity to make a purchase despite the health situation (enov study). Black Friday 2022 should therefore be another great edition for retailers. This craze is pushing many brands to adopt the "Black Friday weekend" with a promotional period from Friday to Monday. Monday is starting to make a name for itself. Cyber Monday is the extension of Black Friday, reserved for e-commerce. In the United States, Cyber Monday sales have even exceeded those of Black Friday in 2020.
Black Friday weekend, Cyber Monday, all these new promotional periods are opportunities to increase your conversion rate. It is up to you to maximize your chances with a good promotional campaign.
3 tips for a successful SMS campaign
Choose the right time
The time of your mailing has a big influence on the attention your potential customers will pay to your message. This can vary according to your sector, but in principle, it can be interesting to play on the desire that a certain time of day can provoke: before lunch for a food offer, in the early afternoon for textiles, in the morning for high-tech products...
In any case, sending must be done within the limits of the hours to be respected for SMS marketing (from 8am to 8pm from Monday to Saturday)
Personalise your message
Make use of your Sender ID to be identifiable and use the mailing option to personalise each of your messages with the information in your contacts' files. With SMS you are already in the pocket of your customers, personalization will allow you to address them more personally and get their attention even more.
Take advantage of the drive-to-web potential of SMS
It's a proven technique, the RCS (Rich Communication Service), but also the Rich SMS or simple SMS including a URL, are excellent ways to attract your prospects to your e-commerce site by visiting a landing page. By scheduling your sending at the right time, you can offer a fluid experience, from the reception of an offer to the act of purchase. With smsmode© you can also benefit from a " url shortener " and a landing page editor, as well as monitoring your results.
The short history of Black Friday
In the United States, Black Friday is the day after the Thanksgiving holiday. This Friday is also traditionally a holiday in itself for many employees. For this reason, retailers decided to set up a day of special offers to mark the start of the Christmas shopping season with a bang. The sale day quickly caught on and the deep discounts quickly attracted hordes of customers.
Why the name? Legend has it that this day is called "Black Friday" because of an ancient accounting practice of recording profits in black ink and losses in red ink.
How can SMS make your marketing campaign stand out during Black Friday?
The answer can be summed up in five key words:
Speed: An instantaneous means of communication with a very short opening time(between 1 and 4 minutes), SMS is a channel that will enable you to reach your target as closely as possible.
Simplicity: After importing your contacts via a file (CSV or Excel) on our platform and writing your message, the campaign is ready to be sent.
Proximity: SMS allows you to send your promotional offers without them getting lost in the flow of an email message or its filters. Your message will thus be received in better conditions.
Creativity: The only limit is the one you set for yourself. For example, you could organise an SMS competition. This would improve your brand image andattract consumers to your shop.
Profitability: SMS is on average 5 times more expensive than sending an email but with a 7 to 8 times higher return rate it allows for more profitable campaigns.
Choose smsmode©A2P, the market leader in mobile communications, to carry out your SMS campaign.
Direct connections to 500 operators worldwide.
Competitive prices.
Platform available 24/7.
GDPR compliant service.
+ Account managers available to help you set up your campaigns!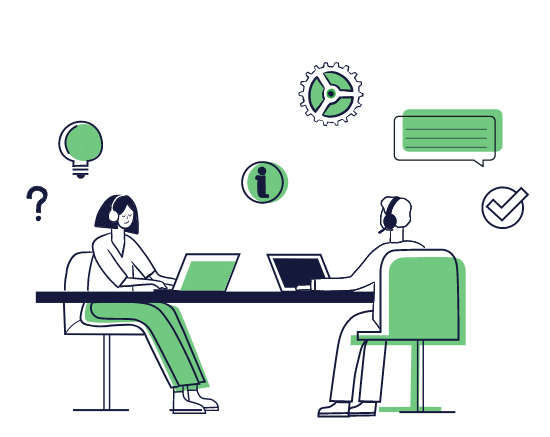 Our team advises you
Are you interested in our services? Our account managers and our technical team are at your disposal to answer all your questions about our SMS solutions and to give you advice on how to set up a campaign.