The smsmode© blog
The personalization of the sender transmitter (OADC or Sender ID) of an SMS

Sender ID or OADC, but what is it? This is the number or name that appears on the phone when a message is received. It can take different forms, long number, short number with 5 digits or even personalised with apha-numeric characters.
Personalising the sender when sending business SMS messages makes sense in order to identify yourself to all your recipients. This feature is only present in A2P (Application To Person) communication and is possible for operators in direct connection.
However, many users of the smsmode platform forget to personalise the sender ID, thus reducing the opening rate of their messages. This information is all the more important when you know that this service is completely free at smsmode.
Personalize the CDO, what benefits?
Personalize your transmitter allows you to be identified in seconds with your recipients. When you receive the text message, your company's name will appear directly at the top of the message.
If you don't customize your issuer, a generic 5-digit short number will automatically be assigned to send your message. By customizing the sender ID you avoid texting with an impersonal short number.
When receiving an SMS with a personalized transmitter, the recipient quickly identifies the message. This increases the opening rate of your SMS by more than 30%.
You can create as many sender IDs as you want on your account at no extra cost, this service is completely free at smsmode.
Any tips for establishing your transmitter?
If you want to customize your transmitter but you don't know how to do it, no worries, these tips are there to guide you in your personalization.
Tip 1: Your sender must directly reflect your company or your activity. Indeed, as soon as the message is received, the recipient must identify you within the first 2 seconds.
Tip 2 The name of your personalised transmitter must be between 3 and 11 characters long. This number is defined by the telecom operators.
Tip 3: The sender should not only contain a number, as operators crush personalised senders containing only numbers in order to prevent any attempt at fraud and identity theft with a number not belonging to the sender of the message.
Tip 4: Special characters are not taken into account by the operators and cancel any transmitter customisation.
Tip 5: Avoid spaces in the customisation of your sender ID. Indeed, spaces are not taken into account by all operators. Some of your messages will then have a sender replaced by a short code.
Tip 6: If you carry out marketing/advertising campaigns, make sure that your message ends with the word " STOP" to allow your recipients to unsubscribe. If however this mention does not appear in your sendings, the sender will be automatically overwritten by the operators in order to include a short number.
If you are texting notification, please contact our services directly so that we can set up your account and remove the STOP SMS restriction with a personalized issuer.
Some cases in which personalization of the OADC sender is not possible

In some situations it is not possible to personalise the sender of an SMS. The reasons for this may be due to technical restrictions of the operators or to the users' wishes.
As mentioned above, it is not possible to personalise a sender without the "STOP" at the end of the message for any marketing purposes. The personalisation will be overwritten and replaced by a short number where recipients can directly unsubscribe from your mailing list.
When you decide to send and receive SMS messages with our long number rental service, it is technically impossible to replace this long number with a personalised sender. Only the long number that is personally assigned to you will be able to appear at the top of the message.
If you wish to receive replies or confirmations to your message, you should not customise the OADC. This is because it is impossible for operators to trace a response to a message with a personalised operator. You will have to choose the basic 5-digit generic sender (short code, e.g. 36034) or hire a long send and receive number.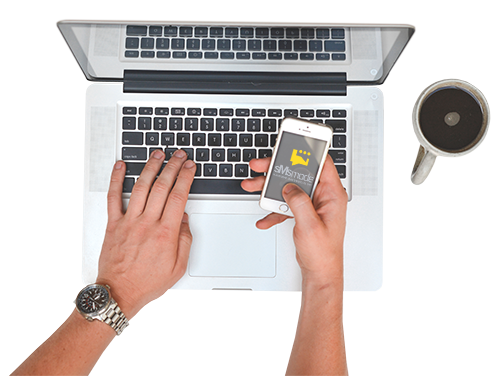 Our team advises you...

Are you interested in our services? Our sales and technical teams are at your disposal to answer all your questions about our SMS solutions and to benefit from SMS campaign implementation tips.