The features
for sending SMS
A set of practical sheets to discover and master all the features of creating and optimizing your SMS campaigns.
Generate and share custom short links for your mobile messages
smsmode© offers a short link generator integrated into your customer areato convert a link into short URL of just 12 characters. Not requiring no additional handling, no external toolsThis short link can easily be shared in SMS, RCS or WhatsApp Business messages.
You can get a short link for landing pages created using the smsmode© Yes for all other URLs (landing-page, website, mobile application, social networking page or profile, etc.).
PLEASE NOTE:
This URL shortener feature is only included in the Classic, Medium and Premium subscriptions.
Why shorten my link via smsmode© ?
an economy of characters particularly adapted to the constraints of SMS.
a better readability of the link in its communication.
a short link clickable on all devices and operating systems (iOS, android, etc.) thanks to their top-level domain.
insertion in the body of SMS, RCS and WhatsApp Business messages.
use within all our solutions (SaaS platform, API, plugins & connectors, etc.).
Click-through statistics included to obtain the CTR of campaigns.
How to shorten a URL and insert a short link on the platform smsmode© ?
smsmode© has set up an automatic reduction of all your links, whatever the solution used (online platform, API, Mail2SMS...). When you integrate a link into your message, you only need to count 12 characters (the length of a short link, smsmode©) in place of the original link. If you do not wish to personalise your short link, you can go directly to step 2: use and follow-up of short links.
STEP 1: CREATE A SHORT LINK
1️⃣ Go to the "URL shortener" tab on the left of the "Services" menu in the customer area.
2️⃣ Click on "Create a short link" to create your first short link.
3️⃣ Enter the URL you wish to shorten.
4️⃣ Name your link (optional) so you can find it later.
5️⃣ Choose the expiry date of your short link.
By default, it expires after one month.
6️⃣ Confirm the creation of this short link by clicking on "Add".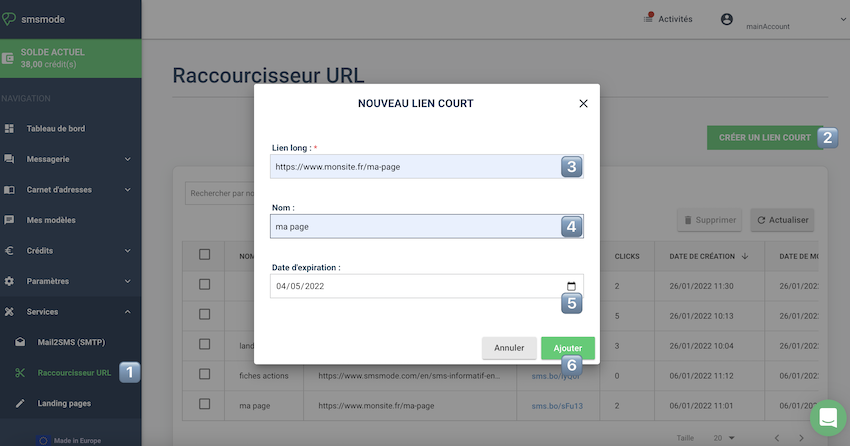 STEP 2: USING AND MONITORING SHORT LINKS
1️⃣ Copy and paste your generated short link into your message.
This short link of 12 characters can be used whatever solution you use (SMS editor of your email or others)
2️⃣ Track the number of clicks on your link.
Please note: the number of clicks updates in real time but only when refreshing the page 5️⃣.
3️⃣ Find a short link from the list by searching by keyword.
4️⃣ Delete a generated short link at any time by ticking the relevant URLs and then clicking "Delete".