Free white papers
& free studies
Through our white papers and studies, discover expert advice on how to master SMS sending and optimise the use of SMS in your communication.
PDF AVAILABLE IN ENGLISH, FRENCH AND SPANISH
BAROMETER 2022
How will businesses use SMS in 2022?
What dynamics for the A2P SMS in 2022? What new trends? What is the evolution of traffic compared to 2021? How has SMS marketing adapted to health restrictions? What impact will vaccination have on SMS notification?
These questions are answered in this third major survey on the A2P SMS.
To do this, smsmode© analysed more than 247 million SMS sent by some 2108 French brands and companies between 1 September 2021 and 31 January 2022.
The sending of A2P (Application to Person) SMS
(Application to Person) is a practice that is very popular with brands. It is a very effective way to establish a direct and immediate link with all their contacts.
While brands are always exploring new mobile messaging channels to create new ways of interacting with their customers (WhatsApp Business, RCS, etc.), SMS remains the universal solution. It is fully compatible with the mobile fleet and new uses continue to develop.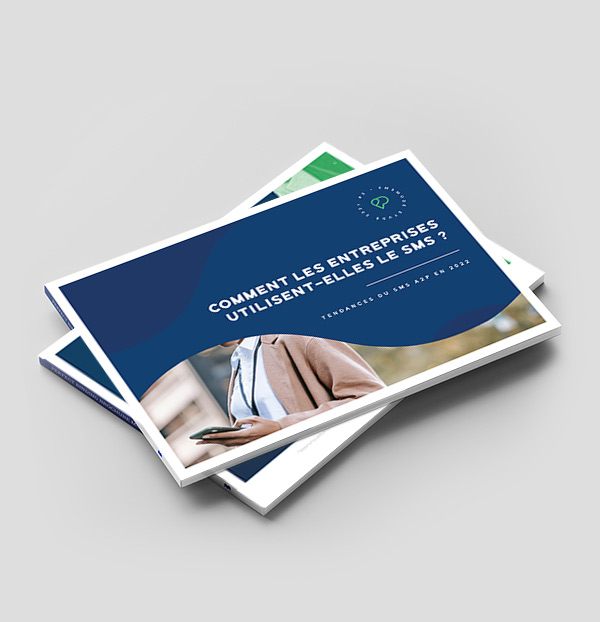 Download our free 2022 barometer:
by filling in this form:
smsmode© requires the contact information you provide to contact you about our products and services. You may unsubscribe from these communications at any time. Please refer to our Privacy Policy to learn more about how to unsubscribe, as well as our privacy policies and our commitment to privacy. You may also, for legitimate reasons, object to the processing of your personal data. If you wish to exercise these rights, please send an e-mail to dpo(at)smsmode.com.
MARKETING OR NOTIFICATION?
The trend that began in 2020 continues to be confirmed in 2021. The number of SMS notifications sent continues to grow (+97% compared to the previous year). After overtaking marketing last year, notification is now the dominant channel, accounting for the overall increase in the number of messages sent (+45.28%) .
SMS marketing remains on the same dynamic as the previous year (-0.89%). The marketing mailings of 2020 had been strongly impacted by the containment measures. 2021 will also have been a quiet year in terms of marketing traffic, probably slowed down by a health situation that did not allow marketers to conduct large-scale advertising operations.
However, there was a certain rebound at the end of the year, with an anticipation of mailings linked to promotional highlights, such as the approach of Black Friday. Communication campaigns around the sales were more important in 2021, but more spread out over time than in 2020.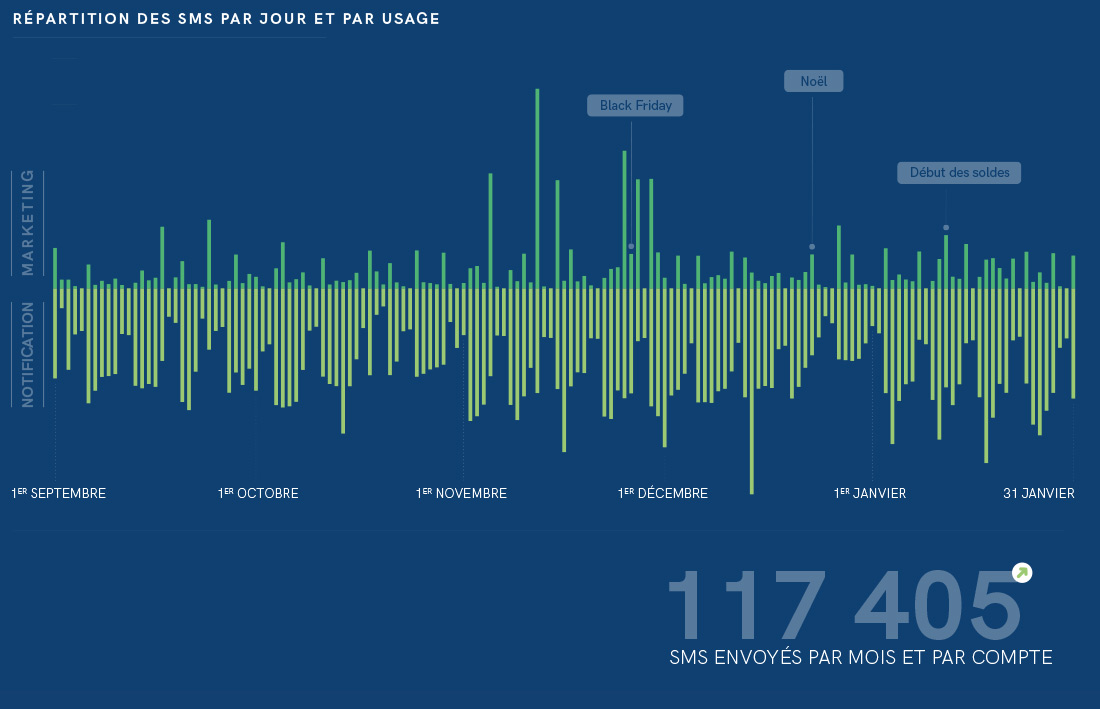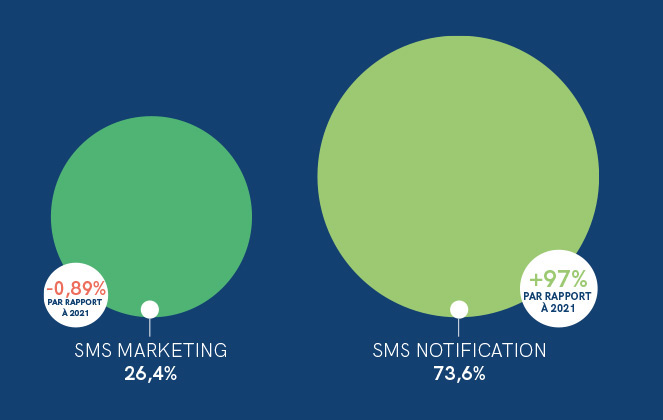 As in 2020, SMS notification in 2021 remains evenly spread over the week. The only difference in 2021 is that Monday is slightly less popular and all other days of the week are more popular. The peak of sending is now on Tuesday and a decrease in the number of sendings takes place until Sunday.
On the marketing side, Fridays remain the favourite day for marketers to run their promotional campaigns via SMS. But it is Monday that now takes second place, replacing Tuesday, which is clearly decreasing compared to previous years. Saturday's share is also increasing year on year.

If the wide time slot from 8am to 8pm has been asserting itself year after year as the time slot representing the vast majority of sendings (marketing and notifications combined), 2021 is the year where this time slot reaches a kind of plateau (91.12% of SMS sent, against 91.15% in 2020).
In general, 2021 sees the morning becoming increasingly popular with businesses (33.69% of sends).
The 10am-11am time slot continues to be the preferred sending time (+3.29 points compared to the previous year), and the 11am-12am time slot is also gaining ground (+1.76 points). Only the 9-10 a.m. time slot loses 2.64 points.
Shipments are down after 4pm compared to last year (-1.84 points), probably due to the deceleration of delivery services and Click and Collect.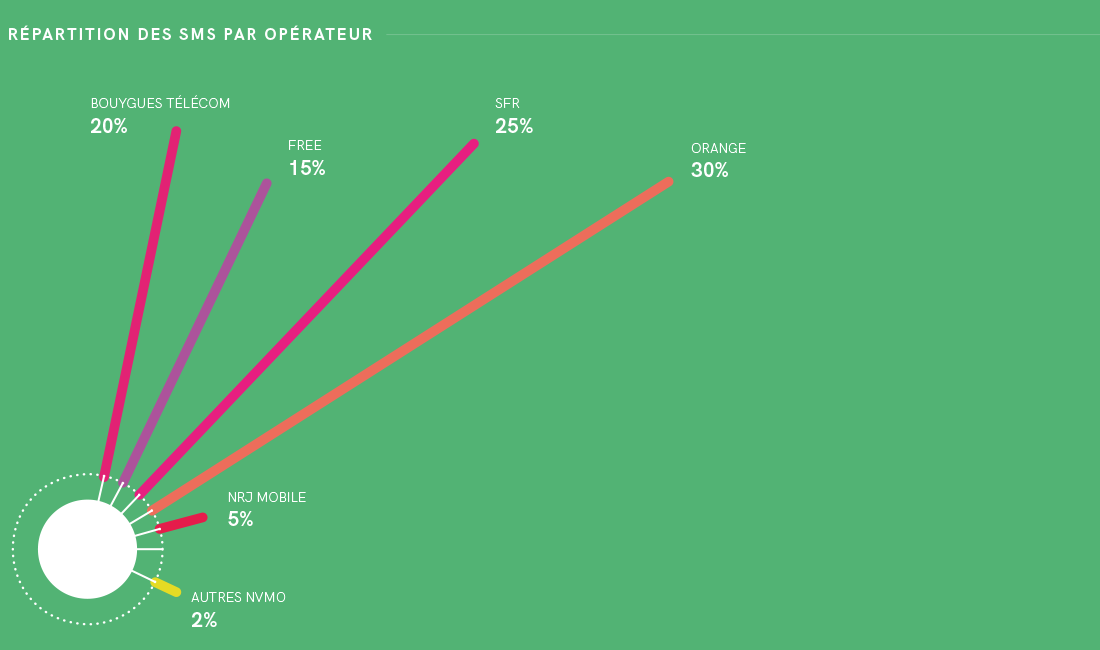 The distribution of SMS sent by operators is extremely stable from year to year, in line with their market shares:
Orange (30%), SFR (25%), Bouygues Telecom (20%) and Free (15%). The only slight change is that NRJ Mobile (5%) gains 1.39 points in 2021.
The rise of SMS notification announced in 2020 has indeed taken place in 2021. While SMS marketing has not returned to its pre-pandemic level, the digitalisation of exchanges has been confirmed and notification has driven the growth of A2P SMS as a whole.
The vaccination campaign is obviously not unrelated to this sharp increase in traffic. Online medical appointment booking platforms have seen an explosion in the number of SMS reminders and confirmations of appointments.
The SMS OTP (one-time password) has also played a major role in this growth. It had been impacted by the cessation of its use for banking transactions, but is finding a second wind in the multiplication of accounts requiring strong authentication. Connection to cryptocurrency wallets, remotely accessible company platforms (with the development of teleworking), or accounts hosting sensitive data are all new uses involving a strong need for security, to which the SMS provides a response.