focus on
sending SMS to doctors
Sending SMS Doctor is a relevant use of SMS communication for the medical sector (GP, nurse, Dentist, midwife, therapist, orthodontist, osteopath, etc). In the service of the patient, several applications are widely answered: the appointment reminder from the diary held by the medical secretary or the sending of medical SMS alert throughout the course of care (automated and without human intervention) in order to Remind the patient to take a medication, a treatment protocol, etc.
Sending medical SMS is probably the easiest solution to put in place for any medical practice. And this preventive approach proves to be effective! In fact, the absenteeism of patients at their medical appointments hinders 94% of doctors and health professionals. In the Face of this observation, sending SMS doctor allows both to recall a consultation appointment, to inform of a possible delay or cancellation of appointment or to allow the patient to cancel his appointment in case of unexpected or impossibility.
SENDING DOCTOR SMS IN NUMBERS
This is the result found on the
Missed appointments following the sending of SMS!
Sending a doctor SMS reduces the number of missed appointments: absenteeism rates are on average divided by 4 and this solution brings real satisfaction to both patients and health professionals.
That's the rate of SMS
that are read!
SMS has a read rate of around 95% and many advantages over email or traditional telephone reminders. With an SMS sent directly to your patient's smartphone, you can be sure that the appointment reminder will be received and read by the majority of your recipients!
It is the number of people
Who are approving the informative SMS
Particularly popular with patients, who consider it non-intrusive, useful and informative SMS messages, including appointment reminders, provide real added value and help to strengthen the special relationship and communication with each of your patients in a personal way.
What benefits to sending Doctor SMS?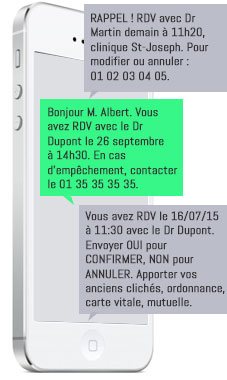 An appointment reminder via an ultra simple SMS: you send your patient an SMS a few hours before their consultation, specifying the name of the practitioner, the date and time of the appointment as well as the number to contact in case of withdrawal. Your patient will read this message as soon as he/she is available without you having to contact him/her again!
Easier medical secretarial work: with the use of an appointment scheduling software with which we have established a partnership (see below), the appointment reminder is sent automatically and without any manipulation at the time(s) defined when the appointment is made (e.g. 48 or 72 hours before the consultation).
A confirmation request option by return SMS can be activated: your patient is invited to confirm their presence as they are asked to send you a reply SMS which you will receive directly in your SMS customer account. Last minute appointment changes and cancellations will be easier to deal with and you can free up consultation slots and allocate them to more urgent medical pathology appointments.
Advanced applications for the health sector: an SMS message can be used to send the patient a protocol to be followed before an operation or consultation (fasting, taking medication, bringing back X-rays, etc.) or a reminder to follow up on a treatment (vaccination, taking medication or consultation at regular intervals) directly to his or her mobile phone in real time.
smsmode© proposes several solutions for sending SMS adapted to the reminder of appointment and the reminder of protocol of care.
partner appointment management software with which we have established a partnership. These softwares integrate the "medical appointment reminder by SMS" option so that you can automatically send a medical appointment reminder SMS at the defined time(s) (for example 48h or 72h before the consultation). Thus, a single interface allows you to simultaneously manage your appointments and SMS appointment reminders. Among these softwares, there are :
the "Google Calendar SMS" module, which allows you to add the functionality of sending automated SMS messages from events entered in a Google Calendar. You thus have at your disposal all the functionalities of a professional SMS sending platform (personalisation of the message, definition of the personalised sender, programming of the sending time, visualisation of the responses received or the reception statistics, etc.). Also, by implementing the "Google Calendar SMS" module, you will be able to send SMS messages in a fully automated and autonomous manner: the free Google calendar solution, both a real professional diary and online appointment scheduling tool, and a solution for reminding patients of their care protocols by sending SMS messages.
LEARN MORE ABOUT THE GOOGLE CALENDAR SMS MODULE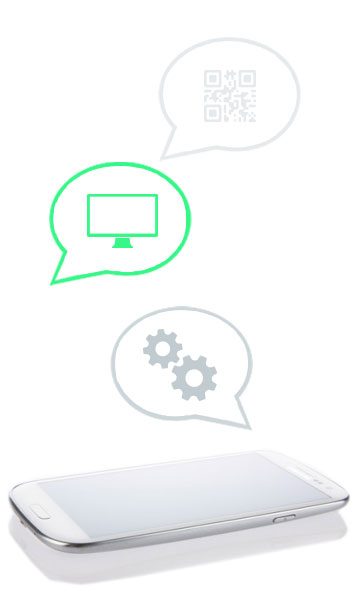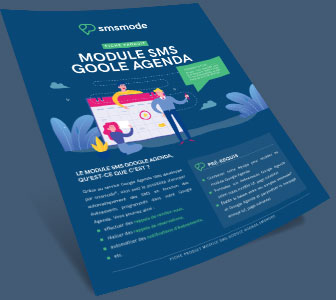 DOCUMENTATION
All the steps to integrate SMS sending from Google calendar
Our free downloadable documentation describes exactly how to add the appointment reminder and SMS care reminder functionality from Google Calendar.
DOWNLOAD FREE DOCUMENTATION - FRENCH
DOWNLOAD FREE DOCUMENTATION - ENGLISH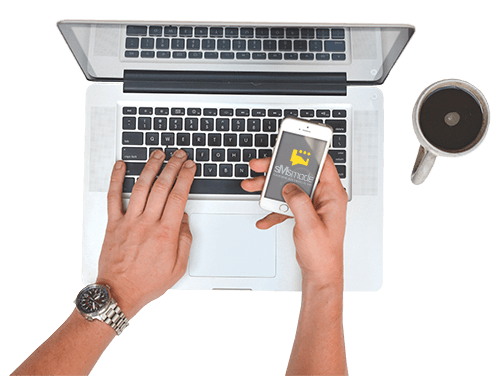 Our team advises you...

Our team is at your disposal to answer all your questions about the use of SMS Pro, the realization of unit SMS campaign and to help you set up the solution of sending SMS doctor.