focus on
SMS appointment reminder
The SMS appointment reminder is a great way to reduce the percentage of missed appointments and thus optimize the management of its online calendar and its daily schedule, to save time, to better organize the appointment, to improve productivity and The service delivered.
When you are faced with a high rate of missed appointments, consider the SMS appointment reminder. Indeed, sending the SMS reminder of online appointment is an innovative solution increasingly used to improve its online diary and to remind the appointments to its clients and patients; Its effectiveness is no longer to prove.
THE APPOINTMENT REMINDER BY SMS IN NUMBERS
This is the result found on the
Missed appointments following the sending of SMS!
An excellent way of confirming an appointment and managing one's diary online, sending SMS reminders is a simple and extremely effective way of combating absences (absenteeism rate divided by 4 on average).
That's the rate of SMS
that are read!
This way you can be sure that your SMS appointment reminder message will be received and read by the majority of your recipients! What other communication channel can do this?
It is the number of people
Who are approving the informative SMS
Particularly popular with mobile users, more than 4 out of 5 people accept and wish to receive useful and informative SMS messages, particularly appointment reminders.
Why use the SMS appointment reminder?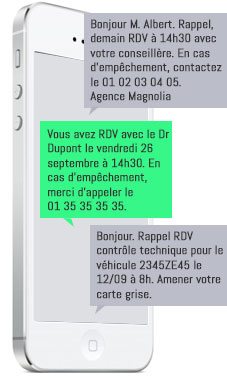 The most effective reminder: in just a few clicks, you send an appointment reminder message from your online calendar which, in 95 to 98% of cases, will be read within 4 minutes of receiving it. Simple and effective, you save precious time in managing your appointments online.
A customisable message adapted to your needs: SMS offers you multiple message customisation functions: insertion of variables (name, first name, etc.), customisable sender, setting the date and time of sending, etc.
The possibility of confirming with an SMS reply: insert in your message "confirm your appointment by replying YES to 36034" and you will directly receive confirmation of your customer's appointment. Clever!

Medical and para-medical professions

Beauty and Care sector

Administration and Public sector

Business and services

Dealers and Garages

Secretariat and Tele-secretariat
Which applications to use?
smsmode© proposes several solutions for sending SMS adapted to the reminder of appointment:
partner appointment management software with which we have established a partnership and which integrate the SMS sending functionality directly into their interface. Thus, all these agenda software offer a complete management solution for making appointments online as well as for sending automatic SMS messages before the appointment date. Among them, we can count :
the "Google Calendar SMS" module, which allows you to add the functionality of sending automated SMS messages from events noted in your Google Calendar. You can thus turn your Google Calendar into a real professional diary and online appointment scheduling tool. Sending SMS messages with Google Calendar is easy to set up from our platform and offers you many possibilities: message management, setting the personalised sender, programming the sending time, consulting the responses received or the reception statistics, etc.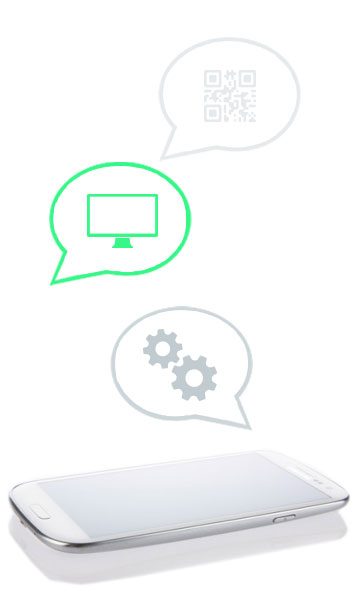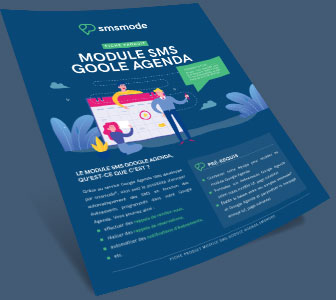 DOCUMENTATION
All the steps to integrate SMS sending from Google calendar
Freely downloadable, our documentation describes precisely all the steps to add the appointment/reservations reminder functionality via SMS from Google Calendar.
DOWNLOAD FREE DOCUMENTATION - FRENCH
DOWNLOAD FREE DOCUMENTATION - ENGLISH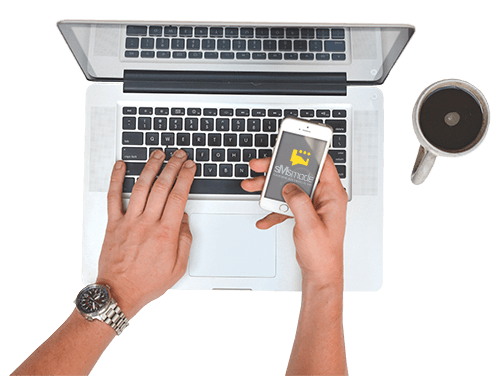 Our team advises you...

Our team is at your disposal to answer all your questions about the use of the SMS and to help you to set up the reminder solution by SMS on your calendar pro.