focus on
automatic SMS sending
Automatic SMS sending is a marketing practice that aims to program the sending of an SMS in an Automation marketing logic and according to the preconceived marketing scenarios. This automation of sending SMS online and without human intervention is permitted by implementing an SMS-sending API in the Web service or application.
SENDING AUTOMATIC SMS IN NUMBERS
This is the reading rate
of an SMS message!
SMS has a read rate of around 95% and many advantages for effective and efficient marketing automation. With Internet SMS, you can be sure that your automatic SMS will be received and read by the majority of your recipients, prospects, etc.!
This is the average time
To open an SMS!
This proven immediacy makes SMS a medium ofimmediacy and proximity, especially for broadcasting automatically sent information notifications. Inform your customers at any time directly on their smartphone and maintain a direct and almost instantaneous relationship with them with SMS.
This is the shipping price
of each SMS message!
An extremely cost-effective means of communication, an SMS campaign via automatic SMS sending costs up to 10 times less than a paper mailing or a telephone reminder. Benefit from an ultra-attractive ROI for your mobile marketing by usingInternet SMS.
The different applications of automatic SMS sending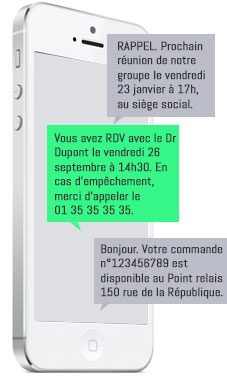 Scheduled SMS: choose the most opportune moment for the distribution of your information and reach your recipients at any time, on their mobile number, with the programming of an automatic SMS sending on a precise date, at a precise time or when an event takes place (marketing SMS to promote a promotional operation, SMS reminder of a meeting with a request for a response or not, customer relations message, etc.).
Transactional SMS: stay in touch with your contacts throughout their customer journey by sending them an SMS. Inform them automatically that their payment has been accepted, their order has been confirmed or is available at a collection point, etc.
SMS alerts or SMS reminders: you want to send urgent information on your mobile or remind you of an appointment? Plan and automate an automatic SMS sending anywhere (in France or in the world) and in real time! SMS remains an unrivalled alert tool thanks to its speed, deliverability and read rate.
Anniversary SMS: it's the birthday of one of your customers? or you want to send a reminder to your customer on a purchase anniversary? These are all opportunities to enrich your SMS marketing with your contacts and prospects.
smsmode© Professional services for automatic SMS sending
In order to set up automated communications via the SMS channel, smsmode© puts at your disposal a range of solutions to allow you to send a message on the mobile of your contact and thus automatic SMS Pro.
an SMS platform in SaaS mode with all the professional and intuitive features and options for carrying out SMS campaigns in complete autonomy. The SMS communication operations carried out from your customer area on our platform can thus be sent either immediately or on the desired date. You can also choose from our SMS services (SMS Pro, SMS Response, Voice SMS and Unicode SMS) the solution best suited to your needs.
FIND OUT MORE ABOUT THE SMS PRODUCTS AVAILABLE
HTTP API: Thanks to the HTTP SMS API, you can integrate all the professional functionalities for the creation and routing of automatic SMS messages. Directly in your external application (CRM, e-commerce site, database, mobile application, etc.), the sending, scheduling and receiving of SMS responses can be directly and easily integrated into your system by implementing the parameters provided in the API documentation and can be automatically triggered by events defined in your mobile marketing automation scenario.
LEARN MORE ABOUT OUR API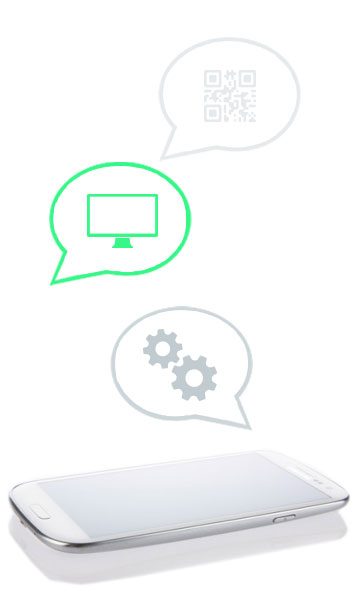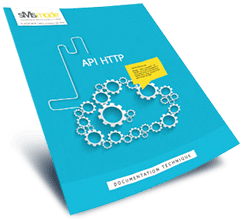 DOCUMENTATION
All requests from our SMS API to integrate the SMS service into your application
Available free of charge, our documentation describes precisely all the requests to send and receive SMS, manage contact lists, manage receipt reports, etc.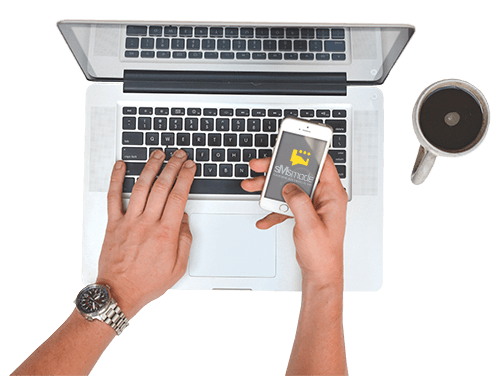 Our team advises you...

Our sales and technical teams are at your disposal to answer all your questions about the optimization of the automation marketing best suited to your problem through the use of SMS messages and to help you to set up the HTTP API and the SMS automatic SMS send requests.