Focus on
the anniversary SMS
Practice widely adopted by e-commerce actors, sending SMS anniversary is still a type of advertising campaign often under-exploited by stores and businesses while this remains a unique opportunity to strengthen ties with everyone of your customers.
You may of course wish them a happy birthday but other occasions are equally relevant: anniversary date of a purchase, message for the renewal of a process (automotive technical control, renewal of a contract, Automobile overhaul, boiler maintenance, etc.), etc.
Discover at a glance the keys to a successful SMS marketing operation...
THE BENEFITS OF THE SMS ANNIVERSARY...
Maintain a regular link
and customer loyalty
Customer loyalty costs up to 5 times less than acquiring new customers! It is an established fact... With a very low cost, the anniversary SMS is a simple and effective loyalty tool to be as close as possible to your customers with a minimal cost!
A gift
To encourage re-purchase
The anniversary communication allows you to make contact with your customers every year at a time when they are receptive. Offering them a promotional offer or a gift is a simple strategy to encourage the re-purchase and regular maintenance of your sales.
The very good
SMS Performance
SMS Media is currently the most effective mobile support to reach its contacts. With a reading rate of 95% within 4 minutes after sending your message, enjoy the very good performance of the SMS for your birthday communications with its 160 characters!
4 good practices for successful birthday communications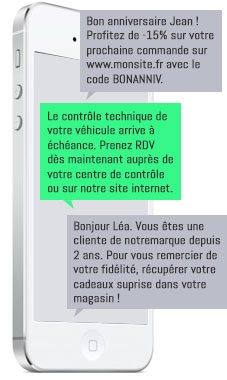 Choosing the right timing: determine the best time to send your birthday communication according to the specifics of your industry: sending SMS on D-Day or standby is more suitable when you want to wish a good Birthday to your contact on his mobile phone and create a feeling of proximity, while a message sent one month corresponds more to the reminder of a renewal of a process.
Choose the right offer: birthday often rhymes with gift, promotional campaign or discount offer. If you wish to trigger the purchase of your products or services, make sure to include in the sending of your SMS anniversary a truly advantageous offer (gift, discount code, free shipping costs, discovery offer, loyalty points, etc.).
Customizing the message: with the "Mail merge variables" feature, you can customize your birthday message to your client's name, surname, etc., and make this communication unique by SMS.
Change your birthday message regularly: if possible, renew every year the message and the promotional offer that you offer on this occasion will allow you to arouse interest in your communications.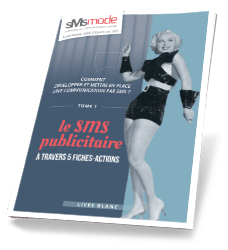 WHITE PAPER
Advertising SMS through 5 action cards
Download free of charge, our white paper "SMS advertising through 5 action cards" will let you discover all the possibilities offered by the advertising SMS and in particular the SMS anniversary to communicate by text and realize your Prospecting on mobile.
SMS anniversary mailings in a few clicks
In order to set up an SMS anniversary sending system and take advantage of the many benefits of SMS, SMsmode offers complete SMS products and services adapted to each project:
a SaaS platform, an A2P SMS-sending solution: accessible online via a simple internet connection, it is equipped with all the advanced features for the autonomous realization of sending and immediate reception of SMS Marketing: Address Book management, client file import, model creation, message template recording, reports and acknowledgments, insertion of mail merge variables, consultation and management of replies received, triggering predefined actions, etc. In addition, a wide range of short message is available: SMS, TTS, Unicode SMS, etc.
DISCOVER ALL THE AVAILABLE SMS PRODUCTS
an HTTP API: You can also choose this interface accessible from our website, which allows you to quickly integrate the sending of automatic SMS campaign from your website, your application-business or your site E-commerce and thus automate all your anniversary communications (mass mailing or unit notification). It has been designed to be the most complete solution possible, the easiest to use and to implement.
LEARN MORE ABOUT OUR APIS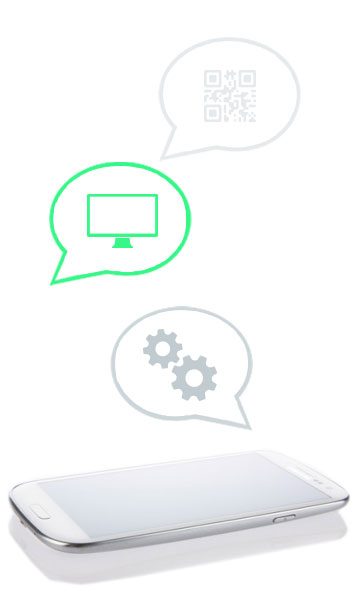 20 SMS OFFERED

Create your first SMS advertising campaign
Creating a 100% free and non-binding client space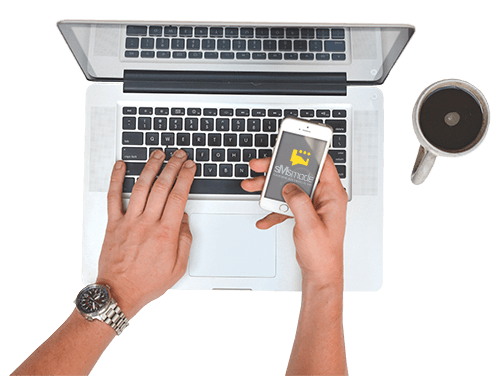 Our team advises you...

Our sales team, our customer service and our technicians are at your disposal to answer all your questions about the SMS marketing operations and to take advantage of the advice to pass your SMS anniversary mailings! Feel free to contact one of our collaborators, our goal is the success of your marketing operation!