focus on
the SMS alert
The SMS alert is an SMS which aims to disseminate and notify urgent and important information in real time and possibly automatically. Accessible in all circumstances, the SMS message on mobile phones is proving to be an essential tool during emergency periods.
Simple, economical and extremely efficient Solution, the SMS allows to communicate on the mobile phone of your recipients in a fast, instantaneous, reliable and efficient way and thus inform and transmit alerts without delay in crisis situation , emergency, etc. Whether it is to inform a single person or an extended contact base, the SMS alert remains the most powerful tool, whether from a point of view of the instantaneousness of sending and receiving the message, or its reading rate. Do not wait any longer, set up your SMS alert system that can adapt to each of your business problems...
THE SMS ALERT IN BRIEF....
Sending your message
is done in real time!
Our SMS sending services are available 7 days a week, 24 hours a day, wherever you are. They allow you tosend messages instantly in order to inform your recipients in real time (the SMS is read within 4 minutes of its reception!). You can also benefit from a large number of SMS examples to get started.
Manage the dissemination of information
In a few clicks!
Whatever the number of recipients of your message, the configuration of your free SMS alert campaign is done in just a few clicks! Composition and personalisation of the message, possible parameterisation of the sender, choice of recipients, your message is ready to be sent in record time!
Be assured that
His message was received!
An ultra-efficient means of communication, SMS has a read rate of around 95% (ideal for alerting your database) and each SMS has an acknowledgement of receipt that can be consulted directly in your customer area. You can therefore quickly check that your SMS alert has been received by your recipients!
The different applications of the SMS alert
SMS is a communication solution that is ideal for professionals and institutions wishing to communicate with their customers in critical times. It finds many applications including: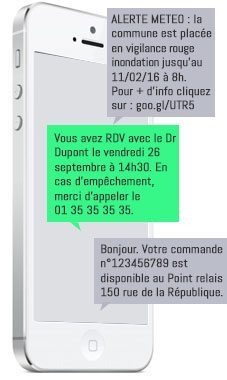 Sending an immediate alert in real time following an event, a disruption, traffic information, bad weather, a student or teacher absence, etc.
access to a real-time information service ideal for transport services, for example.
appointmentreminders to your customers and patients.
sending information related to the customer journey by informing of the arrival of an order, the availability of a product or the dispatch of a parcel.
the sending of a unique password to notify connections or online payments and thus ensure their security.
Technical alerts to facilitate technical incidents and escalate alerts in real time.
management of schedules, crises, etc.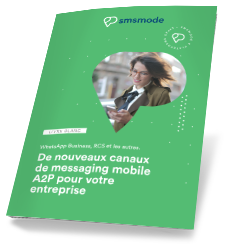 WHITE PAPER
WhatsApp Business, RCS and others.
New A2P mobile massaging channels for your business.
Downloadable free of charge, our white paper will help you discover new mobile messaging channels and new opportunities for your communication.
Professional services smsmode© SMS alerts
To set up an SMS alert system, smsmode© offers comprehensive SMS solutions and services for every project:
an SMS SaaS platform for sending SMS messages with all the professional features needed to send SMS alert campaigns immediately and independently: address book management, recording of message templates, opening rates, reception reports, consultation and management of responses received, triggering of predefined actions, etc.
FIND OUT MORE ABOUT THE SMS PRODUCTS AVAILABLE
Voice SMS, which allows SMS alerts received as voice messages to be sent instantly. Their reception is also accompanied by a more insistent SMS ringtone, ideal for this type of application. The impact of the emergency message on the recipients is thus reinforced!
FIND OUT MORE ABOUT VOICE SMS
HTTP API: thanks to the HTTP API, you can integrate the SMS alert functionality directly into your external application (CRM, e-commerce site, mobile application, etc.). The sending of SMS messages will thus be integrated directly into your application and can be triggered directly during pre-defined events.
LEARN MORE ABOUT OUR API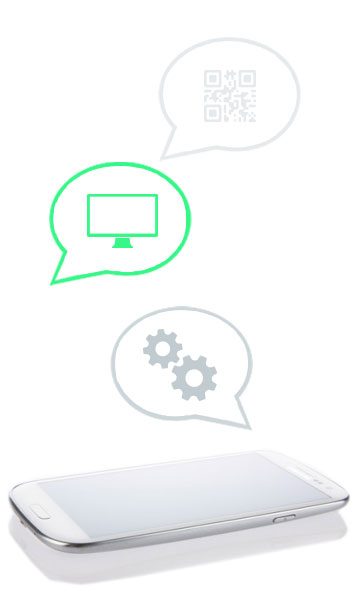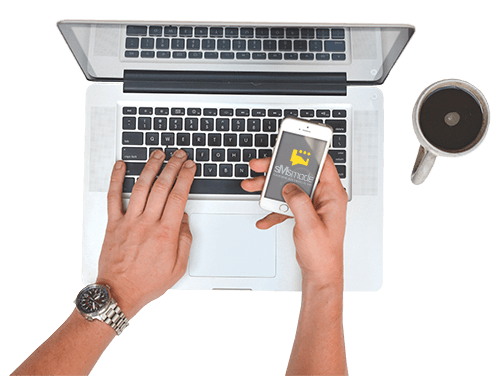 Our team advises you...

Our sales and technical teams are at your disposal to answer all your questions about sending SMS alerts and to help you set up the SMS communication solution that is best suited to your problem.