A top quality platform
for your professional SMS messages
Send critical messages at the right time
Make sure you receive your text messages
Receive answers to your text messages
Send bulk SMS messages anywhere in the world at a competitive rate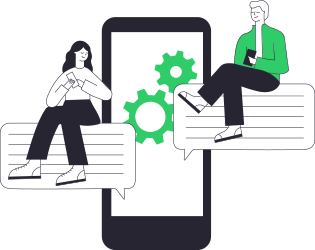 To send SMS , opt for a professional SMS sending tool
The majority of consumers - your potential customers - around the world own a mobile phone. In France, 55 million people have one. SMS is therefore the ideal channel to reach millions of contacts in a single message and is now widely used as a professional marketing and communication tool.
Think about SMS mailing and adopt an online service to send your business SMS!
Basically,sending SMS marketing works like e-mailing, with the only difference being that your customer consults the SMS directly from the inbox of his or her mobile phone, whereas e-mails do not have this privilege. This proximity to the customer allows your message to be read within a few minutes of receipt. Another advantage of this solution is that SMS is not subject to spam filters: your message is therefore guaranteed to be seen and read.
The writing methods depend directly on the limited format (160 characters) of your message: compared to other commercial and marketing techniques, the SMS has the advantage of being quick to read and relevant due to its short message, which allows you to directly hook the recipient with an impactful message.
The advantages of the web solution smsmode© :
Advanced statistics
Intuitive campaign management
Sending bulk messages
Numerous features (personalised SMS, landing pages, CRM connection, etc.)
Ultra competitive price
A direct operator connection
TO GO FURTHER...
smsmode© subscription packages
DOWNLOAD
---
To send your Pro SMS, smsmode© is the reference partner
For a successful action, the professional SMS requires a controlled management. To send professional SMS efficiently, choose a professional sending platform that specialises in supporting companies and is a leader in this constantly expanding sector.
Among its specialised services in tools for sending professional SMS, smsmode© provides you with self-service applications for sending your professional SMS, or the design of customised modules according to your needs. In addition to SMS, you can use MMS, RCS, WhatsApp or voice messages, for an even greater impact. And for all of these, you only have to pay for the cost of the messages sent, the use of the interface is completely free.
smsmode© offers a complete range of services to manage any commercial campaign by SMS from A to Z. From the definition of your needs for your advertising and marketing campaigns , to the evaluation of the impact of each operation carried out, including the choice of the most suitable tools and the organisation, as well as the implementation, smsmode© offers its solutions approved by more than 10,000 clients, who have been seduced by the effectiveness of our services.