Documentations
smsmode© products and offers
A set of product and presentation sheets to provide you with complete information on the range of products and services offered by smsmode©.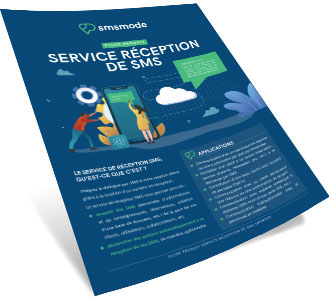 PDF AVAILABLE IN FRENCH AND SPANISH
Presentation of the solution Virtual Mobile number & reception of SMS to position the SMS in a two-way communication
Integrate bi-directional SMS communication with your customer relationship or Internet communication. The SMS Reception service allows you to receive SMS (requests for information and information, reservations, creation of a database, etc.) on behalf of your customers, users, collaborators, etc., and thus to meet the needs of multiple Case of application.
DOWNLOAD PDF - FRENCH (183 kB)
DOWNLOAD PDF - SPANISH (183 kB)