focus on
Our SMS comparison,
how to choose the right SMS
for your campaign
You want to set up and send an SMS marketing campaign and you don't know which professional SMS sending solution to choose, nor which type of SMS is the most adapted to your needs? You are wondering about the comparison between SMS and traditional media?
This SMS comparison is for you! At a glance, have a complete panorama of mobile marketing offers and services via SMS and make your choice easily!
GOOD TO KNOW: SMS MEDIA PERFORMANCE
This is the shipping price
of each SMS message!
A low-costmeans of communication, sending a message by SMS costs up to 10 times more than a traditional campaign (flyer, poster, etc.). Benefit from the best quality/price ratio for your communications with the sending of SMS!
This is the reading rate
of an SMS campaign!
SMS has a read rate of around 95% and many advantages over email or traditional telephone reminders. Make the comparison between SMS and other media, but it is only withSMS that you can be sure that your message will be received and read by the majority of your recipients!
This is the average time
To open an SMS!
This proven immediacy makes SMS a medium of immediacy and proximity, particularly suited to real-time communications. In the SMS / Other mobile media comparison, SMS certainly benefits from the best delay for direct and almost instantaneous relations with your contacts.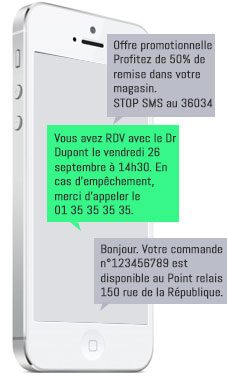 SMS comparison
What type of SMS to choose?
The effectiveness of a campaign by SMS Pro is no longer to be proved vis-a-vis other traditional media because it offers a very high efficiency linked to better speed and better reliability. Professional SMS, SMS alert, SMS reply, etc., smsmode© offers you different solutions and range of products, to choose according to your needs and your budget.
Check out our SMS comparison.
Comparison Table of SMS offers
SMS (TEXT MESSAGES)
TTS / SMS Voice
Unicode SMS
SMS 2.0
Quality
Premium
Very good
Premium
Premium
Number of characters in an SMS
160 characters
160 characters
70 characters
160 characters
Sending long messages
YES
YES
YES
YES
Acknowledgements of receipt
YES
Included and free
YES
Included and free
YES
Included and free
YES
Included and free
Customisation of the transmitter
YES
NOT
YES
(but without unicode characters)
YES
Answers allowed
YES
(only if the transmitter is not personalised)
NOT
YES
(only if the transmitter is not personalised)
YES
(only if the transmitter is not personalised)
Automated STOP management
YES
YES
YES
YES
International shipping
YES
YES
YES
YES
Type of use
Marketing. Private sales. Appointment Confirmation. Internal Communication...
Voice alarms. Services for elderly or visually impaired people...
Message including non-Latin characters (foreign languages or technical symbols)
Message including a short link leading to a landing-page mobile.
Pricing
From
0,0312 €/SMS
Starting at
0,0624 €/SMS
From
0,0312 €/SMS
From
0,0312 €/SMS
SMS & Tools Comparison
Which professional SMS solution should I choose?
Nearly 20 years' experience in mobile marketing, smsmode© is a major player in the market for sending marketing SMS messages to businesses in France and abroad.
Find the main advantages of our offers and services and make the SMS comparison from the point of view of the tools and services at your disposal:
Direct routing of messages to all mobile operators and networks (as we are a telecom operator and do not use any roaming), which offers a high quality and reliability of SMS sending.
24/7 self-service access to all of our SMS campaign management tools, which are available and accessible at any time and from any location via a secure, personal customer area.
A self-service SaaS application accessible via a web browser to carry out your SMS campaigns. This software solution has many complete and advanced functionalities for professional management of marketing operations, including SMS mailing (thanks to the variable fields that can be inserted into your SMS messages, which make it possible to carry out mailings with ease) or sender personalisation.
HTTP and Mail APIs that allow the integration of sending requests from a website, software, application or email and from which the entire SMS range is available.
The possibility to send messages in France, in the DOM/TOM as well as internationally
A free trial and without costs since, at the time of your registration, you benefit from 20 free credits to test our service. Thereafter, there is no obligation and no subscription.
A package system with a competitive sliding scale of prices (the lowest rates on the market), with no subscription, no commitment and unlimited validity of the credits. In addition, payments are made by credit card, cheque, bank transfer, administrative order or via a so-called "post-payment" based on actual consumption at the end of the month.
Unlimited use of our services in terms of the number of SMS messages that can be sent and the number of contacts that can be managed by the SaaS platform or APIs.
A dynamic team based exclusively in France that manages an annual volume of SMS sent of up to 100 million SMS per year for a turnover of nearly 3 million euros.
A commitment to the CNIL guaranteeing the total protection and confidentiality of personal data passing through our services, which are also highly secure.
A hotline, a technical support and a very reactive sales team that you can contact by email, telephone or chat for any request for help or advice.
Comparing the best SMS applications
SaaS Platform
HTTP API
Mail API
Type of use
Delivery of SMS campaigns by mass or unit
Sending SMS contextualized in software, application, etc. (SMS automation, SMS notification, etc.)
Sending SMS from email and e-mail
Documentation
YES
(beginner's guide available)
YES
(full documentation of requests available)
YES
(full documentation available)
Tariffs and user costs
FREE
Only the cost of the SMS sent is charged
FREE
Only the cost of the SMS sent is charged
FREE
Only the cost of the SMS sent is charged
Technical support & Hotline
YES
YES
YES
20 SMS OFFERED

Once you have made your SMS comparison,
try sending SMS Pro for free
100% free trial with no commitment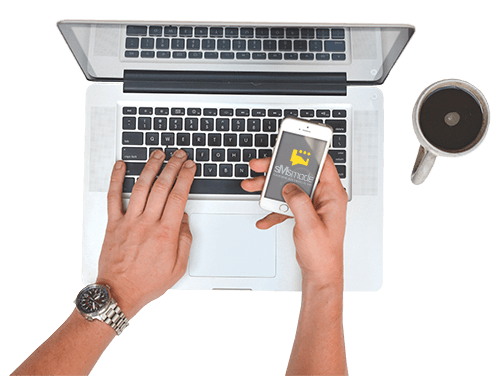 Our team advises you...

Our sales and technical teams are at your disposal to answer all your questions or requests for information on the sending of SMS and to help you to set up the SMS solution most adapted to your problem.