Discover the SMS platform
Optimize your dispatches with a simple, accessible and high-performance SMS dispatch service. By creating campaigns
SMS marketing
Create a relationship of trust with your customers and prospects, thanks to a tool for sending
Bulk SMS
or single SMS messages.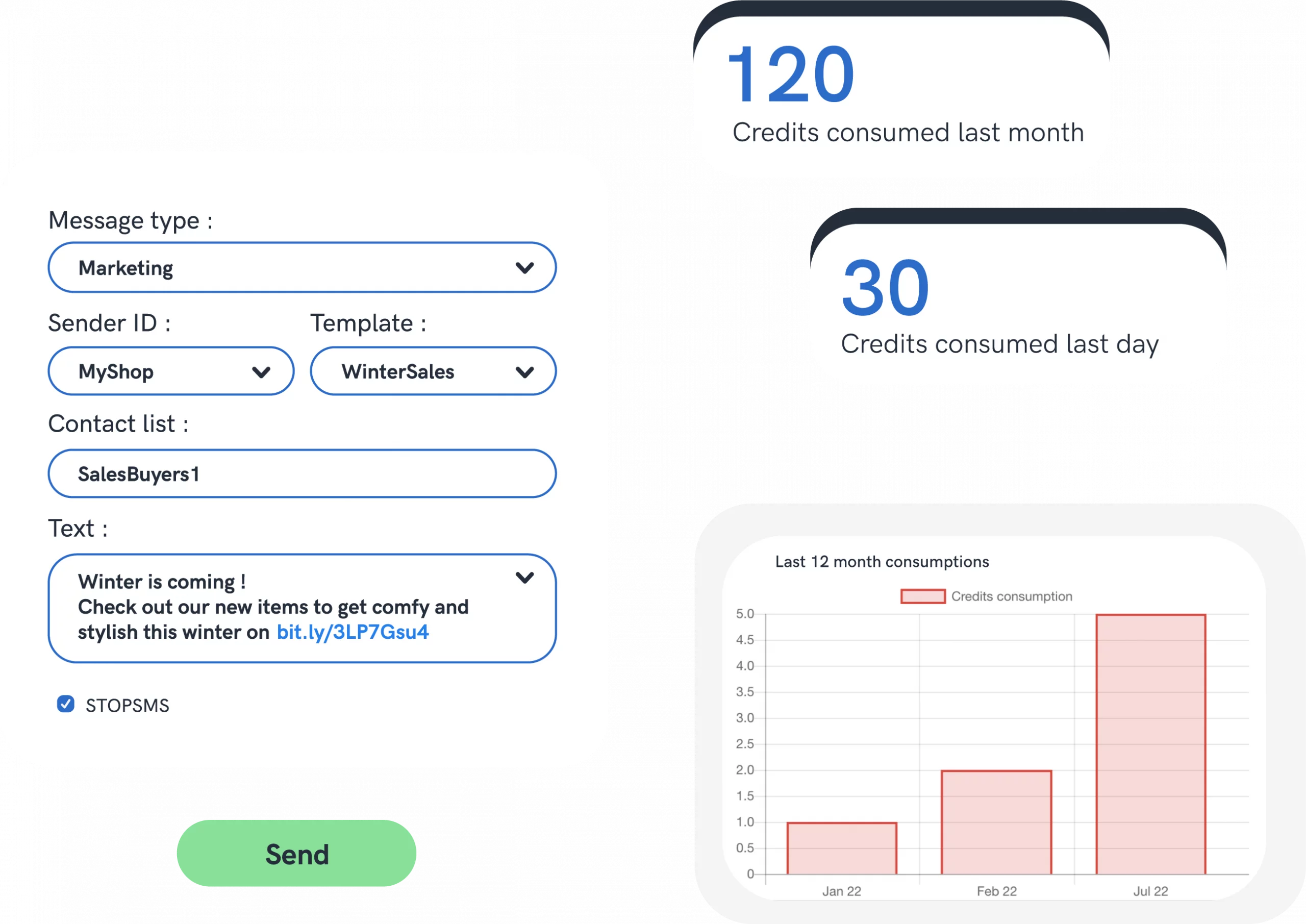 An intuitive, accessible platform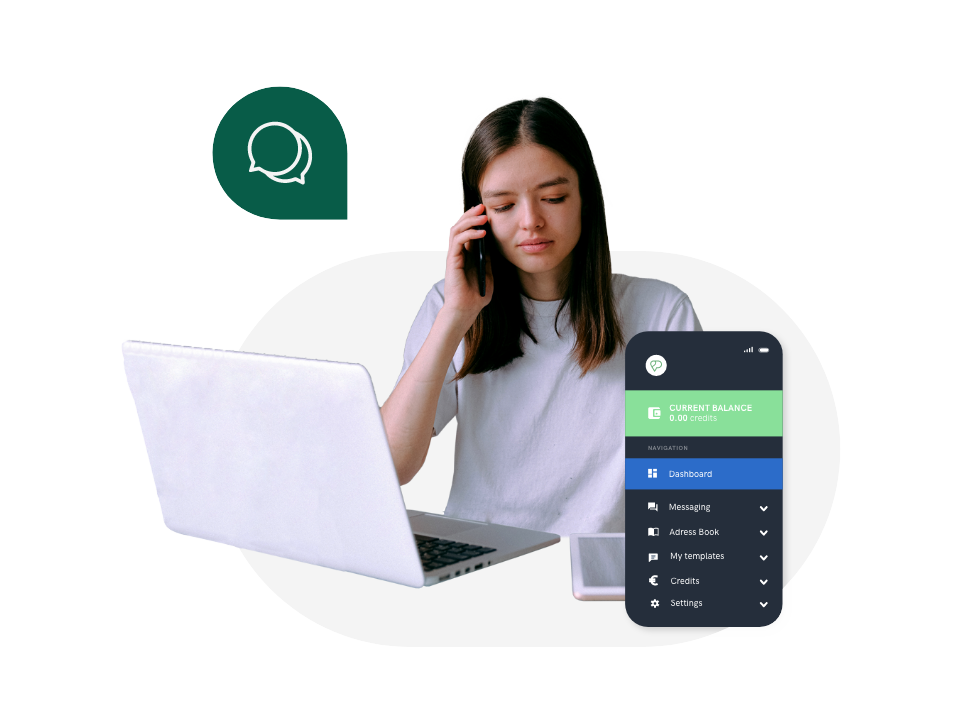 Our interface offers you solutions for planning your SMS campaigns with maximum security. With our web-based SMS platform, you benefit from a high-quality service that enables you to deliver your SMS messages quickly and efficiently. Customize your Pro SMS with a range of available templates, while analyzing the impact of your
SMS mailing
.
The purpose of SMS mailing?
Develop a close relationship with your customers, and build loyalty while taking advantage of the many opportunities offered by professional SMS.
160 characters,
for a powerful message
Write your text message and send your SMS directly via our SMS pro platform. You have 160 characters to write an effective, concise and catchy text.
No commitment,
and 20 free credits
Use our no-obligation, no-subscription SMS platform and benefit from 20 free credits when you sign up. Test our interface and start your SMS notification or mobile marketing campaigns.
Protected data
and secure
smsmode© is committed, in line with its RGPD approach and its CNIL commitment to the protecting and securing personal data. We guarantee confidentiality and non-use of your imported data.
24/7 access, wherever you are.
For a SaaS platform ergonomic and simple, connect to a professional webservice, without installing any software and directly from the smsmode©. In just a few clicks, you can SMS campaigns create a free account to test our online SMS management toolWith an intuitive, easy-to-use interface, you have access to send SMS Pro from a simple Internet connection via computer, smartphone or tablet.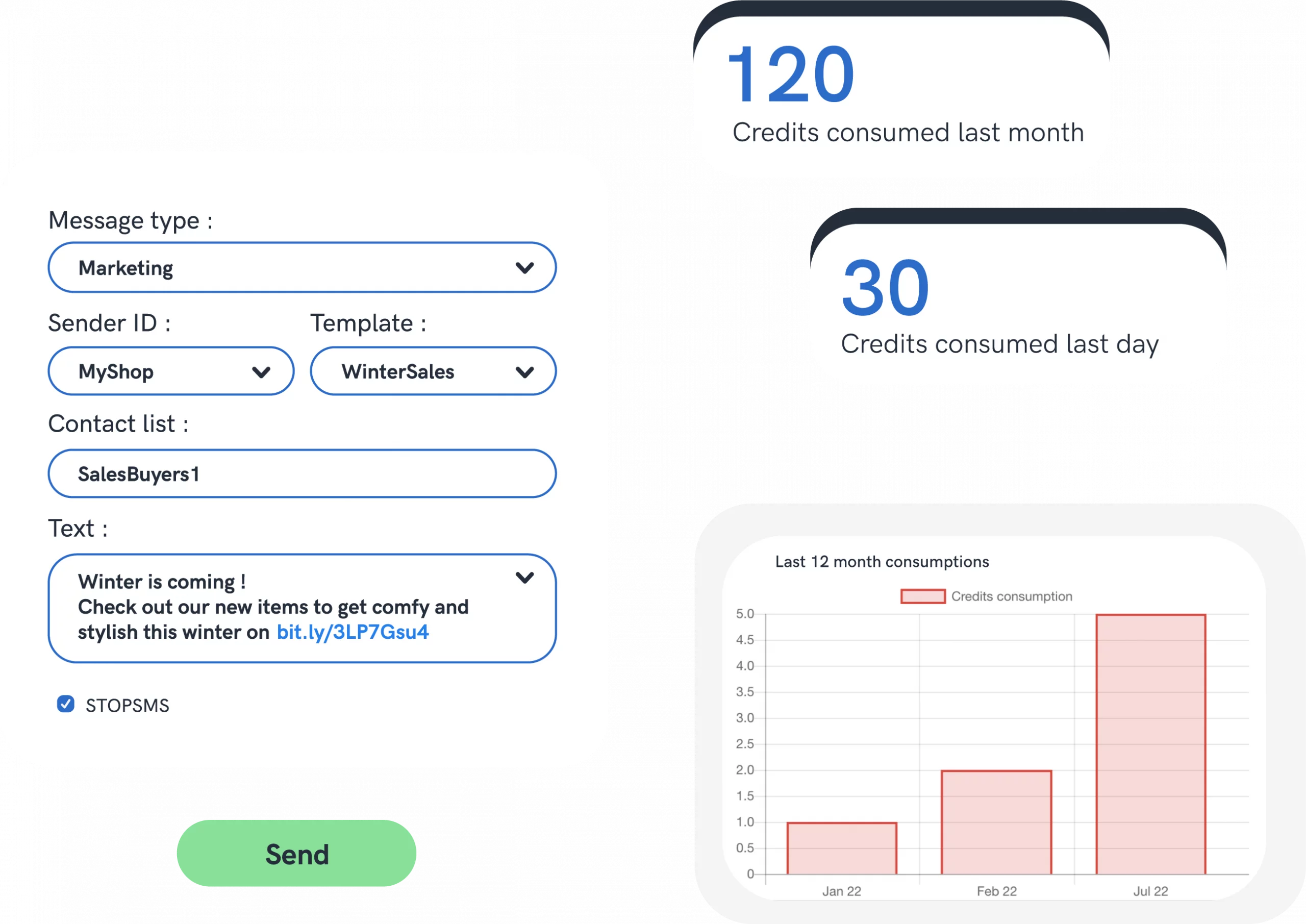 Product documentation smsmode©
A multi-functional platform
Easy to use and with no obligation, our user interface is accessible from PC or laptop with a simple web connection.
Manage your databases
databases
Send SMS alerts or SMS ads, importing your contacts directly and manage your mailing list. Import an Excel document with useful contact information (surname, first name, company, telephone, mobile, etc.).
Personalize SMS campaigns
Easily create and manage mailings for each campaign, with customized sender and text variables. Choose your brand name as the sender, and boost your image. And use direct mail to make your messages unique.
Manage SMS templates to make it easier to write your next messages. Discover our 50 professional SMS examples. Templates for every type of mailing: marketing, notification or appointment reminder.
Analysis of SMS dispatches
Analyze the impact of your SMS marketing campaigns in real time with detailed statistics on your SMS dispatch (read or open rate, deliverability rate, routing error, etc.).
Unsubscribe
automatically
Unsubscribe requests (or STOP SMS) and invalid numbers are automatically removed from your address book, to keep your address book up to date and respect the recipient's consent (opt-in).
Instant messages,
or deferred
Two possible sending methods : immediate sending by default, and scheduled sending , enabling you to send your SMS at a later date, by entering the desired day and time in a field.
Try our SMS platform and get 20 free test credits. No commitment required.
We look forward to hearing from you.