Documentations
smsmode©
A set of product and presentation sheets to provide you with complete information on the range of products and services offered by smsmode©.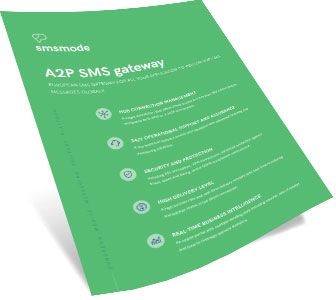 PDF AVAILABLE IN ENGLISH ONLY
A2P SMS Gateway" sheet
As a European SMS Gateway, we offer connection management to the Hub for routing all your A2P (Application-to-Person) SMS messages worldwide. This means that you have monitored 0-HOP or 1-HOP connections with automatic traffic switching in the event of a drop in performance.
I download the free PDF file:
smsmode© needs the contact information you provide to contact you about our products and services. You may unsubscribe from these communications at any time. Visit our Privacy Policy to find out more about how to unsubscribe, our privacy policy and our commitment to privacy. You may also, for legitimate reasons, object to the processing of your personal data. If you wish to exercise these rights, please send an e-mail to dpo(at)smsmode.com.