The smsmode© blog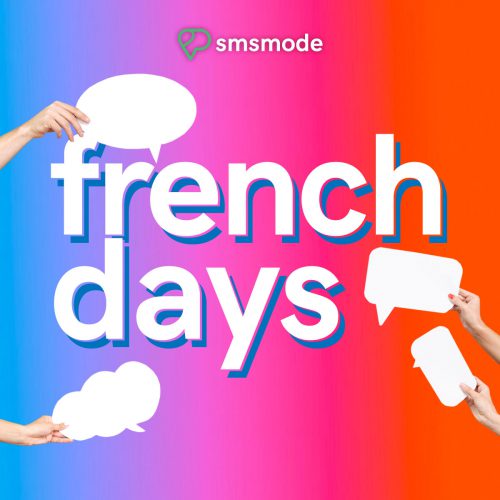 The French Days are coming!

The French Days take place twice a year. The first edition had been postponed because of COVID19, it is with pleasure that we announce its second edition, from September 25th to 28th! The French Days, the ideal opportunity for you shopkeepers to make the most of your SMS campaigns!
smsmode© supports you in the implementation of your strategy
If you participate in this event, you must communicate it, because although it is becoming more and more popular every year, this movement has only been in existence for a few years.
The SMS marketing campaign is an effective way to promote your offers: it has an exceptional opening rate (much higher than email), a great accessibility and a cost defying any competition.
In order to encourage the French brands we propose you an exceptional offer:
3 months subscription free (whatever the subscription)
Do not hesitate to contact our teams to discuss your needs:
The plug in Adobe Campaign
The French Days may be the perfect opportunity to choose an effective mobile communication solution, to be plugged directly into your Adobe campaign CRM.
Our SMS solution for Adobe Campaign is ideal for users of this CRM. It allows the simple and fast integration of text messaging into your campaigns. Take full advantage of the potential of the SMS channel. To communicate directly to your contacts' mobile devices, create and deploy mobile campaigns in your customer journey.
French Days: the definition

The concept is the French version of the famous American Black Friday. These days allow consumers to take advantage of exceptional discounts of up to -90%! The offers mainly concern the e-commerce sector. The objective is to offer discounts before the sales to consumers and to meet the demand for our new e-consumer modes.
6 big names in online commerce are at the origin of our French Days, namely : Cdiscount, Rue de Commerce, La Redoute, Boulanger, Fnac-Darty, Private Showroom.

Why you should participate

We encourage all our e-merchants and retailers to take part in this event. Highlighting new promotions during these four days will allow you to boost your turnover for a few days and sell your unsold items of the year.