SUCCESS STORIES
Discover the best success stories of our customers who have run inspiring and successful mobile campaigns. Thanks to our solutions, these companies have made mobile messaging a major asset for their communication strategies.
POISCAILLE & SMS FOR CUSTOMER RELATIONS

Created in 2015 by Charles Guirriec, Poiscaille is the marine version of the vegetable basket: baskets of fish, shellfish and crustaceans, fresh, sustainable, ethical and delivered anywhere in France, in a short circuit. The promise: 48 to 72 hours between fishing on board the boat and delivery to the customer, anywhere in France.
MORE THAN 6,000 SMS SENT PER MONTH
A DISTRIBUTION NETWORK OF 1,600 RELAY POINTS
MORE THAN 200 COASTAL FISHERMEN PARTNERS
20,000 ACTIVE SUBSCRIBERS WITH THE GOAL OF REACHING 50,000 BY 2023
Download
THE POISCAILLE X SMSMODE© STUDY CASE
The personal data collected by CALADE TECHNOLOGIES is processed by computer. This process is specially designed to satisfy your requests. The treatment is based on your consent. Only CALADE TECHNOLOGIES team and our DPO have access to your data. This data is stored as long as needed to provide you with our services and to operate our business. At the end of our contractual relationship, the data will be kept for a 3 years period from our last contact, then archived for a 5 years max. duration. In accordance with the system currently in force, you are entitled to access, rectify, erase and limit your personal data. You are entitled to set the guidelines of this data after your death, to make an administrative appeal to a supervisory authority. For more informations, you can also join us at dpo(at)smsmode.com
The fast-growing start-up Poiscaille has made the SMS channel a fundamental link in supporting, developing and boosting a high-quality customer relationship - and experience.
Proactive alerting through messaging
As a proximity tool « par excellence », Poiscaille relies heavily on mobile phones to support its customer communication. SMS is used to track shipping incidents, transactional messages such as order reminders, changes of the delivery location following a shop closure, etc. It is also used to send alerts to distribution outlets in the event of a missed delivery.
This interactions by SMS are destined to grow with the objectives. By the end of 2023, the number of subscribers will double (as the number of notifications) and Poiscaille will invest in marketing communication. A polymorphic status of the channel which makes all its interest.
In the customer journey, SMS is very well suited to contractual and urgent communications and, at the same time, to more marketing communications retention and acquisition communications.
Tom Guibourdenche, Poiscaille customer service manager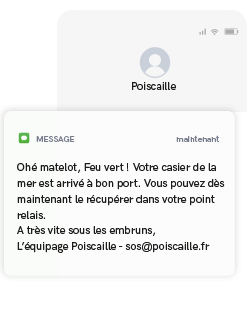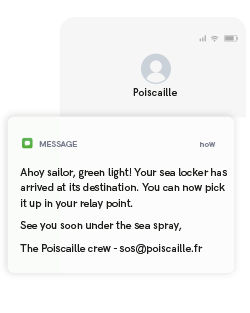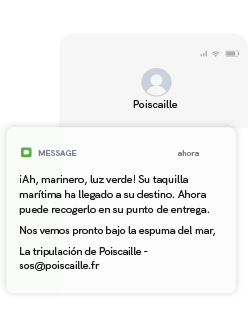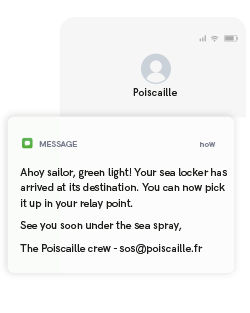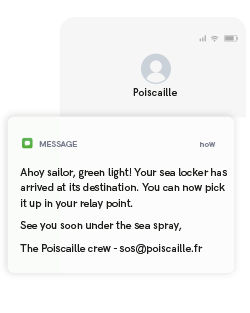 an essential & direct channel
SMS as a means to secure the reading of information
If Poiscaille has relied heavily on SMS interactions, it is because it solves one of the main challenges of interaction management: be sure that the message is read and taken into account by the customer in a short period of time. Indeed, thanks to its unequalled reception and reading rates, this channel allows to be direct and to have the guarantee that the message will be received, when email shows delivery failures due to spam filters, low opening rates and a partial adoption by an older population (which represents a significant part of Poiscaille's customers).
In customer service, it is not easy to hit the nail on the head with every message. SMS ensures that the customer reads the information quickly.
Tom Guibourdenche, Poiscaille customer service manager
Used in different ways depending on the scenarios defined at Poiscaille, SMS replaces email, doubles the information sent by email or, in some cases, completes it. This is the case, for instance, with certain contractual informations sent proactively, such as the postponement of a delivery or the cancellation of an order, which require a confirmation of reading by the customer while delivering a long message. Thus, the combination and synergy of email and SMS - including a link to this email - is the best way to contractualise the sending of information and offer an optimal customer experience.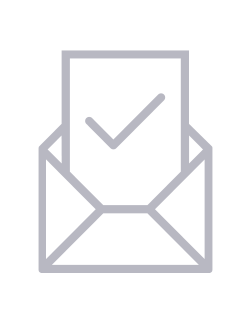 HIGHLIGHTS
a very high message opening rate
a channel adapted to all targets, even seniors
no spam or junk mail
WEAKNESSES
the small size of the message available
the cost of long messages

Personalization, the key to customer relations
Through the sending of these notifications, Poiscaille adopts an approach geared towards personalising and individualising exchanges to guarantee growth and retention.
To do this, Poiscaille advisors refer to a library of predefined templates based on listed events. The degree of personalisation of these messages evolves according to the nature of the problem encountered by the customer: from the insertion of simple data such as the first name to the complete rewriting of the message in certain specific cases.
A contextualisation of the customer relationship that Poiscaille wishes to extend to hyper-personalisation - to offer an ever higher overall quality of experience - 100% automated, with the transmission of a panel of variables to the SMS messages.
Successfully completing the data pivot is the prerequisite to build a truly 1to1 customer relationship.

Fabien Andraud, head of sales smsmode©
This automation of scenarios requires technological changes based, on the one hand, on data-centred software and, on the other hand, on the parameterisation of triggers and workflows.
The first steps towards automation have been taken via Zapier for exchanges with distributor relay points. Poiscaille's short-term objective is to scale up the model by applying this automation to the customer care part and by choosing the most suitable technological interconnection. A Holy Grail for - and in the service of - customer relations which would then enable the full potential of the SMS channel to be exploited.
we are smsmode©
European mobile messaging platform, expert and specialist in the market with nearly 20 years of experience, we support European brands in the integration of A2P mobile messaging in their mobile strategies. To this end, we offer a range of mobile channels (SMS, TTS but also RCS, WhatsApp Business or Verified SMS) which opens up new omnichannel possibilities.
To find out more about our solutions, contact one of our customer success managers to discuss.
We will be happy to show you the potential of mobile messaging, give you a demonstration, etc.