The smsmode© blog ©
On your marks... Get set...
Opt for advertising by SMS
during sports events!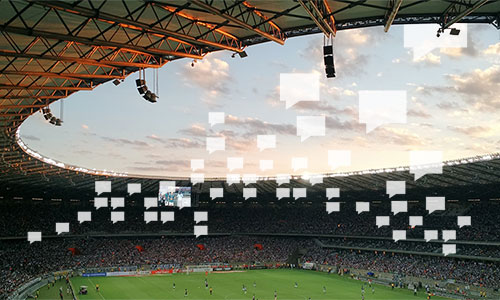 The next few months will be full of sporting events: Euro 2016 from 10 June to 10 July, the Tour de France from 2 to 24 July, the Davis Cup quarter-finals from 15 to 17 July, the European Athletics Championships from 6 to 10 July and the Summer Olympics from 5 to 21 August.
According to the Institute of Market and Opinion Research, more than half of French people practice a sport and say they enjoy watching it on TV. Each sporting event is therefore a communication lever in its own right and provides opportunities to set up promotional operations that you can promote via SMS advertising.
Make this summer of sport a commercial success
Brands have everything to gain by making the most of the media hype surrounding sporting events. It is an opportunity to reach sports fans and to talk about your company and your products. So use sports events to boost your sales and offer the most relevant marketing action for your company!
AN EXCLUSIVE BUSINESS TRANSACTION
Customers especially appreciate commercial offers. Sporting events are an opportunity to provide an exclusive offer that will attract your customers.
This is a particularly popular and effective strategy for restaurants, pizzerias, fast food outlets - takeaway or delivery -, drinks brands, etc.
Depending on the attractiveness of the offer you make, you are guaranteed to double the number of orders on the days you run an SMS campaign.
Find an example of a promotional offer to send:
Euro 2016. Special offer to accompany your evening: 1 PIZZA BUY, 2 FREE! Valid every match night until 10 July.
DEVELOPMENT OF GOODIES OR SPORTS EQUIPMENT
Your customers who love sport enjoy watching sport, but also playing it!
To make the most of theexcitement linked to sports events, to put your brand in the colours of the event and to create a communication opportunity with your customers, think of setting up a marketing operation around sports equipment, goodies or your products specially personalised for the event.
Your SMS advertising campaign could be :
5 days before the start of Euro 2016! Try to win your favourite jersey for your football matches with friends, by going to your shop!
Any idea can be implemented (depending on your budget of course!): you can give your customers an unforgettable VIP experience by offering a competition and inviting the winners to the sports event or to a broadcast. The result will be guaranteed and will undoubtedly touch your customers!
Why opt for an SMS advertising campaign?
In the range of media for disseminating your offers, advertising by SMS is extremely effective and benefits from assets that will ensure unparalleled effectiveness and performance of your advertisements:
A highly memorable SMS message: with its 160 characters, you need to compose a concise and punchy message in a minimum of words. This constraint proves to be an excellent way to capture the reader's attention.
The assurance that your message will be read: SMS has an open rate of up to 97% (unlike emailing which is only 10-30%).
Almost instant communication: 92% of SMS messages are read within 4 minutes of receipt. What media can say as much?
A medium with an unequalled cost: with a very low rate, the SMS channel remains one of the cheapest media in the communication market.
If you would like to have additional advice on setting up your SMS campaign, do not hesitate to contact our team!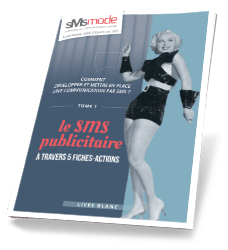 WHITE PAPER
Advertising SMS through 5 action cards
Download our white paper "Advertising SMS through 5 action sheets" for free and discover all the possibilities offered by advertising SMS to carry out a prospection on mobile.