SMS for mobile communication
SMS is THE most powerful and profitable medium for mobile communication:
Opening rate: 98%.
Memorization rate: 30%.
Conversion rate: 29%.
Activate the "customer vibration" mode.

Opt for an efficient, dynamic and economical communication channel with our mobile communication services
The number of mobile phone owners is growing rapidly: almost 100% of the French population owns at least one mobile terminal. As a result, being present and successfully communicating on these booming communication channels has become a strategic challenge for companies, retailers and local authorities. Developing a mobile communication plan including mobile advertising means choosing the most suitable medium for your campaign, delivering the right message and knowing your target well.
SUCCESS STORY
Virtuo makes SMS the keystone of its 100% mobile rental experience
READ MORE
Integrating direct marketing into mobile communication via SMS campaigns
An essential medium for reaching consumers everywhere and in real time, SMS has the undeniable advantage of a high read rate of around 95%. A modern and dynamic means of communication benefiting from a positive image, the distribution of SMS campaigns is instantaneous and the reactions are almost immediate. They create a strong relationship between the brand and its customer.
Mobile communication has the specificity of reaching all customer targets, regardless of gender, age or socio-professional category. The only restriction is to respect the legal provisions in terms of mobile marketing and communication, particularly in the context of SMS campaigns.
Communicating effectivelyon mobile
With this mobile medium, companies can communicate on exceptional promotions, new products, exceptional shop openings, gifts, etc., as well as on loyalty offers: appointment reminders, product/service availability, etc. It is clear that SMS is suitable for a wide range of business sectors and types of marketing (advertising, information, internal communication, etc.). The results of SMS campaigns show a great performance of this communication vector; the mobile phone also significantly enriches thecustomer experience.
These mobile communication campaigns can also be part of a cross-channel strategy. More creative and interactive applications (link to landing pages or soon MMS) can be set up in order to use all the possibilities offered by smartphones.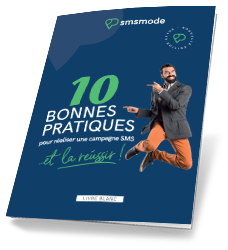 WHITE PAPER
10 good practices to carry out an SMS campaign... and succeed!
Our free downloadable white paper "10 best practices for running a successful SMS campaign" will show you the essential practices and tips for running SMS marketing campaigns.