focus on
SMS reception
The aim of SMS reception is to encourage your customers, patients or employees to respond to your SMS messages; it helps generate interaction between you and your contacts by creating a "conversation" system.
Whether for professional, playful, logistical or informative use, SMS reception improves the level of service and allows you to enjoy the excellent performance of the SMS. It also allows you to create a bi-directional communication (Sending SMS & SMS Reception) and a direct dialogue between the customers and your structure, inviting your contact base to participate.
Receiving SMS Responses
is done in real time!
Our various SMS reception services provide you in real time, 7 days a week and 24 hours a day, with the responses sent by your customers. We also provide you with the functionality ofexporting SMS responses to an excel file in just one click!
Sending SMS response by your
Recipient is no extra cost!
For the recipients who reply, the cost of the SMS reply corresponds to the price of a classic SMS, without any surcharge. You thus offer the possibility of an open exchange in order to create a strong and personalised link with each recipient of your messages.
View all responses Received
On your customer space!
The SMS messages received are recorded and can be consulted directly in your customer area. Indeed, our self-service platform has an SMS response inbox where all the incoming responses you have received are archived.
SMS Reception: An efficient and interactive communication tool for multiple applications!
Ideal tool to create a direct dialogue with your interlocutors, the reception SMS remains a channel of communication which offers multiple possibilities of interaction with its contacts and which finds many applications: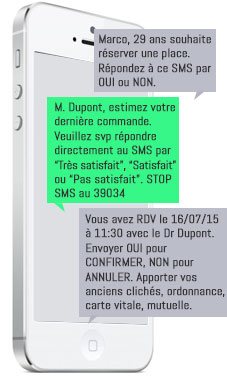 Customer service available via SMS: by offering your customers the possibility of replying to your SMS communications and/or sending you their questions, requests for information, etc. directly via their mobile phone and a text message, you create a regular link with your contacts and strengthen their satisfaction and customer relations: receipt of after-sales service requests, complaints following the follow-up of reservations, opinions and reviews of a product, acknowledgements of purchases or orders sent by SMS, etc.
appointment confirmation request: in the appointment reminder message sent, for example, the day before the date, ask the recipient to confirm his or her presence by answering "YES" to this SMS. You will then automatically receive confirmations and acceptances of appointments in order to optimise your schedules.
games, quizzes, votes, satisfaction surveys: ask your contacts a question directly on their phone and ask them to answer you directly by SMS! The answers can be full texts (for example: name, first name, email and all the information you consider important) or simply a keyword (for example: GAME).
collecting customer data and acquiring contacts: by offering an SMS registration service to customers via an inbound number, you can collect the customer data needed to communicate with them and thus enrich your address book. Ideal for creating a mailing list for promotional offers, an information service (for transport networks for example), a loyalty programme, etc.
a reservation request, a delivery confirmation, a confirmation of reading information sent by SMS, the organisation of a meeting, etc.; the list of applications is (almost) endless!
TO FIND OUT MORE...
Virtual Mobile Number & SMS reception solution presentation smsmode©
DOWNLOAD
Receive SMS with solutions smsmode©
In order to set up two-way communications, the services offered by smsmode© are available to help you manage your SMS reception:
SMS response: a free option included in the SMS Pro offer, the recipients of your SMS messages can respond to your communications. The only requirement: do not mention a personalised sender in your SMS campaign or clearly mention the short number to which the reply should be sent! Then, with the implementation of a simple URL notification, you can activate the acknowledgement of receipt to display and be alerted when a response is received.
FIND OUT MORE ABOUT THE SMS RESPONSE OPTION
HTTP API: With the HTTP API, you can integrate the SMS response functionality directly into your external application (CRM, e-commerce site, database, mobile application, etc.). The response processing will be integrated into your application and can be directly linked to the data of your external application.
LEARN MORE ABOUT OUR API
SMS reception service: renting a reception number (via a SIM card or via a Virtual Mobile Number - NVM) allows you to collect and manage all received PUSH SMS messages. Among other things, you can collect the person's mobile phone number or the date of registration via this text message reception device. It also allows you to set up advanced and personalised scenarios based on keywords and automatic responses when a new SMS is received.
FIND OUT MORE ABOUT THE SMS RECEPTION SERVICE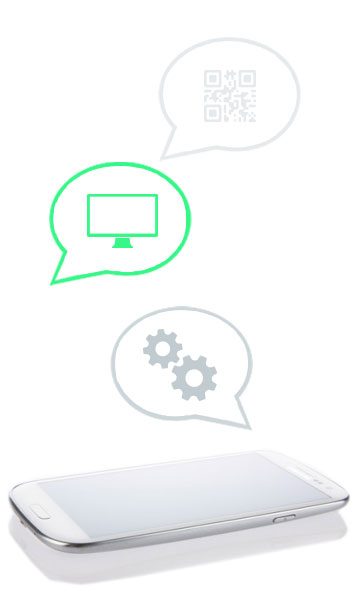 CUSTOMER CASE
ASF's reporting reception
The ASF Group (motorways of the south of France) uses SMS reception to give motorists the opportunity to report a problem concerning the maintenance of its motorway areas. The managers of the maintenance team can directly and without intermediary, to consult the user messages received: This method has been widely approved because it provides immediate responsiveness, maximum compatibility whatever The network used, and a considerable time saving.
USE OUR SMS & SEND RECEPTION SERVICES CREATE A FREE CUSTOMER ACCOUNT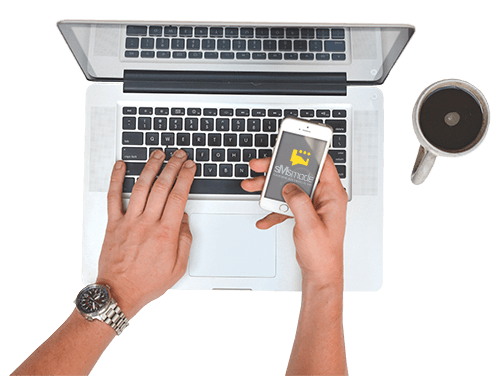 Our team advises you...

Our sales and technical teams are at your disposal to answer all your questions about the SMS marketing and to help you set up the advanced service of receiving SMS push and SMS replies most suited to your problem.