Focus on
the integration of the Pipedrive SMS
You looking for a solution to implement directly in your CRM Pipedrive, sending automated SMS? Our SMS solution integrates seamlessly into Pipedrive and allows you to integrate text into your sales scenarios with maximum compatibility.
The principle? Build on the synchronization of Pipedrive activities with Google Calendar and configure the SMS Google Calendar module that automates the sending of SMS related to the events created. So, as soon as an appointment is created in the sales pipeline, the process of sending SMS takes place automatically without further action on the part of the salesman. Thus, your sales team has an efficient and turnkey way to send SMS reminders, meeting reminders and other notifications to clients related to Pipedrive activities.
The advantages of using the SMS Pipedrive...
A reading rate of 95%
For maximum deliverability
The SMS is an ideal channel for a successful customer relationship. By disseminating your information directly to your contact, yourmobile phone, you are assured that your message is read within 4 minutes after its reception! What means of communication can do the same?
Time optimization
and planning of your teams
People plebiscite useful and personalized SMS such as appointment reminder, meeting or demonstration. At the same time, your sales teams optimise the management of their planning and activities and limit absenteeism and defection. A win-win service!
Security and protection
Improved customer data
smsmode is committed in accordance with its GDPR approach and its CNIL commitment to the protection and securing of personal data. We guarantee you a confidentiality of your data passing through our services as well as the non-use of contact files by third parties.
Improve your Pipedrive experience with sending SMS
By connecting our application and SMS sending service directly into your favorite CRM, improve your sales process by sending an automatic reminder SMS to your customers, leads and prospects.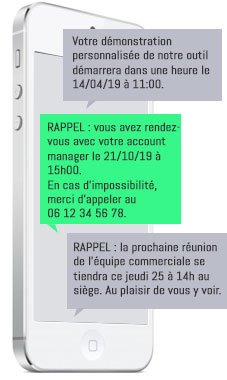 Stimulate your sales process.
Add text messaging to Pipedrive and take advantage of mobile campaigns to send instant notifications for your appointment reminders. Combine the benefits of real-time and personal mobile communication with the power of your customer relationship management tool.
Automating CRM workflows.
By automating the sending of SMS from Pipedrive, your marketing and sales teams have a "Workflow" automatically set up an appointment reminder. Synchronization between Pipedrive activities, formatting of the Google calendar events, and sending this short mobile message does not require any manual action. This solution saves considerable time!
Reduce operating costs
The integration of synchronized SMS into your pipeline reduces telephone calls and optimizes your sales representatives' schedules by reducing forgotten business appointments. In addition, the cost of sending text messages is very low compared to the savings it generates and the customer service it provides.

The advanced features included in our SMS Pipedrive solution
Our SMS Google Calendar module is the ideal solution you need to interconnect Pipedrive with a short message delivery service. This efficient SMS sending automation solution allows you to:
a few-click Configuration of the connector between Pipedrive, Google calendar and our SMS routing platform. Complete documentation guides you step-by-step in the easy and intuitive setting by one click of the bindings and permissions required between your CRM tool and our web-Mobile message routing service.
automatic insertion of contact information from Pipedrive in Google calendar and then in the settings of SMS sending, for an automatic and impeccable transfer of information between your CRM and our SMS sending service.
customizing Messages with the creation of a fully customizable text template that can contain the date and time of the appointment/event variable and the customization of the issuer in the header.
precise scheduling of the delivery time before the appointment time (between 1 hour and 48 hours before the event).
Comprehensive statistics and analytical data for the deliverability of your mobile messages (Messages delivered, in check and in temporary error) available from the dashboard of your SMsmode client space in order to guarantee the correct delivery of the texts sent to your contacts.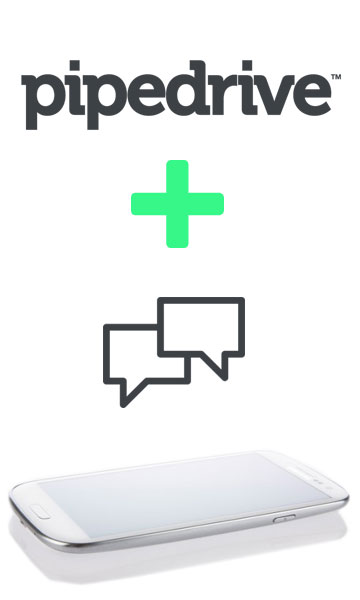 20 SMS OFFERED

Now try our SMS-sending solution in
Creating a 100% free and non-binding client account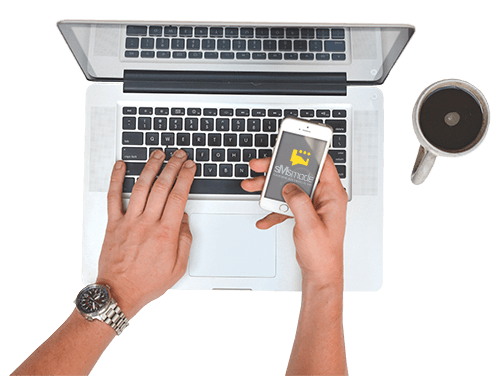 Our team advises you...

Contact us now to set up our SMS Pipedrive module – Google calendar. Our account managers are at your disposal to answer all your questions about the use of SMS sending and to help you implement our solution in your Pipedrive CRM.