SUCCESS STORIES
Discover the best success stories of our customers who have run inspiring and successful mobile campaigns. Thanks to our solutions, these companies have made mobile messaging a major asset for their communication strategies.

The interaction potential is certainly the main asset of RCS - Rich Communication Service -, the successor of SMS.
This is the promise that seduced the committed brand of teas & infusions Panda Tea, and that convinced it to deploy its first RCS campaign in collaboration with smsmode©.
10% OF THE SMS CONTACT BASE COMPATIBLE
18,495 MESSAGES SENT
BOT MADE WITH GOOGLE DIALOGFLOW
Download
THE PANDA TEA X SMSMODE© STUDY CASE
The personal data collected by CALADE TECHNOLOGIES is processed by computer. This process is specially designed to satisfy your requests. The treatment is based on your consent. Only CALADE TECHNOLOGIES team and our DPO have access to your data. This data is stored as long as needed to provide you with our services and to operate our business. At the end of our contractual relationship, the data will be kept for a 3 years period from our last contact, then archived for a 5 years max. duration. In accordance with the system currently in force, you are entitled to access, rectify, erase and limit your personal data. You are entitled to set the guidelines of this data after your death, to make an administrative appeal to a supervisory authority. For more informations, you can also join us at dpo(at)smsmode.com
As a strong supporter of mobile marketing, Panda Tea regularly carries out advertising campaigns during the marketing highlights of the year such as sales, Black Friday, Christmas, etc.
Use the RCS as a weapon for advertising purposes
Panda Tea wanted to launch an RCS campaign in partnership with smsmode©. The objective was to explore the possibilities of this new channel and to bring a new dynamic to the brand's mobile communication.
The campaign focused on highlighting end-of-year products (teas, gift sets, herbal teas, etc.) in the form of buttons and a carousel (image and product description associated with a link).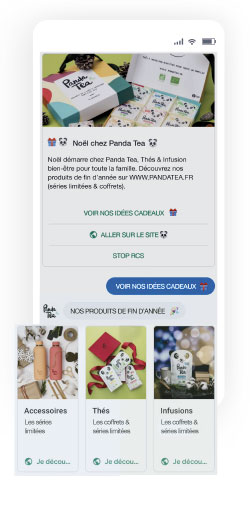 Our main objective is to generate traffic to our website and the RCS is a promising channel that has allowed us to use images, buttons and carousels in our campaign, which SMS does not allow.
Alexandre Ali, co-founder of Panda Tea
Benefit from the RCS's strike force
The campaign was sent to RCS-compatible mobile phone numbers from the large contact base used for SMS advertising campaigns. More than 18,000 Panda Tea customers benefited from a dynamic, simple and direct interaction through this new enriched mobile experience.
The statistics and link tracking features have made it possible to monitor and analyse the results of the RCS in real time. And the results are remarkable!
92.78% of RCSs were read, 75% of which were read within an hour of being sent, rivalling the already exceptional performance of SMS.
And the other performances are not to be outdone: with a click rate of 7.23%, a conversion rate of 16.26% - 3 times higher than the SMS campaigns usually carried out by the brand - and an unsubscription rate of 1.2%, the RCS proves its effectiveness.
The results of this campaign corroborate our forecasts: this new mobile messaging channel is clearly positioned as a "drive to Web" tool for e-commerce, which also has a direct impact on sales.
Fabien Andraud, head of sales smsmode©


a marketing channel of the future
New opportunities
Panda Tea is one of the first French brands to implement communication through RCS.
The first lessons for the use of this brand new technology in the e-commerce sector are emerging:
HIGHLIGHTS
A very good conversion rate
Boosting and reinforcing the brand image as well as the mobile strategy
A revolution in product promotion
A strengthening of the proximity with the customers
WEAKNESSES
A type of messaging that is still little known and not very popular
Mobile compatibility is still poor
The RCS is proving to be suitable for our business sector, e-commerce. This first campaign showed a direct impact on drive-to-web. We now want to launch an RCS campaign based on a conversational commerce scenario: it would be a perfect medium to introduce a new product or a new product range.
Alexandre Ali, co-founder of Panda Tea
smsmode© and the RCS
As the official partner of French operators for the deployment of RCS in France, and with nearly 20 years of experience in mobile messaging, we help French and European brands integrate A2P mobile messaging and its new possibilities into their strategy.
To do so, we offer a set of mobile channels: SMS, TTS but also RCS, WhatsApp Business or Verified SMS, which open new omnichannel possibilities.
To learn more about RCS, contact one of our customer success managers to discuss.
We'll be happy to show you the potential of this new channel, give you a demonstration, etc.