The smsmode© blog
SMS & catering businesses
Computer graphics
Frequently used by restaurant owners throughout the year to warn of a special offer or confirm a reservation, the professional SMS is a means of communication perfectly adapted to the restaurant sector. Whether you run a gourmet restaurant, a snack bar or a bar, it appears as the essential tool to boost your turnover!

Create a link with its customers
Customer loyalty is an essential process when running any kind of business. Your regulars are of real importance to the success of your business. Very often, they are the ones who keep businesses that are not on the street alive.
You can use SMS marketing in a variety of ways, for example to advertise your daily menus. Your customers who are already in your database may be tempted by your dish of the day, but you still need to make the information accessible. For this, an informative SMS at the beginning of the week will be more than welcome to announce your weekly menus. If you wish, it will alsoencourage your customers to book in advance. In addition to having succeeded in creating a link with your customers,you will have been able to organise your service better.
This quick to set up and low cost attention will reinforce the attachment of your customers to your business. With SMS, your campaigns will be programmed easily, in no time!
Enriching your customer file
The competition in the catering industry is tough. That's why it's important for you to grow your customer file. The key to keeping this file up to date is the telephone number of your customers.
There are several ways to do customer acquisition without spending large sums of money on advertising and the like. Indeed, the use of SMS as a means of communication is not reserved for an elite. It is possible for any structure, whatever its size, whatever its needs and means.
To give your business a boost at a lower cost, why not share a special re-opening offer with your contacts? On presentation of the SMS, a 10% discount could be offered on a cocktail or the menu of the day. The only limit is your imagination!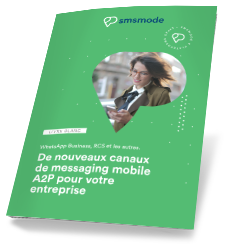 New mobile messaging channels for your business

Learn more about WhatsApp Business, RCS and others, and the new opportunities for your communication.