focus on
appointment confirmation by SMS
SMS appointment confirmation is a practice that is becoming more and more widespread among medical and paramedical professionals, but also service companies, beauty or care professionals, etc. It allows to reduce by 4 the number of missed appointments.
Whether you are a company, a franchise, an association or a liberal profession, the management of your online agenda and appointment scheduling is an issue that concerns you. Our SMS sending service allows you to send an appointment confirmation by SMS to your clients or patients in just a few clicks... the efficiency of this appointment reminder is no longer to be proven and helps you optimize your daily schedule. We also provide you with SMS templates for appointment reminders to help you get started.
CONFIRMATION BY SMS IN NUMBERS
This is the result found on the
Missed appointments following the sending of SMS!
An excellent way of reminding people of an appointment and significantly improving the scheduling of appointments, the distribution of SMS confirmations is a simple and extremely effective way of combating forgotten appointments (divided by 4 on average).
That's the rate of SMS
that are read!
You can be sure that your SMS appointment confirmation message will be received and read by the majority of your recipients! What other communication channel can have such a high open rate and performance?
It is the number of people
Who are approving the informative SMS
>More than 4 out of 5 people accept and wish to receive useful and informative SMS messages, particularly appointment reminders. In addition, you establish a close relationship and a personalised link with each of your contacts.
Why use the SMS appointment confirmation?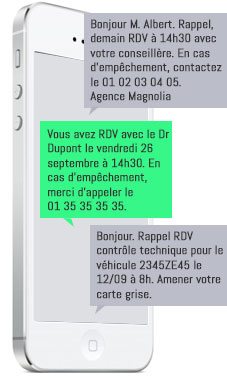 The most efficient appointment confirmation: in just a few clicks and thanks to our user-friendly platform, intuitive and easy to use even for the most inexperienced users, you can schedule an appointment confirmation message. Thus, the appointment booking and your professional agenda will be equipped with an approved functionality: the reminder of the appointment to your client/patient via the sending of automated SMS. Simple and efficient, you save precious time!
Message personalisation: SMS offers you multiple functionalities in order to fully personalise and manage each message sent: insertion of variables (surname, first name, etc.), customisable sender, setting the date and time of sending, etc.
The possibility to create SMS message templates: if you regularly send the same appointment confirmation message by SMS, the message template allows you to be more efficient and faster because you only have to choose the message text already recorded during the setting of an SMS campaign!
The option of confirming the appointment with an SMS reply: insert in your message "confirm your appointment by replying YES to this SMS" and you'll receive direct confirmation of your customer's appointment. Clever!

Medical and para-medical professions

Beauty and Care sector

Administration and Public sector

Business and services

Dealers and Garages

Secretariat and Tele-secretariat
How do I send your appointment confirmation SMS?
We offer several solutions for the routing of SMS adapted to the confirmation of making appointments:
Partner appointment management software with which we have established a partnership and which integrate the functionality of sending appointment confirmations by SMS directly into their interface. Among them, there are :
the "SMS Google Calendar" module, which enables you to implement in Google Calendar the ability to send automated SMS messages a few hours before the appointments you've entered. This online diary solution, which interfaces Google Calendar with our SMS sending service, enables you to send appointment reminders by SMS free of charge (our module and its use are totally free of charge, with no commitment or subscription). This solution is a complete service for professional appointment notification via a message on the customer's/patient's cell phone: message text management, customized sender settings, programming of sending time, consultation of responses received or reception statistics, etc.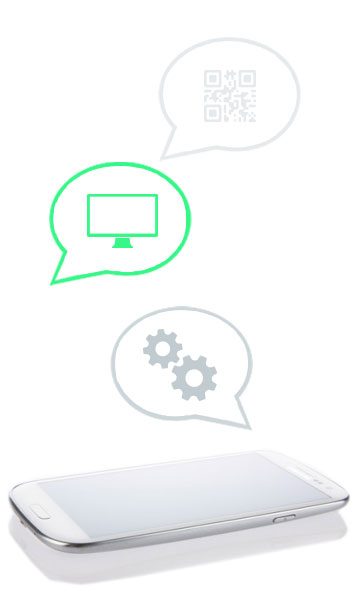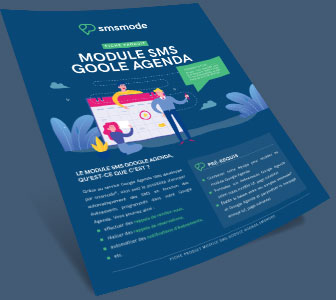 DOCUMENTATION
All the steps to integrate the appointment reminder by SMS from Google calendar
Freely downloadable, our documentation describes precisely all the steps to add the appointment/reservations reminder functionality via SMS from Google Calendar.
DOWNLOAD FREE DOCUMENTATION - FRENCH
DOWNLOAD FREE DOCUMENTATION - ENGLISH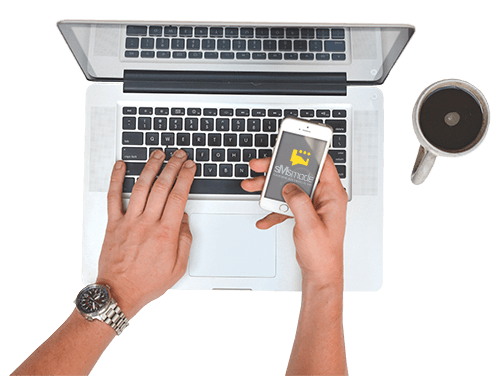 Our team advises you...

If you wish to set up an SMS appointment confirmation, our team is at your disposal to answer all your questions and to inform you about the self-service Internet SMS sending and receiving solutions specially designed for professionals.
We will offer you the most suitable formula, whether it is a packaged solution (SMS pro, voice SMS, SMS response, etc.) or our SMS API allowing you to integrate automated SMS for appointment confirmation by SMS into your application or online diary software.