Focus on
event-based SMS
A great way to communicate, the integration of SMS into your event communication allows you to register your events in the mobile age. By including SMS campaigns, you will be part of an innovative digital marketing strategy and interactivity generator.
For all your business events (launch of a new product, inauguration, seminar, Conference, Salon, etc.) or your sporting events, cultural, artistic, scientific, etc., the text favors the direct exchanges, fast and With your audience and is opening up new opportunities to invest. So think about sending SMS to facilitate your organization and communicate in an original way!
THE BENEFITS OF THE EVENT SMS...
So many recipients
You wish!
There is no limit on the number of sending SMS sent or the number of contacts you want to send your message to. The amount of messages sent does not affect the deliverability of your SMS!
The dissemination of information
In a few clicks!
Regardless of the number of recipients in your message, the setup of your campaign is done in just a few clicks! Message Composition, possible setting of the sender, choice of recipients, your message is ready to be sent.
Receiving your message
In real time!
The actualsnapshot of the SMS (it is usually read within 4 minutes of its receipt) makes it a medium ofimmediacy and proximity... and all this with an ultra-attractive King because the SMS costs up 10 times cheaper than a paper campaign!
4 Key Moments Your event
Where the SMS can make you pass your event communication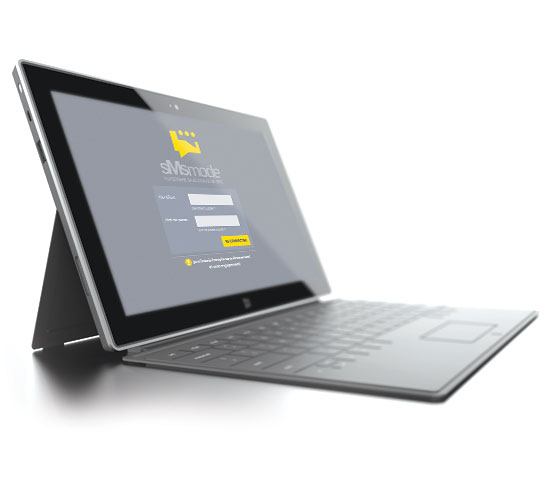 Send your invitations by SMS: sending a personal invitation to your customers and guests will maximize the chances of success of your event! If a text message is read within 4 minutes after it is received, the chances of success will be optimized. Simple, fast, with acknowledgement and answering (and thus receive confirmation of registration of participants for example), you reduce the costs and time spent on the information of the guests.
promote an event (lounge, evening, festival, open House, etc.): The SMS is the ideal complement of your usual communication device (display, advertising press, signage, etc.) because it has a very Good acceptance on the part of the users. Easily storable and memorizable (in view of the short message that requires this format), it will be your ally to promote or recall information about your event.
communicate with the participants during the event: in order to involve the participants (exhibitors and/or visitors) and propose an optimum and impacting experience, send the information and messages to the participants via SMS, for a Communication in real time and in a direct way. An original and interactive way to integrate mobile communication for the field of events.
Keep the event alive: don't forget to extend your event by sending an SMS thank you message to the participants, recalling the next highlights, sharing created content (link to a photo gallery, videos, to testimonials, etc.). The post-event communication too often neglected, allows you to create new points of contact with the guests and participants at the event.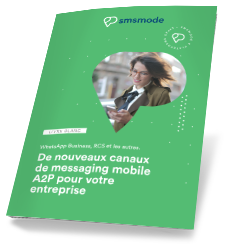 WHITE PAPER
WhatsApp Business, RCS and others.
New mobile A2P massaging channels for your business.
Downloadable free of charge, our white paper will help you discover new mobile messaging channels and new opportunities for your communication.
How to create your first campaign to send SMS events?
In order to set up the sending of your event SMS campaigns, smsmode© puts at your disposal complete solutions adapted to each project.
a SaaS platform for sending SMS accessible from the web and with all the professional features for the realization in full autonomy of immediate sending of SMS: management of notebooks and address lists, recording of models of messages, inserting mail merge variables, adding a link to a mobile Web page, receiving reports, consulting and managing replies received, triggering predefined actions, and so on.
SEE ALL AVAILABLE SMS PRODUCTS
the HTTP API that allows you to quickly integrate the sending of event SMS from your website, your business application or your e-tickets purchase site and to automate all your communications for your event. This interface has been designed to be as complete as possible and easiest to use and implement.
LEARN MORE ABOUT OUR API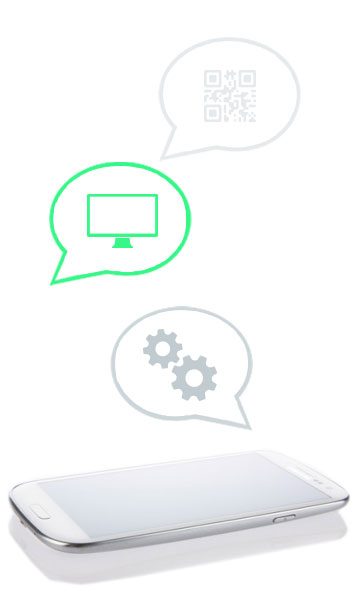 CUSTOMER CASE
Sending an invitation via SMS by Yamaha
The Yamaha network communicates via SMS and invites its customers to the open days of its stores. SMS is a simple, efficient and economical marketing tool to create traffic in concessions and promote the events of the brand in an efficient way.
USE OUR SMS SENDING SERVICES
& CREATE A FREE CUSTOMER ACCOUNT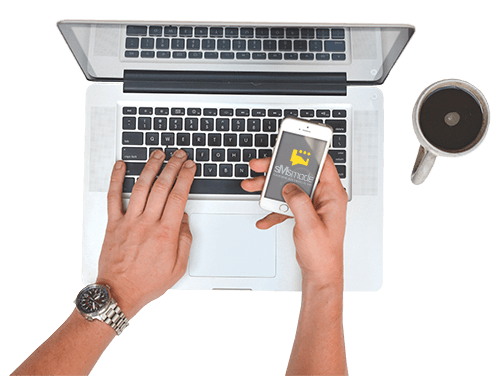 Our team advises you...

Our sales and technical teams are at your disposal to answer all your questions about the SMS marketing operations and to take advantage of the advice of setting up your SMS events! Feel free to contact one of our collaborators, our goal is the success of your marketing operation!