SUCCESS STORIES
Discover the best success stories of our customers who have run inspiring and successful mobile campaigns. Thanks to our solutions, these companies have made mobile messaging a major asset for their communication strategies.
MEDIFLASH & THE ZAPIER SMS PLUGIN

Created in August 2020, Mediflash is a replacement platform for caregivers created by caregivers. By putting health institutions and independent professionals in touch with each other for short missions, the philosophy of this young startup is above all to improve the status of health professionals thanks to better remuneration for these temporary missions.
A success story that bases the key stage of mission notification on SMS.
61% OF ASSIGNMENTS ARE FILLED IN LESS THAN AN HOUR
SMS HAS ENABLED ASSIGNMENTS TO BE FILLED ON AVERAGE TWICE AS FAST
+50% INCREASE IN TURNOVER SINCE THE INTRODUCTION OF THE DISTRIBUTION OF ASSIGNMENTS BY SMS
Download
THE MEDIFLASH X SMSMODE© STUDY CASE
The personal data collected by CALADE TECHNOLOGIES is processed by computer. This process is specially designed to satisfy your requests. The treatment is based on your consent. Only CALADE TECHNOLOGIES team and our DPO have access to your data. This data is stored as long as needed to provide you with our services and to operate our business. At the end of our contractual relationship, the data will be kept for a 3 years period from our last contact, then archived for a 5 years max. duration. In accordance with the system currently in force, you are entitled to access, rectify, erase and limit your personal data. You are entitled to set the guidelines of this data after your death, to make an administrative appeal to a supervisory authority. For more informations, you can also join us at dpo(at)smsmode.com
offer notification and SMS: the winning combo
In the matching process established by Mediflash, the preliminary stage of disseminating job offers is crucial. And the SMS is the essential link in the notification of caregivers.
Use instant and personalised alerts
Mediflash developed a unique algorithm matching the "caregiver" contact database with the mission criteria (geographical region, duration and times, etc.). The challenge was to have an efficient notification channel to alert the group of caregivers defined in this way, and to fill this mission as quickly as possible.
The sending of a personalised SMS was chosen. It contains the essential information about the job and a direct link to the full advertisement. From there, the acceptance of the mission is fluid, fast and automated.
The choice of Mediflash for SMS was guided by 2 prerequisites: first of all, SMS is part of the practices of temporary employment agencies in the health sector). But above all, SMS is a channel that is popular and best reaches their target audience to receive these mission proposals. The result: an improved user experience with approved efficiency.
Before the introduction of SMS notification, filling an assignment took a long time. Today, it only takes a few minutes!
Adèle Bourgeix, Lead Developer Mediflash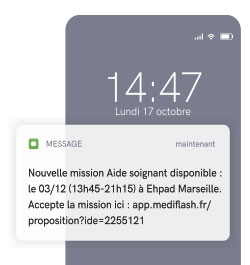 an automated notification solution in nocode
A process facilitated by the use of the Zapier plugin
While caregivers were initially contacted by phone by the Mediflash team, the implementation of an automated SMS notification scenario has resulted in a huge time saving in the dissemination of mission offers. It also reduced the lead time between the creation of the assignment and the moment it was filled, and improved adaptability to the growing number of caregivers and assignments.
To do this, Mediflash opted for an implementation of the Zapier X smsmode© plugin. Having focused on a nocode approach and stack, the objective was to set up a bridge between their algorithm and the smsmode© routing platform. Thanks to the configuration of an automated workflow on Zapier, this could be done easily. A scenario that starts with the creation of an extraction line generated by the Mediflash algorithm with a list of caregivers to contact and a message to send, which continues with the triggering of a trigger in Zapier and the transmission of the data to smsmode©.
The result? A very quick solution to set up. Thanks to the Zapier plugin, the configuration of the gateway between the Mediflash ecosystem and the smsmode© platform required a minimum of configuration. An interconnection particularly adapted with the few "technological" human resources available at the time.
We needed a tool that was ready to use, fast and simple. The implementation of the gateway with Zapier could be done in a few hours.
Adèle Bourgeix, Lead Developer Mediflash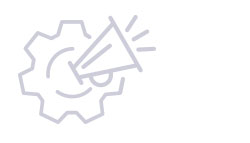 STRENGTHS
No coding or development required
Quick and easy configuration
Significant time savings
WEAKNESSES
An additional cost
Dependence on a non-proprietary solution

Testing the sending of SMS before internalising the process via API
Interfacing the sending of SMS with Zapier is particularly suitable for start-ups, especially during their launch phase. As soon as they reach a critical size, a switch to solutions such as the implementation of an API is necessary...
Fabien Andraud, head of sales smsmode©
Mediflash has made the same observation. While the company is experiencing strong growth and development, it has embarked on a process of migrating all the nocode services it has set up to proprietary solutions. The stated aim of this approach is to free itself from third-party tools and technologies and to eliminate intermediaries. Other objectives targeted by this migration: to gain scalability and reduce limitations, particularly in terms of performance.
Thus, the Zapier SMS plugin - and nocode solutions in general - was a quick win first step for integrating SMS delivery during the project implementation phase. An excellent testing tool capable of developing robust and powerful automations before integrating this scenario with API calls.
we are smsmode©
French mobile messaging platform, expert and specialist of the market with nearly 20 years of experience, we support French and European brands in the integration of A2P mobile messaging in their mobile strategies. To do so, we offer a set of mobile channels (SMS, TTS but also RCS, WhatsApp Business or Verified SMS) that opens new omnichannel possibilities.
To find out more about our solutions, contact one of our customer success managers to discuss.
We will be happy to show you the potential of mobile messaging, give you a demonstration, etc.