The features
for sending SMS
A set of practical sheets to discover and master all the features of creating and optimizing your SMS campaigns.
The "SMS template" function to simplify the writing of your regular campaigns
If you regularly send the same message to your customers, you can edit, via your customer area, your own SMS templates by predefining the message. When sending your different campaigns, you can now fill in the message with a single click!
You can create as many SMS templates as you like, and manage them just as easily by modifying or deleting your message templates at any time with a single click. When you create your SMS campaign, all you need to do is choose the predefined SMS template using the drop-down menu to fill in the message field!
GOOD TO KNOW:
The SMS templates are suitable for all types of SMS (Pro SMS, Unicode SMS or Voice SMS). You can also consult our comprehensive list of SMS examples for inspiration.
Managing SMS Templates on your account
How to access your SMS templates?
First of all, go to the "my models" section (1).
You will find in the summary table all your models already created.
From this page, you can then create, modify or delete your created templates.
How to create a new SMS template?
Click on the "create a template" button (2).
In the new page that appears, simply fill in the various fields (4): the name of the template (title), the sender chosen for this type of message and finally the text; then validate by clicking on the "Save" button.
How to modify an existing SMS template?
Click on the pencil button (3).
In the new page that appears, you have the possibility to modify the parameters of your model.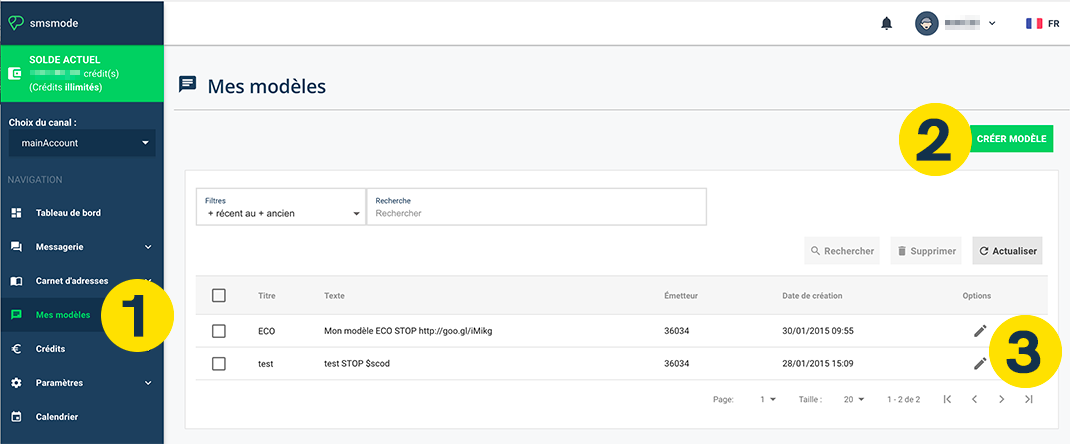 How to apply an SMS template when creating a new campaign?
When you create a new campaign, unit or in number, and whatever the type of SMS chosen, a drop-down menu located to the right of the "Sender" field allows you to choose the SMS model (5). Once the template is selected, the message and sender fields are automatically filled in.