Choose the right solution to schedule your SMS
We provide you with a wide range of SMS solutions available in self-service as well as advanced SMS services to exploit the potential of SMS.
Schedule SMS with sMsmode
to have full control over your SMS marketing
The SMS scheduling feature allows you to determine the exact date and time ofsending your messages to their recipients. This service is available to everyone in your customer area of the sMsmode mobile internet solutions platform. You can configure the "delayed delivery" option in the messages and the SMS campaigns are sent at the dates and times that have been indicated and recorded on the platform.
Immediate shipment or deferred shipment?
Scheduling SMS messages consists in specifying the date and time of their transmission after having informed and personalised the SMS message campaign. You can thus choose between an immediate or a delayed sending, a punctual sending or a regular sending: this programming of the sending of the SMS is particularly adapted in the situations of reminder of appointment to the recipients, or of later advertising campaign.
This SMS programming functionality concerns all the solutions available in self-service , in particular thesending of voiceSMS or response SMS which allows recipients to respond. In addition, SMS scheduling also includes the definition of the list and therefore the number of recipients to be reached with this SMS campaign at the chosen time, when the sending is deferred.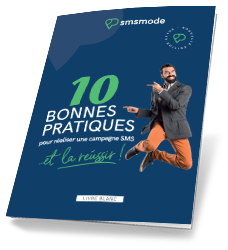 WHITE PAPER
10 good practices to carry out an SMS campaign... and succeed!
Our free downloadable white paper "10 best practices for running a successful SMS campaign" will provide you with essential practices and tips for integrating mobile SMS marketing campaigns into your communication channels.
Our SMS sending service is...
Schedule your SMS with sMsmode
If you are looking for SMS solutions that can meet your requirements and needs, you can find the one that will meet your criteria at sMsmode, the reference in mobile internet solutions development.
Indeed, this platform offers you the possibility to program SMS and to make immediate or delayed sendings. Whether for advertising or informational purposes, these solutions allow you to gain in efficiency: with a few clicks, you can send marketing and informational SMS to a large number of recipients or confirm an important appointment to a list of contacts.
Our packaged SMS Solutions