Choose your solution smsmode© for sending bulk SMS messages
We provide you with a wide range of solutions: APIs, Plugins, Saas Platform... For sending your SMS in numbers. Test our self-service platform and benefit from advanced SMS services to exploit the full potential of the most personal mobile media.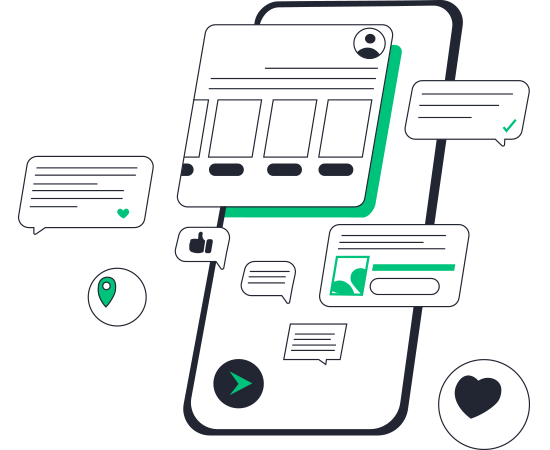 The SMS in number for better cost management of your mass marketing campaigns
Sending bulk SMS is an efficient alternative if, in the course of your business, you have to send messages to a large number of contacts or customers. This is the case, for example, if you wish to inform your customers of the release of a new product or conduct an advertising campaign. This method of communication is also suitable for sending discount coupons or promotions. You can also use it to run a targeted and personalised marketing campaign.
Simply and directly inform a large number of contacts
If you want to send large numbers of SMS messages, it's a good idea to use specializedSMS platforms. On the platform smsmode© platform, you'll find a wide choice of services for sending bulk SMS messages. Their contact details are kept confidential, so that using such a platform does not constitute a risk. To use this service, all you have to do is write your message, the maximum number of characters of which varies according to the range of SMS you've chosen. Then select your recipients. Then, with a simple click, you send your message.
Our APIs allow you to integrate this bulk SMS function into your website. You will be able to manage the date and time at which you want the message to be sent, just like on the online platform. If this service is part of a marketing campaign, we advise you to do a lot of work on the writing of your message to make it punchy and concise.
Our SMS sending service is...
smsmode© and its messaging services
If you would like to use the services of a reputable platform tosend your bulk SMS messages, you can contact smsmode. There are two major advantages to using this platform: low costs and ease of use. If you want to communicate information to hundreds or even thousands of your contacts, this service can offer you a number of advantages.
Registration on smsmode© is completely free. Once you've completed this first step, you can order your SMS messages and send them as and when you need them. These messages can be single messages, but you can also use them to send bulk SMS messages.
Our packaged SMS Solutions