The smsmode© blog
SMS A2P trends in 2021
Computer graphics
Each French person receives an average of 10 A2P (Application To Person) SMS messages per month. These messages sent by companies to their customers are a key element of customer relationship digitalization strategies. However, the health crisis has accelerated the digital shift of companies. How has the use of SMS communication been impacted? To answer this question, our services have analysed more than 170 million SMS messages sent via our mobile messaging routing platform between1 September 2020 and 31 January 2021.
We offer you our latest study on the use of SMS A2P by companies in 2021.
Also check out the infographic below, summarizing the main points of our study.
The full study can be found here : https://www.smsmode.com/barometre-2021-sms-a2p/

A crisis that disrupts habits
The health crisis has suddenly accelerated the digitalization of companies. How to communicate? SMS, a direct and immediate means of establishing contact, has made daily life easier for many French people, and in particular for the Government, since it played an essential role in the fight against COVID. The French med-tech actors are more than ever solicited and demonstrate theefficiency of SMS in case of crisis.
Sales outlets closed, population confined, companies were getting ready to live a difficult and unprecedented period (Black Friday, shifted winter sales...). Stripped of their highlights, it was necessary to find a way out.
SMS, the ideal tool for the digitalization of businesses
Faced with the need for physical distance, the digitalization of shops has intensified. To counteract the closure of physical outlets, it was necessary to find analternative that would maintain contact with customers.
SMS was the ideal tool. Easy to set up campaigns via our platform, very interesting costs, high opening rates compared to other means of communication... Many have taken the plunge. Why not you?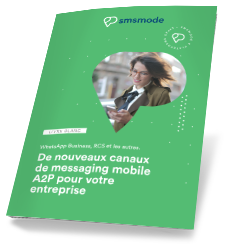 New mobile messaging channels for your business

Learn more about WhatsApp Business, RCS and others, and the new opportunities for your communication.