SUCCESS STORIES
Discover the best success stories of our customers who have run inspiring and successful mobile campaigns. Thanks to our solutions, these companies have made mobile messaging a major asset for their communication strategies.
VIRTUO & MOBILE ONLY STRATEGY

Virtuo offers a redesigned premium car rental experience in 6 European countries (France, Spain, UK, Germany, Italy and Portugal). Based on its mobile application, this 100% digital and 100% mobile customer experience allows users to manage all stages of the rental process on their smartphone, from the creation of their customer account to the inventory, including the remote opening/closing of the vehicle.
A STARTUP CREATED IN 2015 AND RANKED AMONG THE FRENCH SCALE-UPS OF THE FT120 AND NEXT40
MORE THAN 150,000 USERS IN NEARLY 30 EUROPEAN CITIES AND 100 STATIONS, FOR A FLEET OF 6,000 PROPRIETARY VEHICLES
Download
THE VIRTUO X SMSMODE© STUDY CASE
The personal data collected by CALADE TECHNOLOGIES is processed by computer. This process is specially designed to satisfy your requests. The treatment is based on your consent. Only CALADE TECHNOLOGIES team and our DPO have access to your data. This data is stored as long as needed to provide you with our services and to operate our business. At the end of our contractual relationship, the data will be kept for a 3 years period from our last contact, then archived for a 5 years max. duration. In accordance with the system currently in force, you are entitled to access, rectify, erase and limit your personal data. You are entitled to set the guidelines of this data after your death, to make an administrative appeal to a supervisory authority. For more informations, you can also join us at dpo(at)smsmode.com
Creating a new rental experience
With a car opt-in process that eliminates the physical key (and the counter), 100% mobile and contactless, the mobile is the digital key to the service offered by Virtuo. A «mobile-only» strategy that puts an emphasis on SMS notifications.
a key channel throughout the customer journey
Virtuo's transactional SMS messages have many uses: account creation message including an OTP code - One Time Password - to check the validity of the mobile number, information on the start of the reservation or related to the delivery of a car to the airport terminal, instructions on how to return a car, account security verification process, etc. The entire user journey is punctuated by these valuable notifications.
SMS messages are generally quite long and are intended to detail all the useful informations for the smooth running of therental. Forexample,severalinformationsareindicated at the start of the reservation, such as the location of the car park, the exact location of the vehicle, the number plate of the car, possibly the unlocking code, etc.
One of the major internal challenges: arbitrating between the desire of Virtuo advisers to provide as much information as possible,(and to use bullet points and other formatting characters) and the impact, particularly in terms of pricing, that this entails...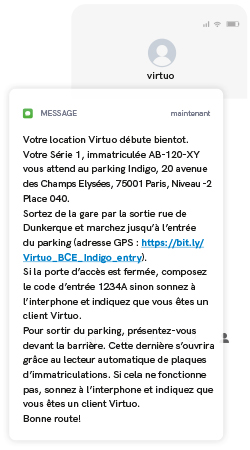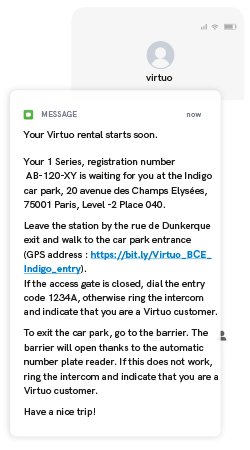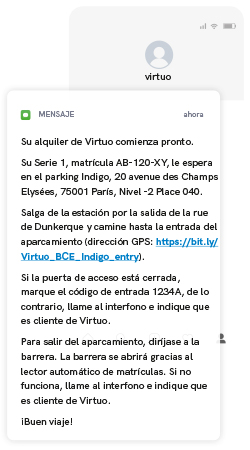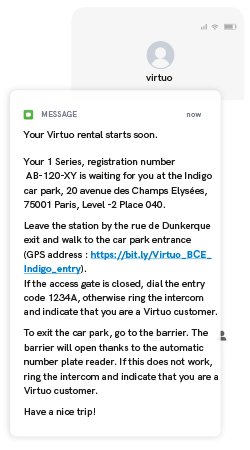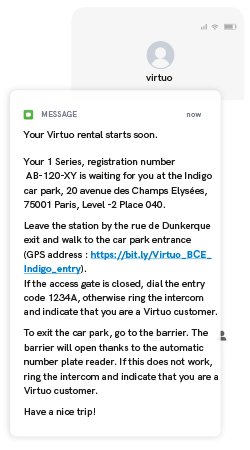 Meet the challenges of message deliverability and security
Virtuo relies on a multi-channel strategy that allows the company to and stay in touch with its users continuously. Emails, in-app chat, voice calls, push notifications and SMS. This panel of channels is integrated intrinsically into the architecture of the mobile application. They are activated together or individually during the user journey, depending on the strengths and specificities of each channel. In this multi-channel strategy, SMS plays an essential role and is favoured - particularly over push notifications - to limit friction at critical points.
Push notifications and SMS: we do both. Messages that are considered to be less important are sent as push
notifications. The most critical ones by SMS.
Olivier Martin, CTO at Virtuo
In the «push notification vs. SMS» battle (if there is one!), push is distinguished by its low cost and its multimedia possibilities (images, links, sounds, etc.), while SMS is simply perfect to deliver critical messages. This is an undeniable advantage, especially in a context where mobile users, sometimes drowned by push notifications, prefer to disable this functionality.
Another point where the SMS cannot be replaced : OTP authentication when an account is created. The SMS OTP sent by, Virtuo ensures both the identity of the client... and that he or she has a mobile phone, wich is a prerequisite to use their exclusively application-based service!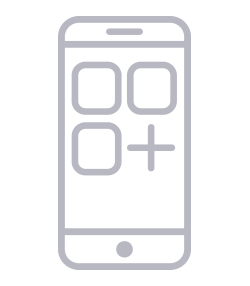 HIGHLIGHTS
The ability to deliver information surely and safely to a person
The possibility to send long and detailed messages 
A channel perfectly suited to mobile situations
A technology that does not use data (an advantage especially for an international target)
WEAKNESSES
The cost especially in the case of long SMS
A limited charset especially for special characters and emojis

The technical challenges behind this mobile messaging strategy
The first technical point is adaptability to the market being addressed. For Virtuo, the product (and SMS notifications) are 95% identical for all countries. Only certain messages and functionalities are customised to take into account the specificities - such as specific regulations - of each implementation: for example, the completion of the AVL in the United Kingdom, the remote transmission of invoices in certain countries, etc.
Similarly, the technology layer is essential for a business based on a reinvented, 100% application- based experience. Its traction on the product is materialised, on the messaging side, by the automation of notification scenarios. For this, the Virtuo technological infrastructure interfaces SMS routing via the implementation of APIs, carried out quickly and easily by a team of internal developers. The challenge for Virtuo was not so much the interconnection, but rather the initial design of a technical architecture that had to be designed to work with multiple providers. A successful example of agility, scalability, robustness... and the implementation of backup solutions!
A multi-provider approach is a guarantee of
agility for a company to respond and face the challenges
to the challenges and digital evolutions.
Fabien Andraud, head of sales smsmode©
A technological approach that serves an innovative user experience, and in which the SMS channel plays a central role for notification.
we are smsmode©
European mobile messaging platform, expert and specialist in the market with nearly 20 years of experience, we support European brands in the integration of A2P mobile messaging in their mobile strategies. To this end, we offer a range of mobile channels (SMS, TTS but also RCS, WhatsApp Business or Verified SMS) which opens up new omnichannel possibilities.
To find out more about our solutions, contact one of our customer success managers to discuss.
We will be happy to show you the potential of mobile messaging, give you a demonstration, etc.