focus on
m-marketing (or mobile marketing)
The m-marketing or mobile marketing includes all marketing uses based on the use of mobile terminals. It uses the codes of SMS marketing and adds new possibilities in terms of communication for communication agencies, companies, points of sale, advertisers, brands, retail, etc.
The possibilities offered and the stakes of M-marketing have developed in proportion to the uses of mobile terminals, and in particular with the full boom of the smartphone. In addition to mobile sites and applications, mobile advertising or responsive sites, SMS media, certainly older and more basic, remains an indispensable marketing tool to carry out local marketing on mobile.
WHY INVEST IN M-MARKETING BY SMS IN A FEW DIGITS...
This is the shipping price
of each SMS message!
Avery economical communication channel, SMS in mobile marketing costs up to 10 times less than a traditional advertising campaign or a telephone reminder. Benefit from an ultra-attractive ROI and additional revenues with mobile communication and texting.
This is the reading rate
of an SMS campaign!
SMS has a read rate of around 95% and many advantages over email or other direct and push marketing techniques. With SMS, you can be sure that your message delivered to your users' mobile devices will be received and read!
This is the average time
To open a mobile message!
This proven immediacy, in a very short time, makes SMS a medium ofimmediacy and proximity, particularly suited to real-time notification. Maintain a direct and almost instantaneous relationship with your customers with m-marketing by SMS.
Why does M-SMS marketing help to better target the customer's needs?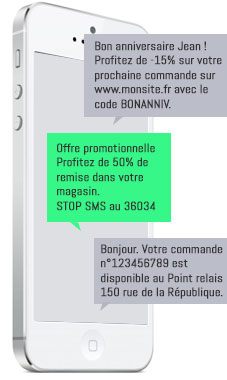 The impact of new advertising uses on smartphones and mobiles is transforming the web marketing landscape. By offering a better customer experience and high consumer satisfaction, m-marketing levers now allow to broaden the horizons of loyalty andacquisition through push messages. This is particularly important for customer relations or for an "in-store" strategy in order to generate traffic at the point of sale and thus achieve its objectives of increasing sales.
The conversion rates observed for m-marketing conversion rates are still much higher than social networks, online or display ads, etc. Effectively used as a complement in multi-channel campaigns, mobile allows a brand tobe innovative or to promote its products and services. These marketing actions are the essential link to initiate the purchase in a customer journey where consumers consult and compare before making their purchases in physical or virtual stores.
Sending messages linked to the geolocation or behaviour of the buyer makes it possible to transmit increasingly targeted offers, more contextualised, particularly in a mobile situation, and thus to broadcast a targeted campaign that will respond as closely as possible to people's needs and increase its digital transformation rate.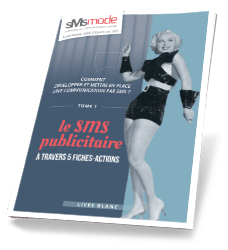 WHITE PAPER
Advertising SMS through 5 action cards
Download our white paper "Advertising SMS through 5 action sheets" for free and discover all the possibilities offered by advertising SMS to carry out a prospection on mobile.
Which mobile marketing tool and strategy should be adopted to be successful?
However, developing a mobile marketing programme is not an easy task, as this market has its own specificities and tools: for example, you will not set up in the same way the sending of personalised information messages or the distribution of promotional content sent en masse to the mobile phone numbers of your contact groups. Similarly, if you want to send your messages to smartphones in relation to your database and its behaviour on your website or application, whether e-commerce or not, again the methods to choose will be different.
You have at your disposal a range of tools and professional services adapted to all cases of application of m-marketing by SMS: online sending platform, mobile message reception solution, API for integrating the SMS sending trigger directly into your technological environment according to a defined scenario, etc. All these solutions offer you complete functionalities: management of contacts in groups, parameterisation of the content of your mobile advertisements (message, personalised sender, integration of a short link to an optimised mobile site, etc.), statistics, reception reports, return rate and data analysis, etc.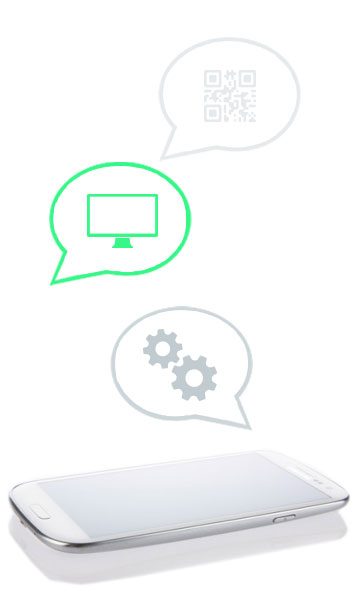 20 SMS OFFERED

Try our SMS & mobile marketing platform for free
Create an account 100% Free of charge and without commitment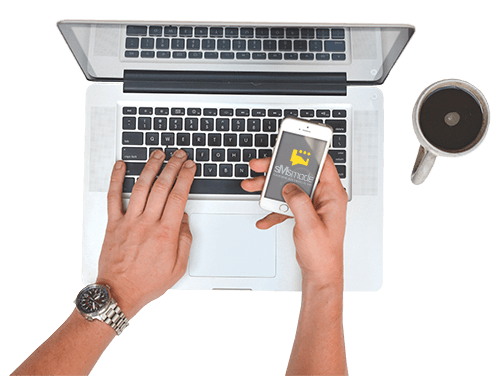 Our team advises you...

Our sales and technical teams are at your disposal to answer all your questions about M-marketing by SMS. Feel free to contact our strong team with an experience of nearly 15 years in the field of mobile marketing and to benefit from advice and support for your SMS campaigns. Our goal is the success of your mobile marketing operation!