The highest quality
for your SMS messages
Send critical messages on time
Make sure you receive your text messages
Receive answers to your text messages
Send your text messages all over the world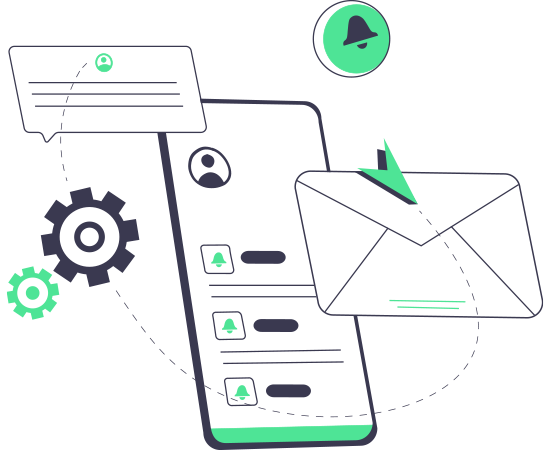 Send SMS Pro with online tools from smsmode©️
To inform your customers of your company's promotional offers, or simply to let them know about the availability of a new product or service, the smsmode©️ platform offers you the opportunity tosend professional SMS messages at ultra-competitive rates, for effective service and marketing returns .
Why choose SMS as a means of communication?
SMS is one of the few means of communication that can effectively reach a large target of recipients in a personal way. Indeed, the vast majority of people currently have a cell phone and SMS is natively available for the entire mobile fleet. Moreover, the SMS Pro has an incredible opening rate and a record conversion rate! Indeed, more than 95% of the messages received by SMS are read by their recipient, and this on average within 4 minutes of reception.
It is therefore a particularly effective way to distribute and communicate information compared to e-mailing for example. More and more companies choose to integrate SMS in their communication plan. Whatever the sector, each business finds an interest in sending SMS pro thanks to the variety of uses offered by this communication channel:
A marketing campaign.
A way to keep in touch with buyers and build customer loyalty.
An opportunity to appointment reminder that can divide the no-show by 4.
A device allowing to alert by SMS the people registered on a mailing list.
...
The sending of SMS Pro can finally meet so many possible needs that some of them are still in danger of being invented. Needs that are satisfied, thanks to very high performances.
The smsmode©️ platform, to send professional SMS
The smsmode©️ platform allows you tosend pro SMS from its interface or through its API. Indeed, as a service provider specialized in mobile messaging since our creation in 2004, our platform offers you in particular the possibility tosend SMS pro individually or in mass.
With our wide range of SMS solutions, you can choose the one that best suits your needs. The low-cost solution offers you ultra-competitive rates, as it allows you tosend messages to many recipients at a lower cost. The professional formula, on the other hand, is more suitable if you wish to write a longer text, insert a personalised sender and, above all, benefit from an optimum sending quality and reception reports.
To do this, you will have a user account on which you can manage the content of your messages, the list of recipients, and even schedule them to be sent at the time of your choice. Moreover, as far as rates are concerned, with smsmode©️, for send SMS proyou benefit from a really competitive cost. In particular, you have a wide range of prices with decreasing unit costs according to the number of SMS that you intend to send.
Our commitment to the CNIL
Registered with the CNIL, we therefore respect the confidentiality requirements imposed by the law and we assure you of the security and confidentiality of the data of your customers and suppliers that you import into your customer area.
In accordance with the French Data Protection Act of January 6, 1978, we have registered (receipt no. 1046241) with the French Data Protection Authority (Commission Nationale de l'Informatique et des Libertés) an automated data processing system, the main purpose of which is to operate the www.smsmode.com website.
This commitment certifies on the one hand that the information you upload to your customer area is strictly confidential and is neither communicated nor sold to third parties. On the other hand, the personal data provided at the time of your registration (name, company, mobile number, e-mail address, etc.) are not public. Only persons authorised to manage your account can access this personal data.