The smsmode© blog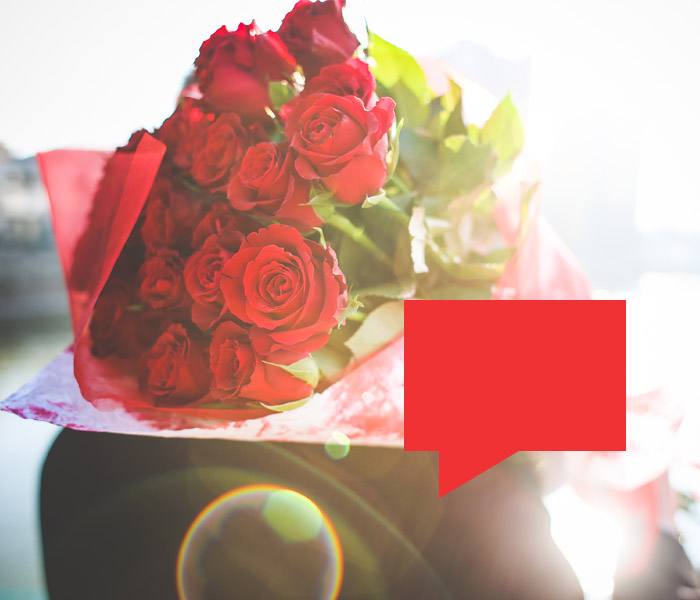 Prepare your SMS campaigns for Valentine's Day
Valentine's Day is a very busy time for retailers. After the end-of-year festivities and the winter sales, Valentine's Day is the holiday not to be overlooked in February.
SMS is the ideal communication channel to ensure that your operations set up during this event are perfectly disseminated.

An SMS campaign to promote your marketing operations!
Your communication must be effective, especially when you know that for 33 million couples in France more than 70% celebrate Valentine's Day! A campaign will allow you to boost your sales and increase your traffic in shop. Note, and it has been proven, that SMS is more impactful and much more effective than its colleague, e-mail, which often ends up in the trash or in junk mail.
Don't hesitate to relaunch your customers via an SMS campaign. Propose gift ideas, gift boxes, announce attractive prices and vary your messages! Of course, don't forget to personalise the sender and the content of your message so that the recipient perceives your message as a unique and personal proposal. A study shows that people are willing to receive several marketing messages if the content of the message is relevant and interesting.
Adobe Campaign will allow you to send your personalised SMS messages in bulk. One phone number and we do the rest!
TO GO FURTHER...
Documentation of smsmode© compatible plugins
TO DOWNLOAD
Some ideas of SMS for Valentine's Day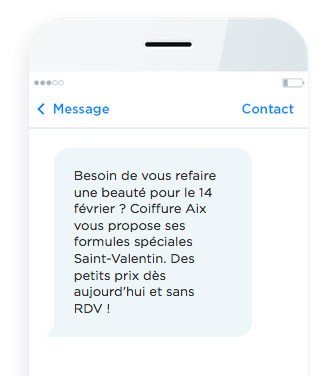 Special offers Valentine's Day
It is important to offer attractive deals on 14 February to attract the attention of your customers. The aim is to increase traffic to your shop and make it easier to make decisions. Send a simple SMS to alert your customers and then analyse the feedback. For example, this hairdresser informs his customers of his special offer by SMS.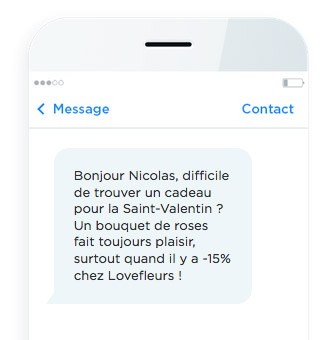 Promotional Offers
The promotions you offer can be welcome for Valentine's Day! Indeed, you should propose offers related to this holiday which induces the search for gifts, whether they are original or more classic. Discounts, coupon codes or good deals, these types of messages always please the recipients. More simply, you can confirm a delivery of flowers or chocolates!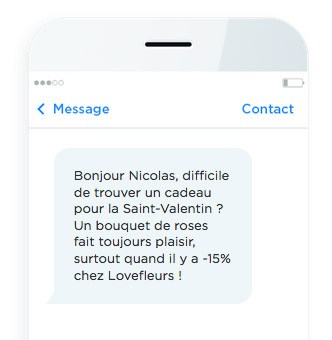 Delivery time
Anyone who has never said to themselves on the eve of an important event, "gee, I forgot", should raise their hand. Although we love our loved one, buying a gift at the last minute has become a habit for some. The most restrictive aspect of this is the delivery time, wondering whether or not the package will arrive before the desired date. Reassure your customers and guarantee them an express delivery by indicating that you will be able to deliver on time!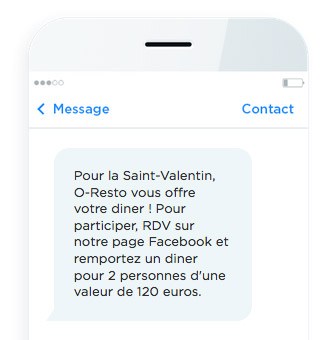 Game-Contest
Organise a competition that will make your customers want to come to your shop rather than one of your competitors. This is an opportunity to promote your company. You can then, like this restaurant, offer prizes that lovers can share!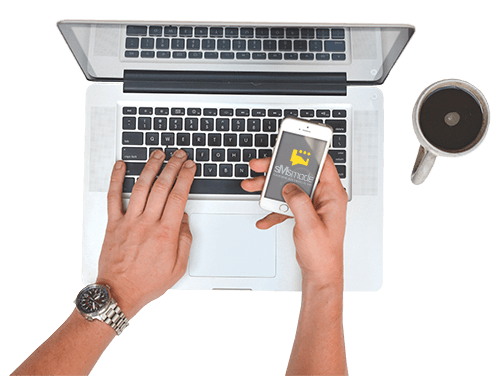 Our team advises you...

Are you interested in setting up an SMS campaign? Our sales and technical teams are at your disposal to answer all your questions about our SMS solutions and to take advantage of the advice of setting up your SMS mailings. The try is to adopt it!