They trust us
Examples and case studies of using the SMS sending made by some of our 10 000 customers, start-up or international groups.
Doctolib, the leader in medical appointment scheduling, has chosen smsmode©.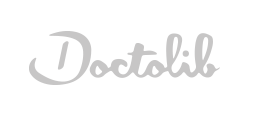 Doctolib is the leader in online appointment booking for health professionals.
Doctors, dentists, physiotherapists, specialists... Every day, more and more of them entrust their diaries to the platform. By 2021, no less than 300,000 healthcare workers will be using it on a daily basis.
On the patient side, Doctolib makes access to care fast and affordable, allowing users to make appointments with the specialist of their choice in a few clicks. The success is equally impressive, with over 60 million patients by 2021 (France and Germany).
From the outset, Doctolib has relied on SMS to simplify the lives of doctors, but also of patients. To deploy SMS, Doctolib chose smsmode©.
We have been supporting the French scale-up since its creation in 2013. A story that started with SMS appointment confirmations and has grown to include appointment reminders and changes, double authentication via SMS OTP for login security, and forgotten password resets.
Enabling health professionals to focus on their work
By offering a complete solution to practitioners, Doctolib allows them to offload many administrative tasks so that they can focus on health and people.
With this in mind, the platform has added features to its professional software over time to ensure complete patient care. This proactivity allows healthcare professionals to develop their activity while benefiting from great agility in the management of their practices. The SMS appointment reminder, present since the beginning of Doctolib, allows the platform to facilitate the life of health professionals by reducing the no-show by 30%, by simplifying and optimising the management of the agenda and by reducing the number of telephone calls in the office.
The objective is always the same: to free up medical time, with an online platform/SMS duo that adapts to the activity of health professionals.
Appointment scheduling is managed online by the patient without the intervention of professionals. Automated SMS reminders allow doctors to alert patients of all appointment-related actions:
confirmation,
cancellation notifications,
validation of a timetable change.
SMS plays a central role in Doctolib's business model and contributes to the innovation brought by the scale-up in terms of medical appointment booking.
It is no coincidence that many other players in the health sector, but also in human resources and temporary employment, have adopted SMS to notify an appointment. Close to people and adapted to all audiences, SMS is the perfect channel to transmit precise information and be sure that it will be read.
Improving access to care for patients
Thanks to Doctolib, access to care for patients is fast and specialists are accessible.
The platform was essential during the COVID-19 pandemic, showing its enormous organisational potential and promoting the democratisation of teleconsultation. By trusting smsmode© to send its SMS, Doctolib benefits from the robustness of our API and the quality of our routes. During the crisis, the platform was thus able to deliver all these critical messages, regardless of the tension and the volumes sent.
Because the SMS appointment reminder is also essential for the patient. It reassures them that the appointment will be kept, confirms the date and time of the appointment and contains a link to any additional information the patient may need. If Doctolib has a satisfaction rate of 97%, the SMS is certainly a factor. It provides patients with a high degree of clarity in accessing care, answers all questions in advance and offers the possibility of managing appointments independently.
All these innovations mean that Doctolib is now the number one solution for making medical appointments beyond the French borders, already the leader in Germany, with a growing presence in Italy and Switzerland.
Why Doctolib chose smsmode©?
Security and confidentiality
Doctolib is one of our clients for whom confidentiality is crucial. At smsmode©, we make it a point of honour to apply a very strict security and confidentiality policy. This is one of the reasons why our clients choose our solutions, especially those dealing with sensitive and/or confidential data such as medical data.
With our partner Doctolib, this need for security and privacy is met in many ways:
Advanced verification of all profiles, users and health professionals, implemented on the Doctolib platform thanks to double authentication, made possible by sending an SMS OTP via smsmode©.
Total security and confidentiality for data passing through our services thanks to message encryption (AES-128 CBC protocol).
An optimal level of security and reliability, as a result of hosting data in ISO 27001 certified data centres.
GDPR compliant thanks to our commitment to the CNIL.
The performance of our solutions
The smsmode© solutions allow us to offer Doctolib as well as all our clients :
Increased proximity, with 24/7 contactable and personalised support.
Optimal route quality, allowing the routing of large amounts of traffic, without the need for grey routes or loss of transmission tracking.
A direct operator connection (ARCEP approval as a French telecom operator) for competitively priced messages, routed without intermediaries, at maximum speed.
Test the appointment reminder with the Google Calendar plugin
Install our Google Calendar plugin in a few clicks and send confirmation SMS automatically from your Google calendar.
TO GO FURTHER...
Documentation of the Google Calendar module
TO DOWNLOAD
Products used by Doctolib
NOTIFICATION
SMS
Improve customer relations by automatically informing your customers about order follow-ups, appointment reminders, etc.
Make your brand accessible to your customers at any time

Create a regular link with your interlocutors and increase their satisfaction

Ensure better follow-up of appointments, reservations, purchases, etc.
OTP SMS
Secure your data by incorporating an extra step that prevents 99.9% of account compromise attacks.
Equip your services with dual authentication (2FA) thanks to OTP
Benefit from a dedicated channel for OTP SMS routing
Rely on support to help you integrate the 2FA