focus on
SMS for internal communication
By spending more than 65 000 hours of his life at the office or at the factory, companies and organizations sometimes forget how much the communication strategy within a company, between its employees and employees, is an asset. To facilitate the collective action of the different teams, to better enforce the decisions, to federate around a project, values and corporate culture, to create a "good atmosphere", etc.; These are the objectives of internal communication.
THE SMS FOR INTERNAL COMMUNICATION IN DETAIL
This is the percentage of recipients
Who will read your message!
SMS has a read rate of around 95% and many advantages over email or traditional telephone reminders. With SMS, you can be sure that your message will be received and read by the majority of your recipients in real time!
This is the average time
To open an SMS!
This proven immediacy makes SMS a medium ofimmediacy and proximity, and particularly suited to personal communications. Maintain a direct and almost instantaneous relationship with your staff thanks to SMS.
Manage the dissemination of information
In a few clicks!
Whateverthe number of recipients of your message, the configuration of your SMS campaign is done in just a few clicks! Composition of the message, possible settings of the sender, choice of recipients, your message is ready to be sent.
WHAT USES FOR THE SMS IN INTERNAL COMMUNICATION?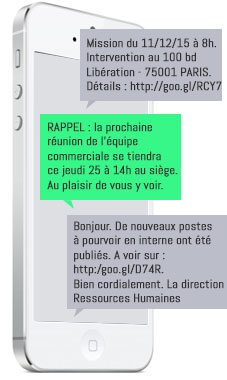 plan and manage schedules digitally: transmit customer schedules to your employees, their mission orders in the form ofSMS alerts, receive confirmation of interventions, etc. Sending SMS messages allows you to communicate easily and personally with your staff on the move or from different departments: it is a means of communication and a major asset for efficiently organizing agendas and schedules and saving time on these tasks.
reminding people of meetings: SMS is a very suitable medium for reminding people of a meeting a few days beforehand (in particular by mentioning the place and times); this little reminder on their mobile phone number, which is always welcome, makes it possible to lighten the organisational burden while remaining very effective.
Communicate with mobile employees: to communicate with your sales teams on the road or drivers on the move, SMS messages are the ideal solution to communicate with your off-site employees and sales network directly on their mobile.
Send HR messages: in addition to the use of professional social networks and your company website or blog, send information on the life of the company, on job offers for internal recruitment, on the sending of reports or press releases, on surveys and requests for opinions, on a crisis management message, etc.; the SMS channel is proving to be a particularly suitable and easy-to-implement communication tool for Human Resources departments
Make your internal communications by SMS
smsmode© provides you with communication tools and SMS marketing services that allow you to send your SMS information to your staff easily and with a few clicks:
an online SMS sending platform accessible from our website and equipped with a set of professional features for the completely autonomous execution of your SMS sendings, either immediately or on the desired date, whether they are single sendings or sent to a group of contacts. You can also choose from our range of SMS (Pro SMS, Voice SMS and Unicode SMS) the solution best suited to your needs.
SEE ALL AVAILABLE SMS PRODUCTS
SMS reply: a free option included in the SMS Pro offer, the recipients of your SMS messages can reply to your communications. Ideal for sending invitations and other messages for which a response or confirmation of presence is expected!
FIND OUT MORE ABOUT SMS RESPONSE
HTTP API: thanks to the SMS API, you have the possibility to integrate the automatic SMS sending functionality directly linked to your database from software, intranet, extranet, etc. The sending and receiving of SMS messages can thus be triggered directly for internal communication needs defined in your business solution.
LEARN MORE ABOUT OUR API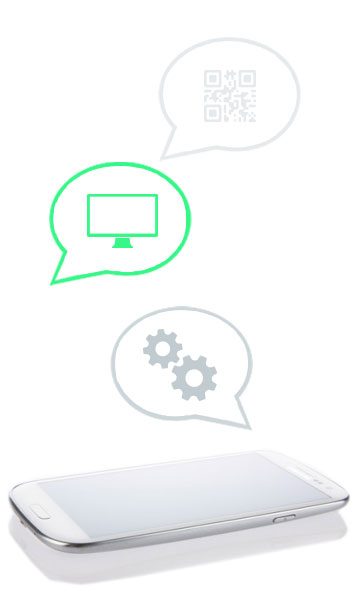 20 SMS OFFERED

Create your first SMS campaign
Open a user account 100% Free of charge and without commitment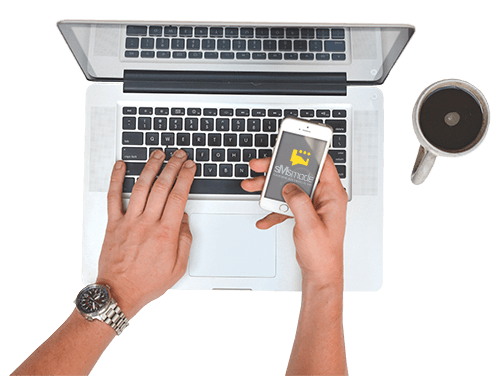 Our team advises you...

Our commercial and technical teams are at your disposal to answer all your questions about the SMS in the internal communication and to take advantage of the recommendations of implementation of our turnkey solution of SMS shipments! Feel free to contact one of our collaborators, our goal is the success of your project!